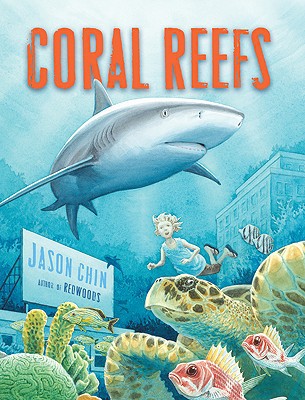 This past Saturday, we hosted illustrator Jason Chin for a very entertaining visit. Jason's books, Coral Reefs and Redwoods, are great books about imagination and they teach about ecology and nature in a very accessible way. The kids all seemed to know his books. In fact I must say that this was the first time, ever, we were in peril of running out of books before the event. Thankfully, Jason had books with him, so everyone got the books they needed.
I love it when ill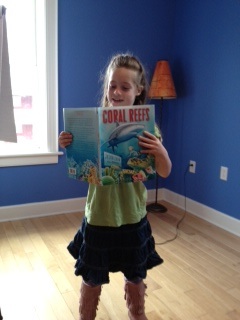 ustrators draw during events. Jason had a very clever way to get the kids involved with his drawing. It started with him writing: When I read the book it took me to blank. Then we picked a place. The kids agreed on Africa. Then Jason explained that he needed someone to be the "I". A very bright young girl volunteered to be the model. Elizabeth Motch was her name and she was great at holding still while lookin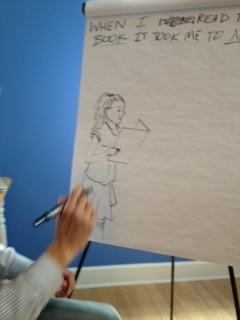 g surprised and nervous. Jason's rendition of this girl was great.
Now, the fun really began. All the kids shouted out different kinds of animals and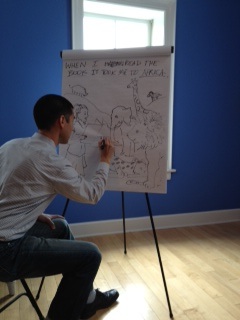 Jason drew them accurately (I was sort of amazed how quickly he could that without needing some sort of reference) and we had fun watching him figure out where they should all go. It was amazing to watch him just focus for a moment and then take less than a minute to draw each animal.
Jason's process for his books fascinate me. He does thumbnail sketches for all the possible pages of the book to get a feel for how the book might flow. Jason, like many illustrators who are now writing their books as well, said he struggles a little bit with the words, although I find that his text and art work beautifully together.
Luckily for us, Jason lives down the road, so I can get signed stock (there were no copies of Coral Reefs left for the store) back on Tuesday. One of the cutest moments of the event was when Jason's toddler son, Liam, wondered up when Jason was drawing and just checked out the drawing, nodded and went back to his mom. It was almost as if he was making sure his dad's work passed muster. And it did.