The last event of our 15th anniversary celebration was on Saturday — and what a glorious way to end. We were graced with Paul O. Zelinsky and Emily Jenkins, who presented the very lovely Toys Come Home: Being The Early Experiences of an Intelligent Stingray, a Brave Buffalo, and a Brand-new Something Called Plastic. 
Our event room was full of adoring fans, many of whom could recite the first two books word for word.  We don't usually have dual-author events (save for the Patersons, last week), so I was very curious to see how the artist and the writer would work together. It was bliss.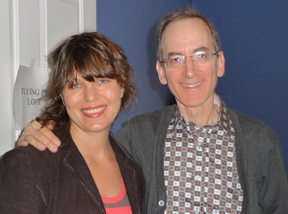 First off, it's clear these two get along quite well. Paul said he got Emily's story and was only worried about ruining it with the art, which couldn't be farther from the truth. The art and the story are so perfectly melded, I can't imagine the book working without each person's contribution. Emily writes with heart. You believe these stuffed animals having an active inner life and Paul brings them to life in a totally believable way.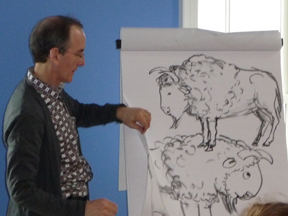 As soon as Paul started to draw, half the kids fled their seats to sit dead center right up front so they could see exactly what Paul was doing. Adults were leaning forward and marveling how, in a few strokes of his charcoal pencil, he created a real buffalo and then showed how he softened it to be a toy.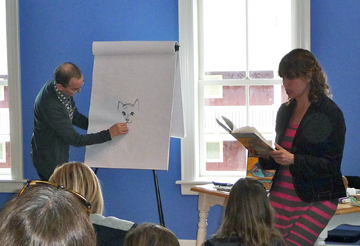 The real excitement of the event happened when Emily read a short chapter and Paul drew it. It was as if he was animating the chapter. To have an artist of Paul's caliber draw along to a story was pure magic.
I loved Emily's telling how she came to write the story. It seems her beloved squirrel toy went missing after a flight to see her dad when she was a child. She was crying about it and her dad told her to imagine the adventures the squirrel was going on rather than being sad for him. And it worked. She stopped crying and somewhere a seed was planted for a story to emerge years later.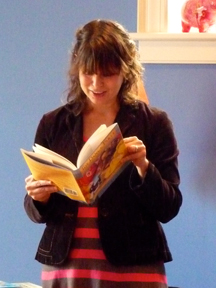 The Q&A portion of the event was equally entertaining. One person asked Emily if she could make the noise that Spark makes. And she did. It was part grunt, part deep woof.  The child was satisfied. An adult posed a question to Paul and said, "Paul, this is for you…" Immediately after he answered that question, a boy about five years old shot his hand up in the air. Emily called on him and he said, "Paul, this is for you, I like your work very much." We all about died of cuteness.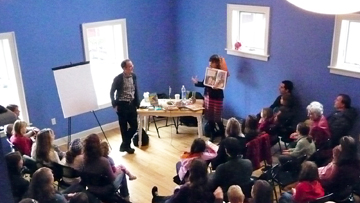 One thing Emily said that really resonated with all attendees under the age of 15 was,"Don't you ever notice how your stuffed animals are never quite in the position they were in when you left in the morning?" Kids were nodding their heads in agreement.
I must admit, I went home and looked around at the few stuffed animals I have, and sure enough…
***
[Elizabeth is now hijacking this post to add one more irresistible tidbit: that Paul is an unrepentant carnivore, even when it comes to the animals in this book. Earlier in his tour with Emily, he ate bison. (Poor Lumphy.) On Friday, we went to a restaurant only to find — I kid you not — skate on the menu. Yep, poor little Sting Ray right there under the salmon. What are the chances?! It had to be the only restaurant in all of Vermont serving skate, and that's where I took Paul Zelinsky.



So of course Paul ordered it. And of course I took a picture. And of course Paul, being an artist, couldn't resist putting a little something extra on it:

I have to say, we have the best jobs in the world.]