It's that time of year again. The time of year when the store is full to bursting with all the great bo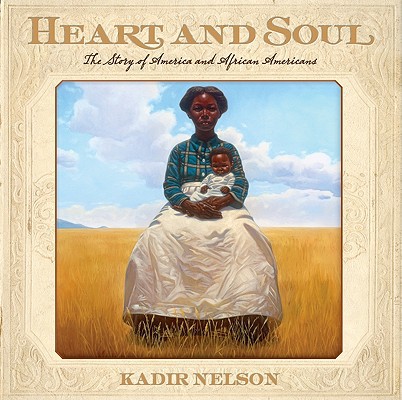 oks of the fall. Every day the UPS and FedEx drivers unload box after box that we eagerly unpack and try to shelve on our already over-full shelves.
Some of my favorite picture books arrived in recent weeks. Perhaps my favorite of all is Heart and Soul by Kadir Nelson. It's one of the most visually artful books I've seen a long while. This book's lofty aim is to capture the history of African Americans in America, and it succeeds beautifully. This book works on many levels.
The paintings are so beautiful and heartbreaking and inspiring that it's easy to just following the history through the paintings alone. This allows the book to work with younger children who can have a parent talk about the paintings rather than reading the text. I got lost in the faces that populate the book. From the cover image of a woman holding a baby in field to a burning, fiery cross, to the very last painting of an elderly woman's open hand holding a button "I voted" about casting a vote for Barack Obama. The art resonates with the reader a long time after they've put the book down.
Having the narrator be a grandmother-type who has a sense of humor, is honest and tells a good tale is a wonderful way to approach history. The narrator fills in the gaps the paintings cannot. When the narrator refers to the reader as "honey" or "chile" it doesn't sound cloying. It sounds like I'm on the porch with her spending a long afternoon hearing her stories and learning the real history of African Americans. What I especially like is the assumption that the reader is family. There was an accessibility to this device that hooked me right away. I felt like the history, my family history, was being told to me, almost as a rite of passage. I think most families have that moment when they sit the children of a certain age down and tell them the family stories. This book is that story.
I have spent hours, literally, looking at this book. I cannot get enough of it. It's so real and brings the history of African Americans to life in a way no other book has for me. The combination of evocative art and a narrator you want to spend the day with makes this book a glorious success.
And if this doesn't win a medal, or two, in January, I'll be stunned.