Throughout the year, as I unpack new releases and stock and restock older favorites, I come across fantastic illustrators whose work is wildly accomplished and unique but has not yet garnered Caldecott award recognition. Some of these artists have earned enormous popular success; others haven't. In either case, my mind is set to wandering, pondering what we value artistically and why, and the social contexts that influence all of us as we assess and award/assign significance to literature and artwork, especially that aimed at an audience other than ourselves.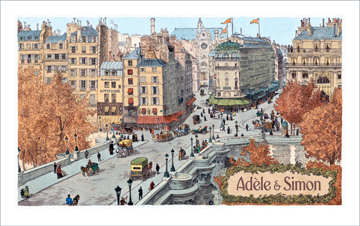 I understand that the Caldecott Medal cannot conceivably recognize every distinguished artist of children's books out there, but there are some omissions that truly amaze me. In recent years, Jerry Pinkney topped my "frothing-at-the-mouth outraged" list of under-awarded artists of incredible achievement; happily, he has finally gotten his Caldecott due. However, I remain gobsmacked by the fact that Barbara McClintock has not received a Caldecott Medal. Thirty-seven astounding books (and counting) and never even a
Caldecott Honor? Come ON! How is this even possible?! It's as though she exists in a parallel universe where genius is taken for granted and time and again, is brushed aside. What on earth more could she produce to prove her chops as an artist of unusual ability and timeless quality? It's actually absurd at this point. (Frothing, people. Nearly rabid.)
Maybe there's an Aesop's Fables curse. Both Pinkney and McClintock have taken on the tales, and perhaps there's some Aesop-y moral about fame and art that reaches out an admonishing, award-stealing hand. But if that's the case, Pinkney has bested it, and now it's Barbara McClintock's turn.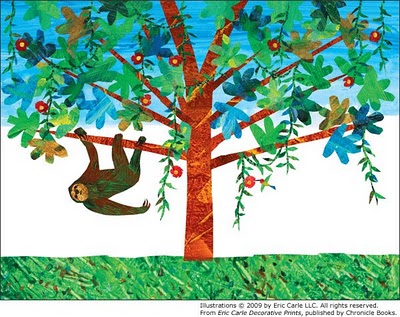 My mind turns, also, to
Eric Carle
, whose artwork surely meets every criterion indicated by the
Caldecott Award
, which bestows its coveted annual medal "to the artist of the most distinguished American picture book for children published by an American publisher in the United States in English during the preceding year."
'Distinguished' is defined by the Caldecott folks as:
Marked by eminence and distinction; noted for significant achievement.

Marked by excellence in quality.

Marked by conspicuous excellence or eminence.

Individually distinct.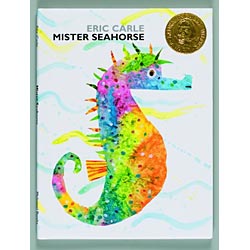 The award criteria detail what, specifically, is to be considered by committee members (the numbered items are drawn directly from the
ALA's Caldecott criteria
page):
Excellence of execution in the artistic technique employed;

Excellence of pictorial interpretation of story, theme, or concept;

Appropriateness of style of illustration to the story, theme or concept;

Delineation of plot, theme, characters, setting, mood or information through the pictures;

Excellence of presentation in recognition of a child audience.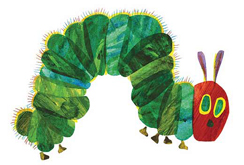 I'm not sure what more the creator of The Very Hungry Caterpillar, Brown Bear, Brown Bear, What Do You See?, Mister Seahorse, Papa, Please Get the Moon for Me, Dream Snow, and so many other iconic works has to do to get a little respect from Caldie. Sure, the man has his own museum, and that's got to be, oh, just a bit of a salve, but I am mystified by the oversight, and really, so must he be. The joy in his work brings joy to children all over the world. (Side note for Carle fans: I wrote a blog post that sang his praises a while back, and talked about the moving studio tour he gave to a group of children's booksellers some years ago, which remains one of the highlights of my bookselling career.)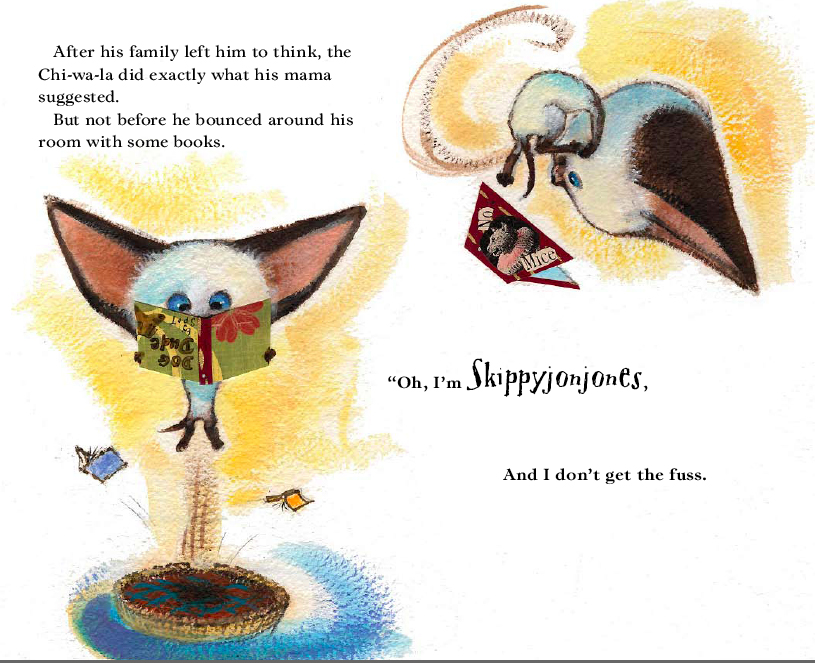 Another worthy contender is the wildly original Judy Schachner. When I look at the Skippyjon Jones books and then scan the Caldecott criteria, I see a big check, check, check, check, triple check! The artwork bursts off the page in glories of color and personality, humor and individuality. It is both bold and detailed (not an easy feat to pull off), brilliant and unusual, a vibrant artistic pleasure for adults as well as children. It is, in a word, distinct. It blends fantasy with realism, does some things with perspective and page layout that I haven't seen done elsewhere (my camera is on the fritz; I'll try to update the post with an example of what I mean by this), and is recognizably original — from space.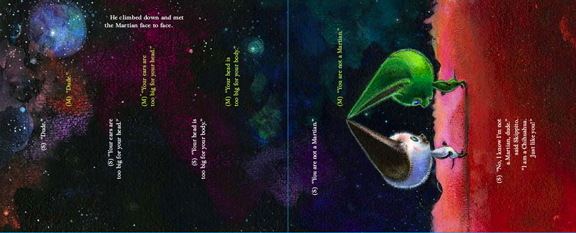 The paintings are both lush and rampant with child appeal. The color palette in these books is phenomenal. So why hasn't Judy Schachner won even a Caldecott Honor?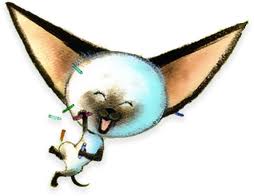 Which artists are YOU ready to hop up on street corners to cheer, whose work you think is long overdue for some Caldecott recognition?