The second full day of BEA is over and things are good. The crowds don't seem to be as crushing as I feared and the overall attendance seems smaller than in years past. The galley piles are as smaller as well.
One thing several booksellers are talking about are the lack of galleys compared to past years. Many publishers seem to be releasing galleys, much like timed vaults, on a very tight schedule linked to booth signings. To be fair to the publishers, at every meeting I've had, I have seen attendees literally move furniture out of the way to get to the galleys that are clearly not intended to be on the floor yet. Some booths are bereft of books at all. Walls of booths adorned only with posters of books and nothing to actually hold or look at. I asked a publishing friend what was going on and he said the drayage charges were so much that they just couldn't afford to bring in all the books.
While there may not be as many galleys, there certainly are people who found a ton to ship back. I'm always amazed at the sheer number of boxes waiting to be shipped. The shipping room was full of hundreds of boxes that needed to get home. I just traveled light and left a little room in my suitcase for the carefully chosen galleys I have selected. But to be really honest, I will be be availing myself of the hotel business office to ship back some books.
This year is the first year that I have actually set up meetings with publishers. Our 15th anniversary is this fall and I wanted to meet publicists and let them know that northern Vermont can be a great place to send authors. So far, these meetings have been really productive. It's an eye-opener for me to see what each publishers focuses on. Some focus on driving audience to an event, some focus on book sales. All were happily surprised to see how many Vermont stores can be covered in a weekend. The only thing lacking from my publisher packet was a map, which is easily remedied with a Mapquest diagram of Vermont and a quick email.
While I was resting my very tired feet in the lovely ABA lounge, I got an answer to my previous question about the Children's Book Group liaison from Mark Nichols.  A job description has been written and a full-time person should be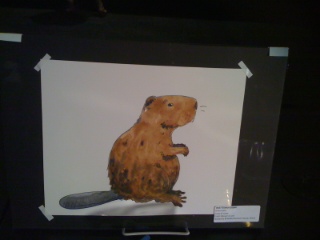 in place shortly.
The evening party was the annual ABC Not-a-Dinner silent auction that featured many delectable works of children's art. Sadly, for me, many of the works I wanted, like Elisha Cooper's Beaver from Beaver Is Lost, were quickly out of my price range. I don't know how much money the auction raised for ABFFE's new Children's Division, but judging by the number people camped out by their art at the closing bell, I'd say most of the art sold and people were gleefully carrying art out of the Javits Center.
While I might complain about the crowds, the lack of actual books and what not, I am reminded at every BEA, when I have dinner with friends, that I love this business and I adore my colleagues.