It's not every day that Erin Hunter comes to Vermont, let alone my store. So, yesterday was a special day.
The day started at the Charlotte Central School in Charlotte. Erin (not her real name, more on that in a moment) was early and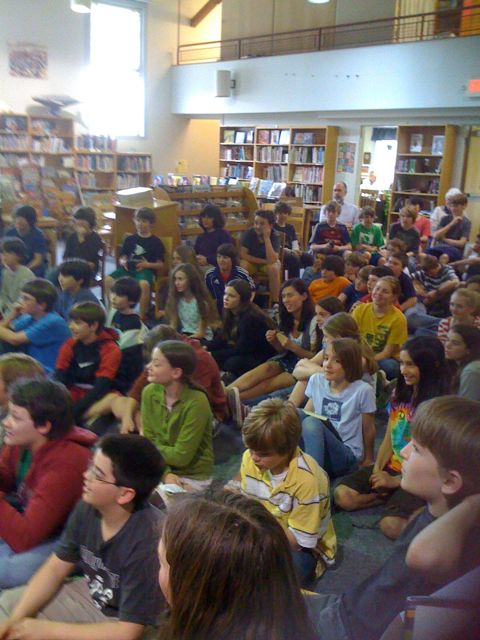 hung out in the library waiting for the fifth and sixth graders to arrive for their assembly with her. Two fourth graders bounded over, holding hands, actually squeezing each other hands as to say, "Can you believe it? Erin Hunter." They were in awe. It was adorable. These were among the three fourth graders who actually protested to their teacher that it wasn't fair that only fifth and sixth graders could go.
Erin Hunter is the pseudonym for four writers, the chief among them is Victoria Holmes, who was visiting yesterday. She explained that the series began with her being asked by HarperCollins to write a book about cats. Ironically, she's not a cat person; she's allergic. She shares writing duties with three other writers, whose job is to execute Victoria's very detailed plot points. They chose the name Erin Hunter for "very commercial reasons: they wanted to be alphabetically near Brian Jacques, whose readers of the Redwall books might find the series very compelling.
Victoria is a wonderful speaker. She's very honest about her writing and her desire to write about death and violence. Her cats are dealing with some real issues. She's incorporated her love of martial arts (she's a black belt in judo) with the Warriors series. She also likes to kill her characters and inflict harm on them. She starts every new book with a character list and sees who she's bored with and who will die. The kids were as shocked as they were fascinated.
At one point Victoria talked about one  of the clans, the River Clan of cats that swims. She said rather offhandedly, "Have you ever tried to wash a cat?" Well, proving their youthful need to connect, about ten kids  mentioned something about their cats in water. The kids were  awestruck, but got over their shyness to ask lots of great qu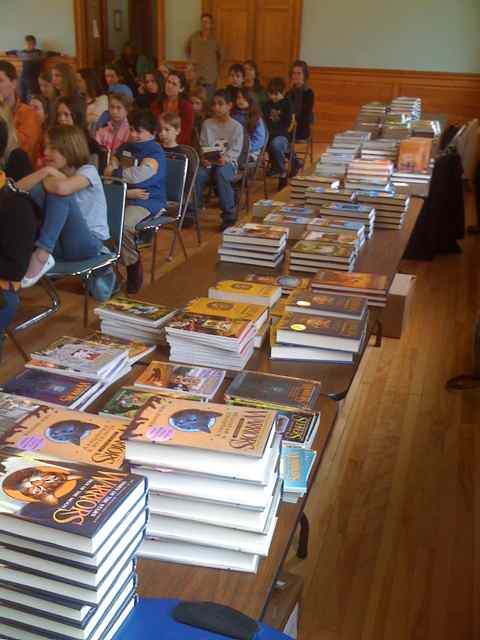 estions about writing, plot points and character names.
After the school visit we shifted venue to the Shelburne Town Hall. To give you a sense of the volume of books written by Erin Hunter, I took a picture of the sales table. The afternoon event was attended by over 150 people. Some teen fans even came in homemade cat ears. There were serious fans, fans from the beginning who really LOVED the series. One of them asked a question, "What advice do you have for someone who wants to be a writer." Her answer was surprising. "Do anything but write. Do the things that will give you experience so you'll have something to write about."
The audience was almost reverential in their zeal for the series. This was a very happy thing, as they bought books literally by the armload. It was a fun day for all. Old fans were thrilled and new fans were excited. It was so refreshing to be in a room with so many readers eager for more books.
And while she might be allergic to cats, Victoria Holmes sure has embraced them, and in the process, has made legions of fans who don't mind a little talk of destruction and death.