One thing we love about this season is the way it brings long-time customers back to the store: kids home from college, out-of-state customers in town to visit relatives, local folks who live closer to our old location and haven't been in for a while, but make a point of doing their holiday shopping with us. It's been old home week here at The Flying Pig, and that's a blast. It makes me realize we've put down strong roots here for 14 years, and that soon, some of our early young readers are probably not too far away from bringing their own little ones to the store. The first time that happens will be a strange and wonderful moment, indeed.
This season also brings some utterly heartwarming surprises. On Friday, a customer—Carol, one of those particularly friendly, bookloving people we always love to see walk in the door—came in with a giant fruit basket that seemed to weigh more than she does.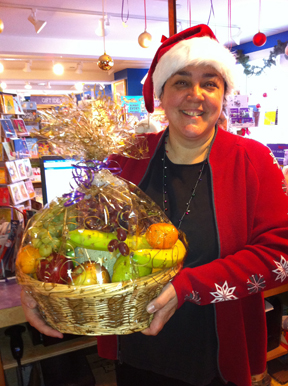 She wrote a beautiful card thanking us for being here in town. It was the kindest, most thoughtful and unexpected gesture—and the delicious apples, pears, oranges, clementines, bananas, grapes, grapefruits (and even a melon!) sustained our numerous staff members over the long, busy weekend. (Note to booksellers: having grapes on hand turned out to be the best snack ever; a quick sugar burst that doesn't make you crash later.)
We even got to see some of our favorite furry friends. One customer, Karlie, brought in her two border terriers, and I caught one (nine-year-old Pumpkin) browsing among the classics with the alert intensity common to all truly avid readers. She was probably looking for Jack London. I had to take a picture.
And finally, it must be said that we do love the hustle and bustle of the season, and what that does for the bottom line. So far, it's been a terrific December. Not sure if people are feeling the sting of the economy a little less, or if they're appreciating local business a little more, or if they are relishing the solid, tangible, beautiful, restful simplicity of the physical book (a simplicity, however, containing multitudes) in the face of our noisy, cluttered onscreen lives. Whatever the case, customers are certainly buying books, loving books, and giving books to friends, neighbors, coworkers, and loved ones. And that's a pretty heartening endcap to a challenging year.