Heigh ho! If your store or office is re-opening this month, welcome back. If you are expanding services to reach customers in some new or additional way, I salute your unflagging energy and commitment to bookselling. If, however, you're one of us approaching a first-year anniversary (or six-month celebration, or three-month star on your calendar) of this Grimm model of retail which involves marketing and delivering books on every platform INCLUDING in-store sales, then this post is mostly for you, and you might nod ruefully, and add your own cringeworthy comments from customers as I reveal the SEVEN DWARVES OF CUSTOMERS (and a few of the spells… er, I mean happy tunes I whistle behind my mask in response).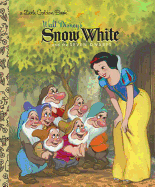 Our first customer of the day, whom we'll call Dopey, leads with: "Oh, you're still here!" This brilliant observation is often followed by the well-intentioned but equally tone-deaf: "I was worried that businesses like this wouldn't survive!" Thanks, buddy. Yes, we're still here, and while we understand your worry, we seemed to have somehow managed. How can we be of help today? I'm sure that what our short-on-tact friend means is "Oh, thank goodness, you survived without me, and I don't have to be inconvenienced or feel guilty, but I still get to shop locally and be part of the recovery (and the free gift wrap)."
Our next customer, Bashful, stutters: "Have you been open this whole time? You know, I have only shopped online for a whole year." Yes, we have, and so has our website, our social media site sales, and our free home delivery. Those weekly newsletters from us must have been hidden under all your shipping confirmations and package tracking emails – I can see how your good intentions just drown under all that brackish river water from the giant online behemoth in your inbox. Your work-from-home mining gig is taking all your attention, I'm sure.
Doc, the more confident visitor, demands: "Are you still requiring masks? I don't need one, I'm vaccinated." Despite daily news reports, online articles, and a flourishing marketplace for prayer candles with the image of Dr. Fauci, the understanding of the role of masks in controlling a pandemic still seems to be a bit fuzzy for some people. Accompanying phrases like "My kids don't need a mask, they've had COVID" and the litany of personal inconveniences like "Masks make me too hot" and "I can't hear well with a mask on" or the ever popular "I left my mask in the car, but I only need one quick thing" are also favorites on the retailer's "DO NOT SAY" list, and we'll happily take a pickaxe to all of those falsehoods.
Happy, entering with a horde of tiny minors (miners?) exclaims: "This is the first time the kids have been in a store in months. They're a little wild." As I race to scoop up the discarded fidgets on the floor, grab the toppling spinner of plush, and rescue the stack of discarded graphic novels on the bench – yes, I notice that the kids are on the rambunctious side. Corralling them into a game of "Can you help me find the hidden dinosaur?" (a brilliant distraction I learned from another retailer, and I urge all of you to HIDE SOMETHING in your store forthwith for just such occasions) and offering stickers for the successful hunt, I wonder what the customer's cottage looks like, and if she's just visiting the store while the larger part of the demolition project is underway, for surely they need to level the building.
Next comes Sneezy, who queries, with a sniff: "Can you order this? Will you price match this online version? I want to support local business, and this site says it's backordered." I honestly don't have time or energy for an explanation of the supply chain woes that are 2021 retail reality, and price matching conversations rarely end well. Let's go with "I'm so sorry, that's out of stock everywhere! Let's find something better that's already here, and let me wrap it for you." Bless you (and your heart).
Grumpy grumbles: "When did you rearrange everything? I have shopped here for years, and I don't remember this section." If I tell you that this layout was born of necessity in MARCH OF 2020, more than an entire year ago, will your "years of support" translate into regular visits, or just bewilderment when we no longer have last year's bestsellers on the front counter? Probably not, and you'll find something else to be angry about.
Sleepy hauls in two shopworn bags: "I have a return. It's from Christmas 2019. You've always let me return things after Christmas before, because sometimes I wait until the kids go back to school before I get all the boxes out." I am equally impressed by this customer's trust in our customer service and her organization in storing gifts that long. Since three of these items have another store's price stickers, however, the jury is still out on whether her memory of the purchase is as clear as her expectation for a refund.
And just for good measure, the huntsman drops by, seeking some bookseller prey. "My sister wrote a children's book during quarantine! And my eight-year-old drew the pictures!" Out comes the Ziploc bag with the white hardcover (why are they so often snowy white covers?) inside, and I smile with my eyes above my mask as she continues, "You know, there's nothing really good to read to kids anymore. This is a good, moral story about a boy and his dog. There's nothing like it on the market, and I know it will sell really well." I take a deep, cleansing breath as I gently accept the offered copy to examine, while she continues, "I don't know anything about the money part, but I'm sure my sister will let you keep a dollar or something per copy."
Have a bite of this apple to keep up your strength, and let's just lie down and take a nap, shall we? Someday we'll return to happily ever after.