The last two Saturdays I've worked at the bookstore. Working at the store is like spending time with an old friend I haven't seen in a while. The glow of friendship feels far larger than the petty irritations that can come with familiarity. Pulling shifts this time of year greatly increases the chances of me seeing customers I miss and meeting new ones who touch me. I was not disappointed.
There are myriad reactions from customers when they see me working. Some people still don't know I've retired from bookselling. They see me at the register and exclaim, "I haven't see you here in ages!" I gently tell them that I retired and we carry on. A few customers came in and expressed comfort in seeing that I am well after dealing with early stage breast cancer in 2018. Many customers, all women, touched my short hair and said how good it was to see me and that they liked the short hair better. I was reminded how deep the sense of community runs at the Flying Pig.

People aren't just looking for books or sidelines; they're looking to connect. This is evident from the moment people open the door. So many customers are returning, frequent shoppers I still know. Hugs abounded as I got caught up on the lives I've missed since leaving. I asked one woman how her daughter Melissa was and she said without missing a beat, "It's Jeffery now and he's doing amazing." She filled me on Jeffery and it was like visiting with her over a cup of coffee. Except it was over a register while I was ringing her up, albeit slowly.
During the holiday season, whether I'm at the store for a shift or weeks, I always try to set a goal of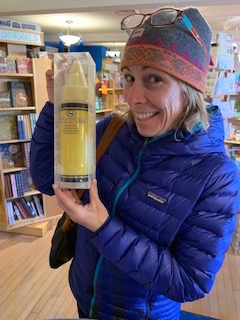 something I want to sell. This Saturday, my goal was to sell the last Crayum. A Crayum is a cooking implement that looks like a big a crayon that holds pancake batter. You can then use the fine point of the Crayum to make delicate pancake shapes, letters, animals, etc. My first sale of this past Saturday was the same woman I rang up the previous week, first thing in the morning. She was friendly and we were chatting amenably and I asked her if her family made pancakes. Nina was intrigued by the question and I showed her the Crayum and said, "Think of the fun you can have with this." Nina was totally into it. Mission accomplished.
One customer floored me. We haven't seen each other in four years and we literally whooped and hugged, and then she pointed to the toddler clinging to someone's leg. "This is my grandson, Nigel." Nigel's mom looked at me and I said, "Justine? Is that you?" Justine had been a very early shopper of the bookstore when we were in Charlotte in 1996 and she was 10. Now, years later, she's visiting her mom with her adorable moppet. Nigel was a very polite little kid who kept exclaiming over every little deed involved in the ringing-up process, "Thank you so much."
An older woman came in and needed little help as she set about her holiday shopping. She was lovely, but independent, but an hour later she was back asking if we'd seen her car keys. We looked and didn't find them. She lives in the retirement community near the store and I offered to give her a ride back home where the spare set of keys were. Mary was grateful for the lift and we started chatting. Turns out she once had a house near mine. She did what all Vermonters do, she asked if I knew the only people she knew in my town, David and Joyce Burton. "Yes," I started laughing. "I bought their house." Turns out David and Joyce are Mary's neighbors in the retirement community. We laughed over the coincidence and I dropped back off at her car after she offered to make a donation in my name to the charity of choice. I said that wasn't necessary but she was insistent.
I could feel my heart grow larger. I'm so looking forward to my next shift.