Several of us on the ShelfTalker team have been reflecting lately about some of the intricacies of the bookseller / author relationship, and I thought it might be interesting to ask an author to weigh in. As it so happens, we have an author on our team these days. With over a decade of experience as an author and editor and now with just about a year at BookPeople, Leila Sales has worn a lot of different hats in the book industry, so I thought it would be fun to get some insight into her time on the bookselling side of the fence.
MG: What made you want to join the BookPeople team?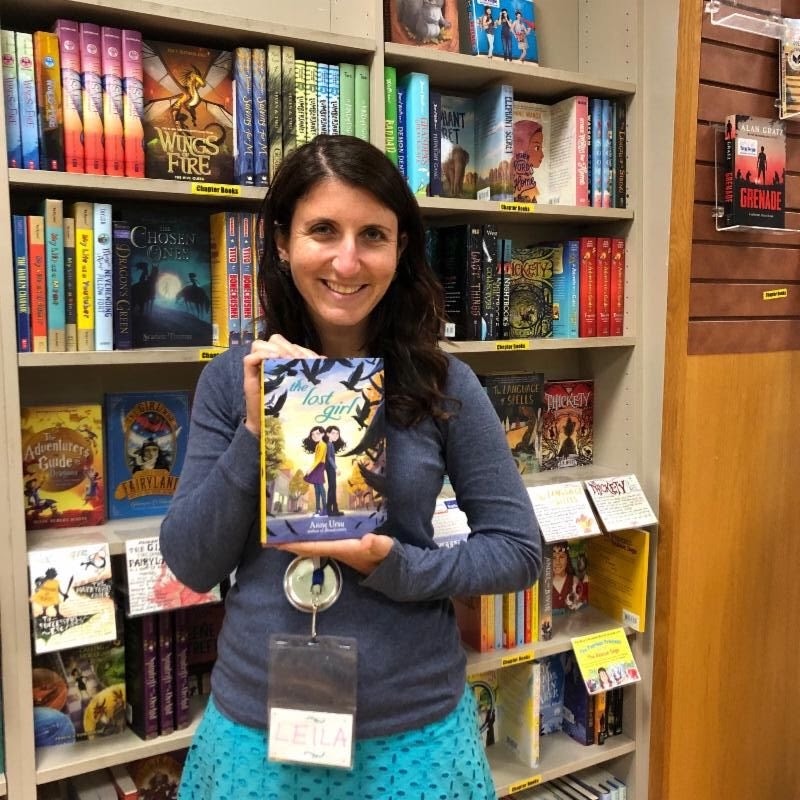 LS: A reason to put on real clothes and leave the house on a fairly regular basis. Also, a community, colleagues, camaraderie. People with whom I can regularly talk about books and exchange ideas. Consistent access to readers, so I can see what they're excited about and why. A place to bring leftover baked goods, or eat other people's leftover baked goods. I could go on.

MG: How do you like handselling? Has it been different than you thought? 
LS: I am way worse at handselling than I thought I would be! Turns out there's a huge difference between refining your pitch over the course of weeks or months and then delivering it with a carefully designed powerpoint at launch, and suddenly springing into action to tell a kid why he will like some random book that maybe you haven't actually read or don't totally remember. Unless I wrote or edited a book, and therefore read it a dozen times, I often don't remember enough details to have a good handselling spiel, even if I really love it! The sheer number of times that I find myself saying, "It's about a girl… I promise it's really good!" is embarrassing.
On the flipside, though, I am TERRIFIC at handselling books I edited. All that practice for launch really paid off.
MG: Have you as an author changed how you interact with booksellers now that you've been in their shoes? 
LS: I make more of a point now to interact with them as whole people. The booksellers I've gotten to know at BookPeople are also school librarians, actors, PhD candidates, farmers, filmmakers… and obviously I'm a writer and an editor. Bookselling is just one part of who we are, and this job has reminded me that that's true of EVERYONE who works retail.
I was telling one customer at BookPeople about some of the books I'd written, and she literally said to me, "So what happened? Working at a bookstore seems like a real step down from being an author!" I was like, "Well, I do both!" It made me aware of how easy it is to default to the assumption that people who work retail are doing it because they have nothing else going on, not because it's a choice or a passion.
MG: Do you have advice for other authors trying to build relationships with booksellers—or to market themselves to stores? 
LS: What I've realized is that the majority of customers come in with a predictable list of questions—e.g. "She's 10 years old and looking for something to read after Wings of Fire," "He's eight years old and has trouble sitting still long enough to read a whole book," "He's 11 years old and has read every Percy Jackson book," etc. So, as a bookseller, I develop go-to answers for each of these questions: "She likes Wings of Fire? Has she tried the Warriors series?" The challenge for authors (and publishers) is: How do I get MY book to be the booksellers' go-to answer?
For example, if a teen comes in and says she likes To All the Boys I've Loved Before and what should she read next, the first book I think of is J.B. Howard's When I Was Summer, because I edited it and I love it. There are any number of books that could respond to this need, but that's the one that I personally go to first. What does it take to make OTHER booksellers go to it first, too?
A big part of it is getting the booksellers to read your books. We're far more likely to handsell things we've actually read, because we can talk about them with more confidence. But that just leads to the question: what does it take to get a bookseller to read your book? I mean, buzz, obviously. I feel like half my co-workers at BookPeople read Casey McQuiston's Red, White, and Royal Blue because of its buzz. But how does it work as an author just walking into a bookstore, introducing yourself to a bookseller, and trying to convince her want to read your book? I don't know. That is the million-dollar question. 
MG: There's obviously a whole list of books you've either edited or published yourself. Has anything surprised you about seeing those books out in the wild (or talking to customers about them)?
LS: I've loved seeing how much enthusiasm and awareness there is for Max Brallier's Last Kids on Earth series. Obviously I knew the series was succeeding because I had the numbers, but that's different from actually meeting devoted nine-year-old monster fans in person. Though I've also been made more aware of the inherent challenges of shelving and categorizing. Like, we also published Last Kids on Earth Mad Libs. But they don't live with the rest of the Last Kids books; they live with the rest of the Mad Libs. So these nine-year-old monster fans don't find them.
Or, for another example, I edited this amazing art puzzle book by MacArthur Fellow Xu Bing, called Look! What Do You See? It is fabulous—but what section does it go in? Is it "older picture books" or "foreign language" or "art" or "games"? Those are all in different parts of the kids' section. Where should it go so that a customer who's just browsing will ever come across it?
MG: What are your go-to books to handsell these days?
LS: Kate DiCamillo and Alison McGhee's Bink and Gollie. Ellen Raskin's The Westing Game. Kate Beaton's The Princess and the Pony. Elizabeth Wein's Code Name Verity. Dan Santat's After the Fall. And of course anything that I wrote or edited. Maybe I should have more shame about handselling my own books, but honestly if I think a kid might like it, I just want them to have it.

Interested in more of Leila's insights? She wrote a really great piece in PW last year about some of the ways authors and editors can understand each other better too.