It's a sad, sad day here in Hoosiertucky, as the big yellow busses rounded neighborhood street corners and stopped at the end of cul-de-sacs, gathering up clusters of kids wearing new sneakers and brightly colored backpacks. They carried iPhones and "show and tell" treasures, gym bags full of cheer and cross country and soccer gear for practice after school, permission slips and lunch money, and a little piece of our hearts… for now, there are no "big kids" in the store during the day.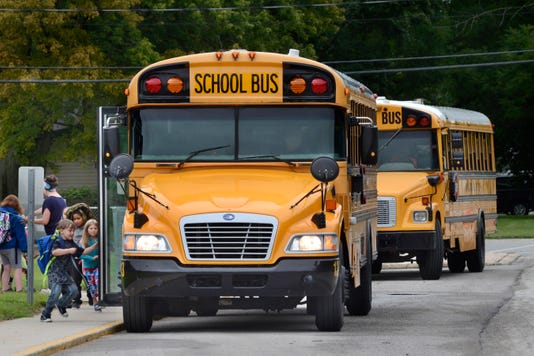 We'll still see the school-aged crowd in the store occasionally, but they will be different. Tired from a long day of classes, recess kickball, and after school activities, they might stop in on weekdays if they have an appointment at the dentist next door, or the allergist just down the block. They'll ride their bikes over in the evening, on those precious nights when the homework is light and the sky is too…  but this will end quickly. We'll see them in cleats and shin guards after practice sometimes, dropped off at the door while Mom or Dad waits in the idling Suburban outside, just to pick up a title for school reading or a new release that they just can't wait to get their hands on…. but they can't stay and chat, for strength training or Chinese classes or math tutoring awaits, and their dinner to be eaten on the way is getting cold in the car. Proud little kindergartners will stop by after school to share news of teachers and school lunch ("Mrs lady Cynthia…. there was PIZZA today! And I got to sit with my best friend!") but soon they will have Daisy Scouts and Fall Ball and Chess League and Math Pentathlon… and we will be only a weekend destination.
Even on weekends, we see the big kids enroute to something else—usually a birthday party, so they stop in for a gift, and if we're lucky, a quick tour around the chapter book section while it's being wrapped. Our insatiable readers have learned to make lists during these brief visits, better to tuck into Mom's purse or take pictures on Dad's phone… this is the modern equivalent of layaway, kid lit style. We take notes in our POS system with books they select, in order to remind parents during their weekday visits just which title their child requested next, and to prompt sought-after hardcover purchases when Grandma is in town, but these are sorry substitutes for long, bookish conversations with earnest young readers. The very sight of a 9 or 10 year old hugging a just-published book to their chest as they make their way determinedly to the cash wrap… "Mrs Cynthia, have you READ THIS??? Is it as good as the first one? No, I don't need a bag" is enough to fill up my soul for a day or two, or at least until another Tuesday of new releases.
But the mornings are now to be filled with preschoolers, story times, and Moms-on-a-mission. We'll see medical staff from the nearby hospital on strange shift schedules who are on their way home in scrubs at 10 am, business types waiting for their lunch appointment next door, and grandparents taking advantage of early dinner seatings at the restaurant. We'll welcome new moms with infants in the carrier and stroller, for whom we might provide their only adult conversation of the day, and we'll kindly look past the spit-up on their shirts, and hold the baby while they go back outside for their wallet, which they left in the car with the diaper bag, along with the address of the sister-in-law that they need to ship this present for her new baby, and "oh, have we seen the car keys? They were RIGHT HERE…."  There will be a few tourists, convention-goers on their way downtown seeking both advice on avoiding road construction and presents to take home to the kids, and education majors looking for titles to write papers about and stock their "someday" classrooms—all very nice, and fun to work with, but definitely not kids. Not our favorite young people whose time and attention are as unlimited as their imaginations, the bookish kids who read to dream and believe in every single possibility that an author can create.
These young readers, whether "reluctant" (oh, could this be the year we finally retire that pejorative?) or avaricious, reading far above grade level (another silly construct, in my opinion) or right in the middle of the pack, these devourers of series and graphic novels and literary fiction and "facty books" (as one young friend in just requested today in the store)… these are our people. These are the raving fans of bookstores, and the kids who want to share both the stories they read and the stories they live—and they want other readers and dreamers and storytellers to share them with. These are OUR people, and today, they climbed aboard busses towards new adventures, new friends, and hopefully, new books. And we will miss them so.