I'm currently in the midst of Children's Institute with over 300 other booksellers. I am seeing so many familiar faces, which I love,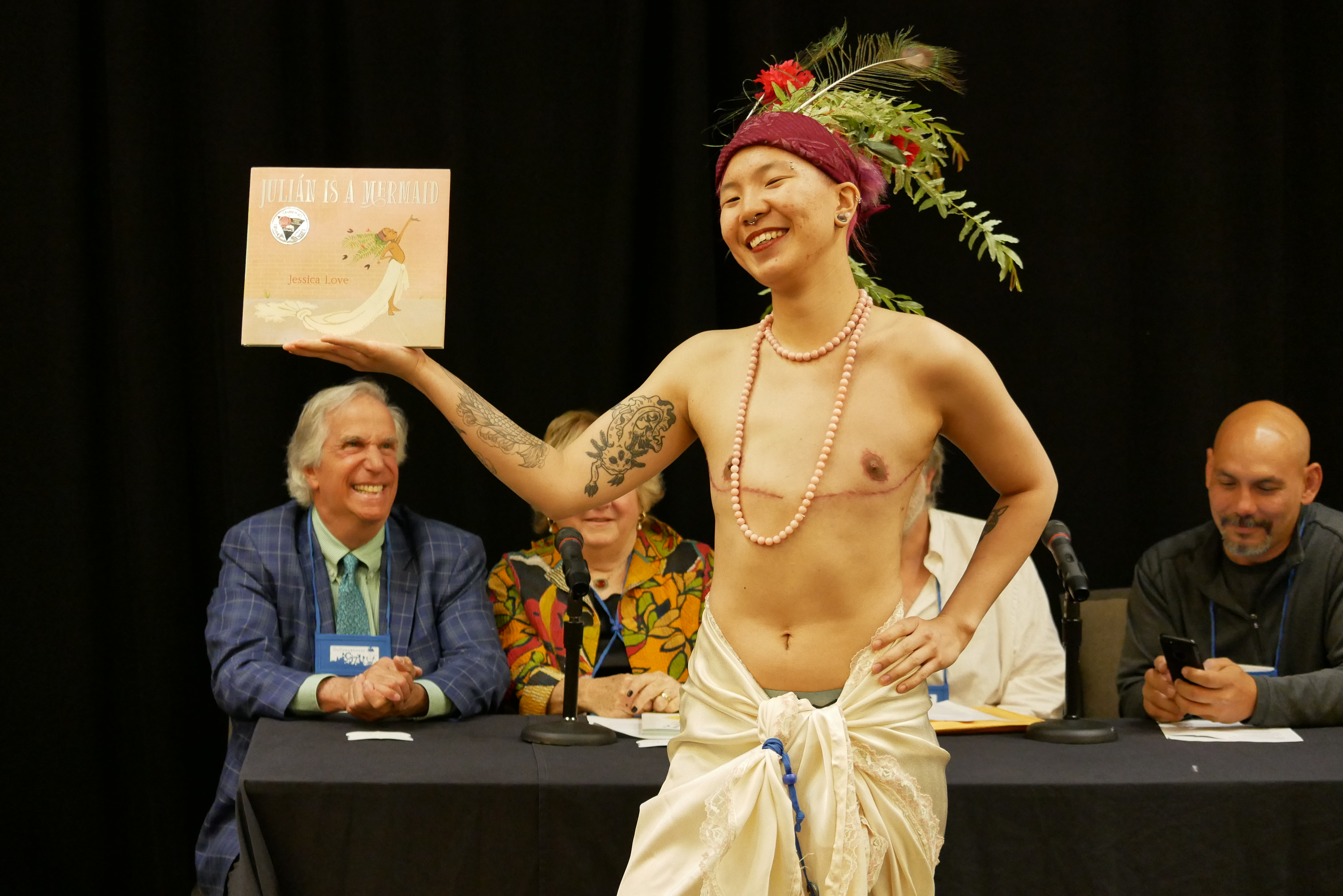 but what I love even more is that over half of this year's attendees are actually first-timers to the event. Personally, I think that really speaks to the power and relevance of this growing conference. I love feeling the energy of this incredible group of people, all passionate about children's books and all passionate about what we do to engage kids in our communities.

On Wednesday night we kicked off the event with a costume contest for the ages with the likes of Avery from Third Place Books as the irrepressible Julian (the mermaid) which won grand prize, as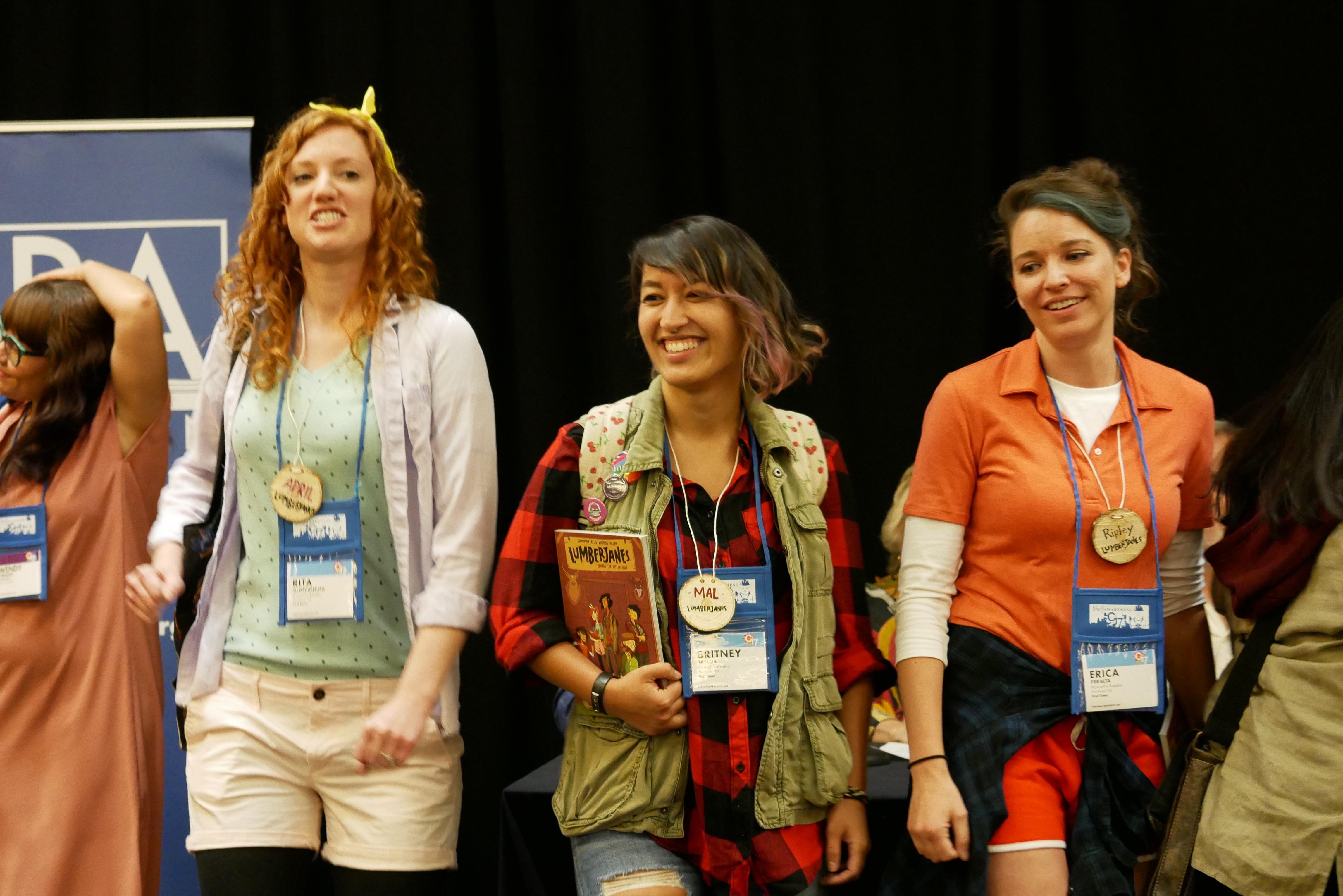 well as many others including the fabulous Lumberjanes group from Powell's, and a very creative Lowly Worm. Of course my fellow Texans from Blue Willow in Houston brought their A game for a Mac B. Kid Spy trio costume, with Cathy Berner truly embodying Queen Elizabeth's pet corgis and Valerie Koehler bringing all the undercover spy attitude she could muster. A quirky shout out as well to Kenny Brechner, my ShelfTalker colleague, for the "Best Candidate for the Most Perfunctory Costume Award," which might not have taken Best in Show but was pretty hilarious nonetheless (centered entirely around a promotional pair of earmuffs from the picture book Earmuffs for Everyone!).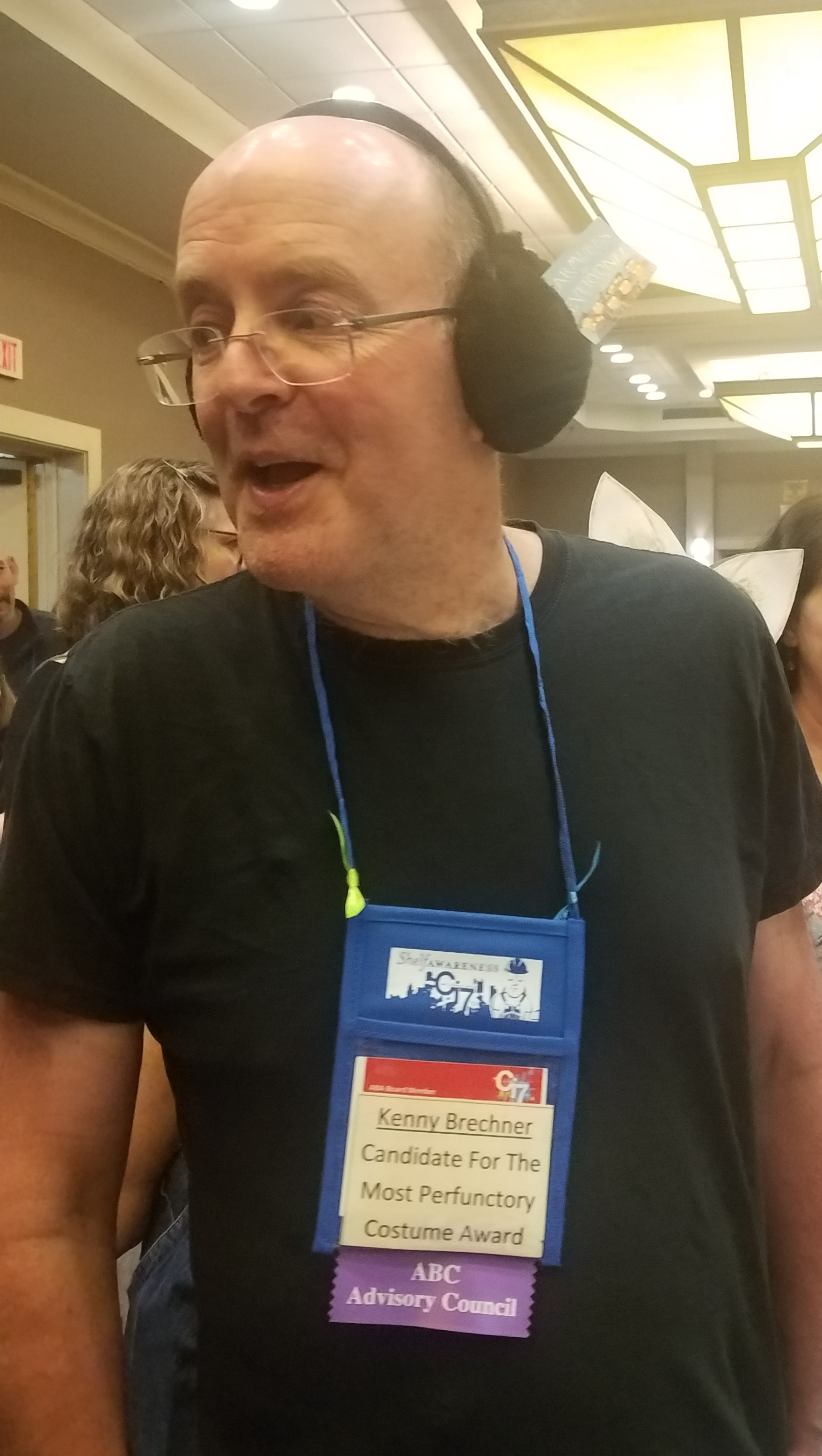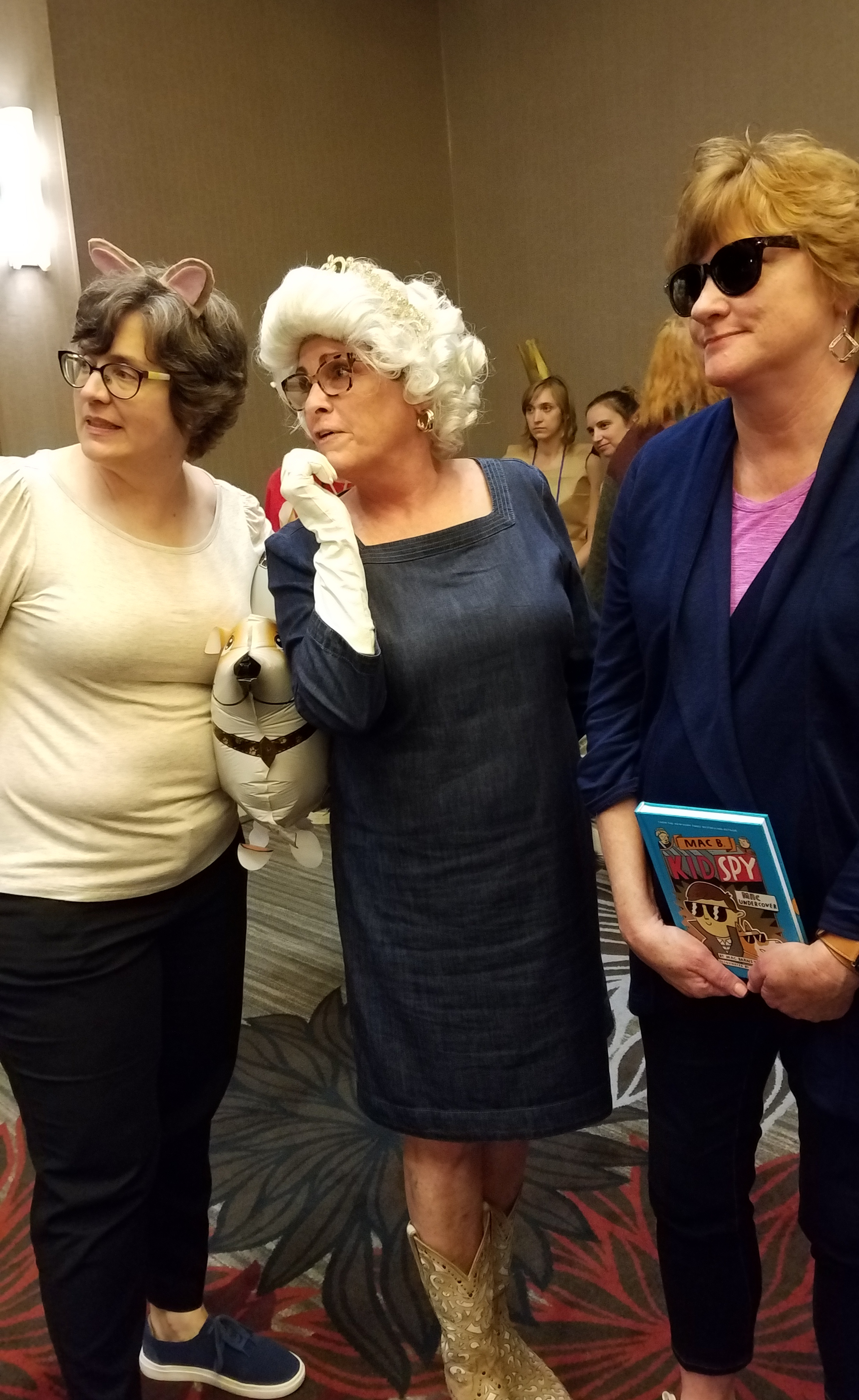 Today's education sessions and dialogues were perhaps less whimsical, but featured a lot of passion and offered much to think on. While it is true that indie bookstores are resurgent right now—with new stores opening around the country, ABA membership growing, and our value as community and industry partners more apparent than ever, the truth is that we still face big challenges to make our business model sustainable and profitable for all our stores' employees. As occupancy costs rise and margins shrink, it is ever more important to be bold and assert our value—both to our communities and within the broader publishing ecosystem. It is clear that we also need to keep working ever harder to make sure all voices have a seat at the table to talk about what's next as we work toward change AND continue to do the work we all believe in so deeply. Honestly, there is a lot of passion around these issues because they are so urgent across our industry. Earlier today I attended a roundtable about monetizing services that we offer our communities, and I came out of the room empowered and galvanized, and I wasn't the only one. I feel like I'll be heading home even more determined to assert our worth as a business, unafraid to monetize the many services that we provide to all our partners.
This event is always about seeing colleagues and networking and sharing ideas. But obviously we're also here to talk books! Connecting with the authors we see on tour but don't always get the chance to chat with as much as we'd like is always the highlight of the trip. Last night I was lucky enough to head off to a dinner with Neal Porter to celebrate Jerry Pinkney and Sydney Smith for their beautiful new picture books A Place to Land and Small in the City.
I have nothing to say about Jerry Pinkney's body of work that hasn't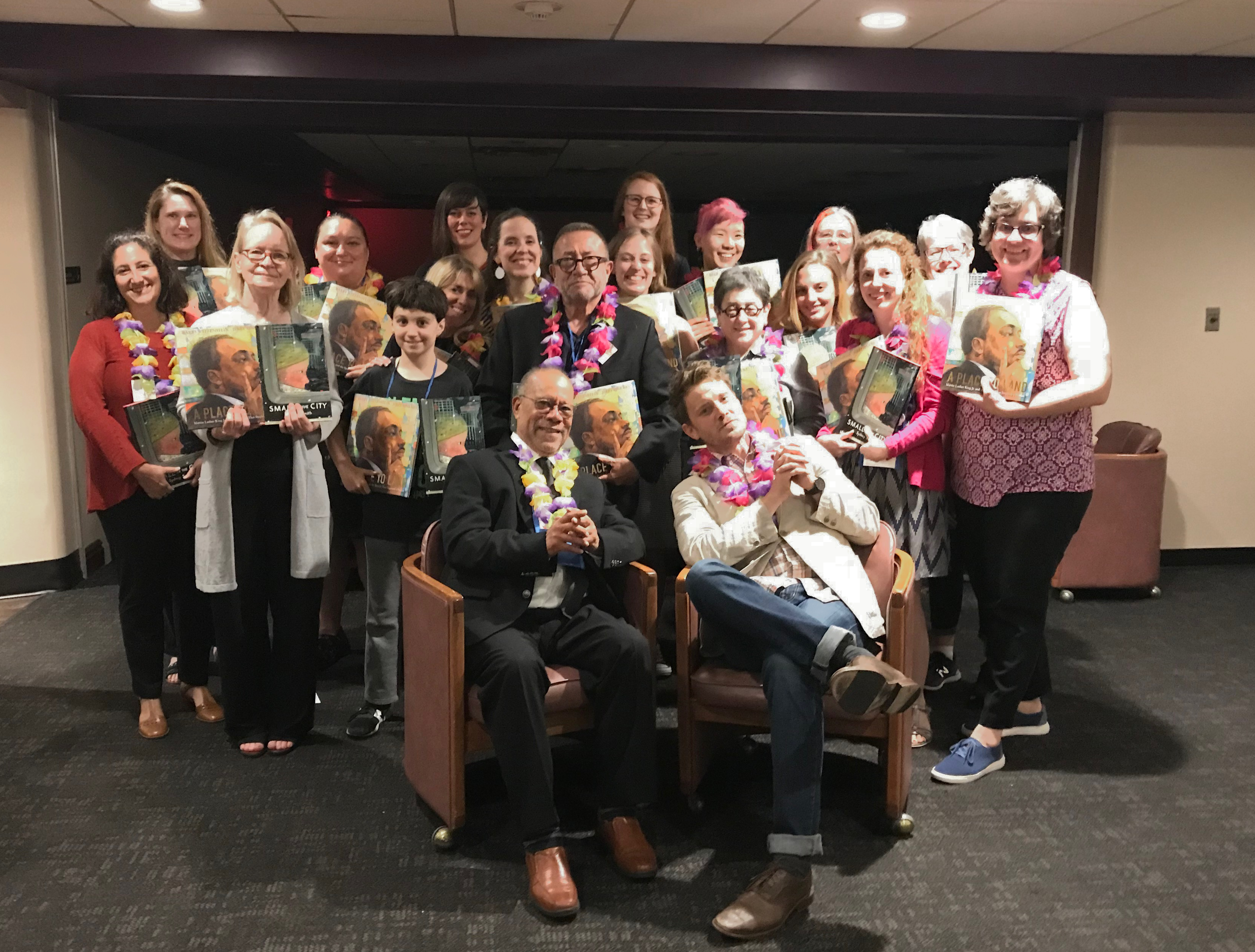 already been said a million times, but suffice it to say that having dinner with him was a treat. He told us a little bit about adapting his well-known style to reflect a more photo-realistic or journalistic sensibility to fully honor the events he was portraying. The collage-style effect he achieved really does have that documentary flavor, blending layers of artistry and history to tell the behind-the-scenes tale of one of our nation's most important events. Not to mention, Jerry even went shopping to outfit himself with the perfect narrow black tie to suit the the time period and topped it with a festive lei to join the costume contest as one of MLK's councillors—based on a really cool scene that takes center stage in his book.
As a huge fan of his previous book, Sidewalk Flowers, I also loved hearing Sydney Smith talk about the contrast between that book, which was sort of a hello to Toronto and this new one, which was more of a farewell. Reading the book with that sensibility in mind, the wisdom imparted really feels like the kinds of tips and tricks only a true local could impart, like which trees make the best places to hide and where to catch a quick dryer vent warm-up in winter (the kind of secrets you'd keep to yourself while you could). Reading the book in that light gives it a whole other level of poignancy. I love hearing these extra little details that add depth to my literary perceptions.
I'm only halfway through the show and am heading out to another event as I quickly type this blog, but it's been a lot of fun to see everyone, both new friends and old. Here's to another 24 hours in Pittsburgh!

*Thanks to PW's Alex Green for the photos of the 
Julian the Mermaid
and 
The
Lumberjanes
costume contest entries!