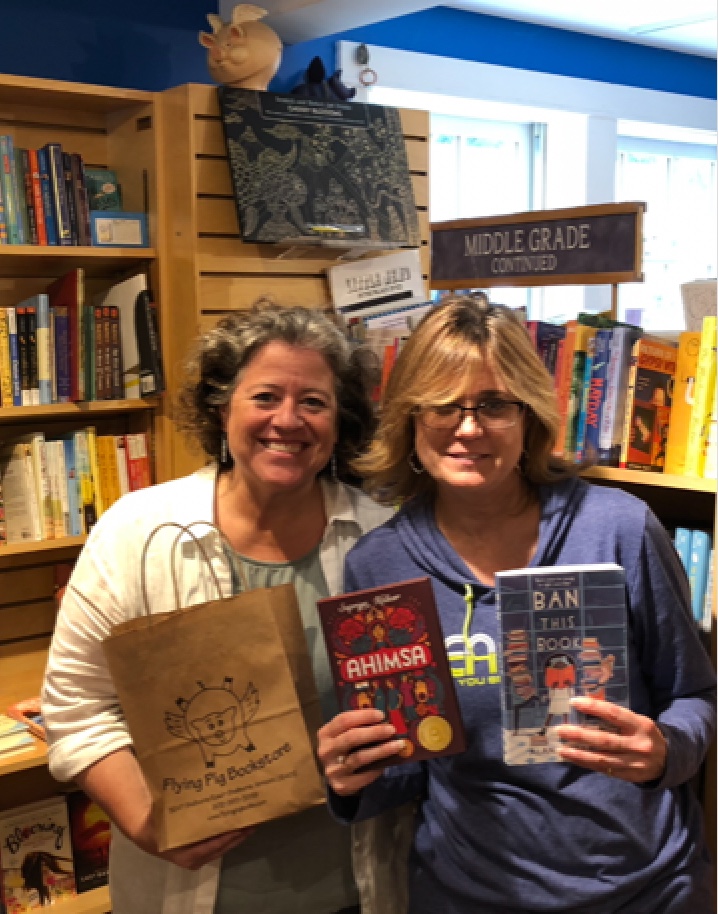 On Sunday, three visitors strode into the store with purpose. I had a hunch they might be teachers, because the children's books they asked for were particularly interesting, recent, and a couple of them are still slightly off the radar of the general reading public. It turned out these field-savvy literary savants were indeed teachers, and one of them, Cindy Schwind from Rochester, N.Y., was on a very special mission: to gather books from indie bookstores throughout Vermont for a nationwide Twitter raffle for teachers.
"We're on an indie book crawl," she said. "We did five stores on Friday, seven stores on Saturday, and six stores today. You're our final stop on the tour."
Wow! That's one more than a complete haiku of bookstores, and includes more stores than even I've been to in my own state. I had to know more about her idea for the book crawl.

"I just wanted to do something to inspire teachers and get books into classrooms," she said, "as well as supporting independent bookstores and authors. We'd gone to a bunch of bookstores in the Boston area earlier this summer, and it was so much fun and so successful that we thought we'd do Vermont next summer. But then we thought, 'Hey, let's just do it at the end of this summer!' So here we are."
I love the thoughtfulness behind her #indiebookcrawl idea. They buy three books at each store*, and then post them on Twitter for the raffle. And there's more to it: Cindy not only celebrates books and bookstores, she also requires teachers entering the raffle to follow the authors and bookstores and publishers on Twitter — and to retweet her post about the books — in order to win. So she's not just distributing books to classrooms around the country, but increasing readership and engagement, creating a whole web of connections. It's a perfectly executed idea, and I know must take a LOT of effort on their part.
Cindy has given away dozens of books through her #indiebookcrawl raffle, and I have a feeling she and her husband, dynamic fourth-grade teacher Scott Schwind, will be doing another crawl next summer.
"It's a little exhausting," she admitted, "but we love it!"
We were honored to be the final stop on their tour. We hope they made it back to Rochester safely, and are getting a little well-earned nap or two before the school year starts. I also mentioned the fantastic Rochester Children's Book Festival to them, and they said they've been planning to attend for the first time this year. Hooray!
Three cheers for the Schwinds, the patient friend traveling with them, and the fabulous #indiebookcrawl!
*Books they chose at the Flying Pig: Ahimsa by Supriya Kelkar (Tu/Lee & Low), Ban This Book by Alan Gratz (Starscape/Tor), and The Dollar Kids by Jennifer Richard Jacobson, illustrated by Ryan Andrews (Candlewick).