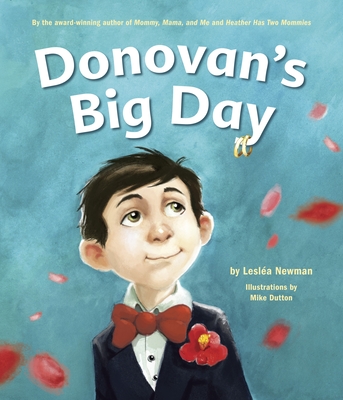 Recently, a young woman in her mid-20s came into the store looking for a picture book to give her one-year-nephew, one that contained a same-sex couple, ideally aunts or uncles, but barring those, same-sex parents. "I'm getting married to my fiancée in two weeks," she said, "and I'd really like to give my nephew a book he can understand, with a family like ours." I scratched my head, trying to think of possibilities.
Guess what? It's a publishing DESERT for young children of same-sex parents and kids with LGBT relatives.
There are some titles out there. I remembered the two Bobbie Combs picture books from several years ago, ABC a Family Alphabet Book and 123 a Family Counting Book, which continue to be important additions (but whose art I want to like better). And there are several books about having gay parents, like Heather Has Two Mommies, Lesléa Newman's pioneering picture book from more than 25 years ago, and her more recent board books Mommy, Mama and Me and Daddy, Papa and Me. And Patricia Polacco has a warm-hearted book, In Our Mothers' House. There is also, of course, the charming And Tango Makes Three.
But I couldn't think of a picture book where gay aunts, uncles, grandparents or other family members are significant figures in the story. (And please, dear readers, shout out in the comments if there are any!)  A fact sheet on lesbian and gay parenting on the ACLU website states: "Researchers estimate that the total number of children nationwide living with at least one gay parent ranges from six to 14 million." The number of children with a gay aunt, uncle, cousin, or grandparent must be exponentially higher than that.
Where the heck are the books for these kids? How is it that, more than 25 years after Heather Has Two Mommies, we still don't have a significant body of literature for these millions of children?
Recently, there's been a surge in awareness of other kinds of diversity in picture books,  including gender non-conformity and  the rejection of social constructions of "girl" and "boy," like the beautiful Julián Is a Mermaid, Pink Is for Boys, Jacob's New Dress, I'm a Girl, Jerome by Heart, and many more. It's still a small percentage, but strides are being made. On the other hand, picture books for children of gay parents can be counted on two hands, and nearly all of them are issues-driven books, not storybooks.
Ten years ago, when I started blogging here in PW about the lack of racial, ethnic, and cultural diversity in children's books, I asked authors and illustrators and publishers to be aware that white is not the default race. Now I'm asking authors and illustrators and publishers to consider the actual world we live in, to recognize that the 'default' family—isn't.
We seem to cling to the nuclear (and still overwhelmingly white, not to mention straight) family structure in our books for very young children, when in fact less than half of families in the U.S. look like that. Just as we need a beautiful array of multiracial families in board books, and books with single moms and single dads, we also need board books and picture books that have, as a matter of course, and without need for extra commentary, LGBT family members. It can be as simple as showing a happy family around a picnic table, where one of the arm-around-shoulder couples happens to be two men or two women. Or a simple mention: "The best birthday present came from my uncles, who gave me a unicorn." You know, like that.
As for my customer? The young woman getting married who wanted something for her one-year-old nephew ultimately chose Donovan's Big Day, in which a boy's two moms get married. It's too old for him at the moment, and it's not about two aunts getting married, but it's a start. Maybe when he's two or three, the literary landscape will look a little richer.
UPDATE: Readers have written in with some wonderful suggestions! Some are out of print, but many are current, and it's clear that the search engines in the main distributor databases we booksellers use are not tagging these titles consistently, in a way that allows us to find them in targeted searches. That would be so helpful!