A customer stopped by the store a month ago. As we chatted at the counter he shared with me that he was an author. His name was Ira Mark Egdall. I looked up Ira's book on ipage, Einstein Relatively SImple: Our Universe Revealed in Everyday Language. Here is a screenshot of the search results.


At first glance this may seem like an ordinary interaction with an author passing through town, sharing news of a book with a dubious pun in the title. That was not the case, though. It was actually unusual for a number of reasons. First of all, sandwiched between the paperback and hardcover editions of Ira's book is a book with the identical title, but a different author, Cecil Eckar. Ira informed me that it was a pirated version of his own book. Secondly, what you would not know unless you too had met Ira, was that the cover of Eckar's pirated book literally featured an author photo of Ira, the actual author of the book. The photo appears to have been taken from Egdall's own website.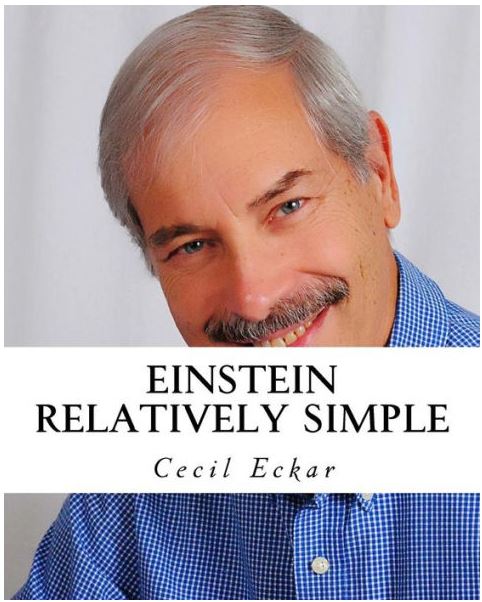 Eckar's book was made on CreateSpace, Amazon's self-publishing platform, while Ira's was produced by World Scientific Publishing, a traditional publisher. These facts explained the other atypical aspects of the conversation. Ira had not mentioned his book to interest me in carrying it but rather to share his experience with someone else in the book industry. I was very interested to hear more. Here is what he had to say as I recall it.
"That book is a pirated edition of my book. It is a digital scan of the original, of poor quality, but it is very good at undercutting the sales of my book, which is mainly sold for use in college classes. Students (as I knew very well) do most of their shopping online and finding the book they need at a lower price, well, you can see what is happening. Cecil Eckar is the name being used by a pirate. All of his other CreateSpace books are pirated editions of other books being used in college courses."
I hit the link for Eckar and beheld the truth of Ira's words.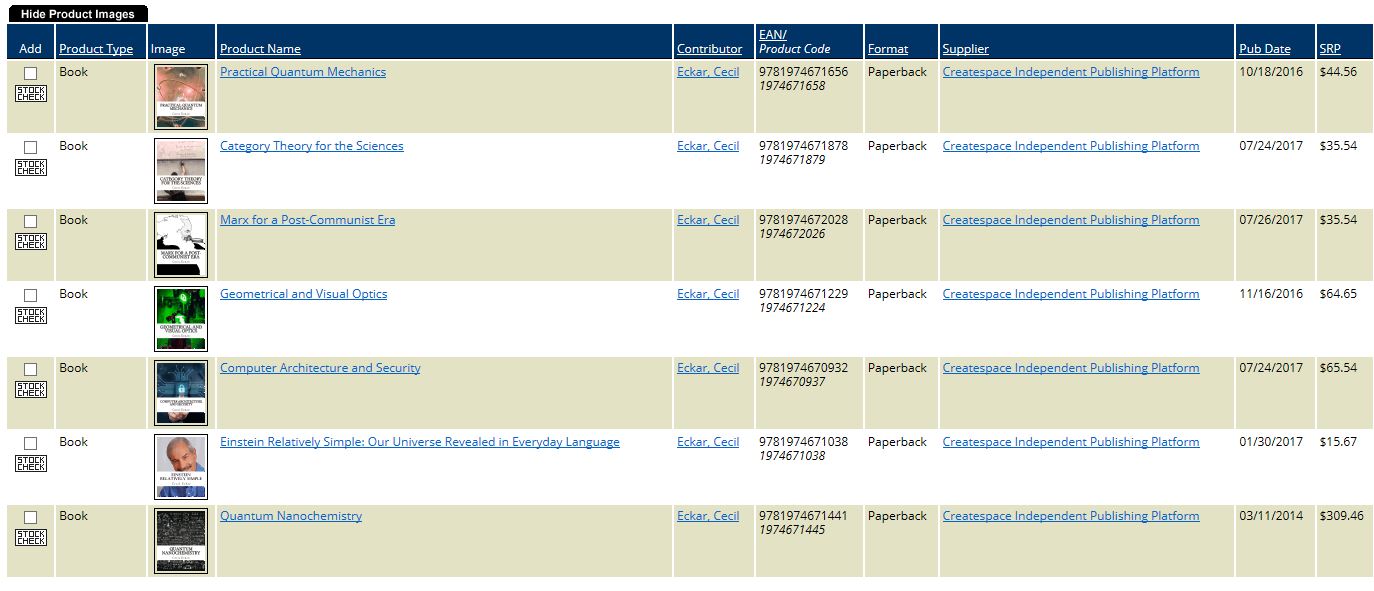 All these books are pirated editions. For example.



Ira told me that "I have complained to Amazon at the top of my lungs and gotten nowhere. This kind of thing is happening on their CreateSpace platform all over the place, you have to figure. It's the wild West and they don't care."
A month has passed since Ira's visit. I checked again and noted that the edition of his book was no longer available at Ingram and had been removed from Amazon. He had won his personal fight. Of great interest though was that all of Eckar's other books are all still for sale.


Only the squeaky wheel was removed. The other obviously pirated editions made under Eckar's name have been left to garner money until their copyright holders make enough of a stink to have them removed.
What does this all mean? Let me state the obvious. Publishing is not a self-regulating system. Filters matter. Ethics matter. Intellectual property laws matter. Or maybe they don't. Perhaps pirated editions of parallel dimension books like Dark Matter and All Our Wrong Todays are out there to make existential art out of what appears to be simple criminality. I'm sure we should all be happy to see laissez-faire self-publishing hard at work like this undermining the outmoded obstacles to a thrilling future. We need everything right away, right now, so why should the public have to wait for copyrighted books to lapse into public domain before a cheaper, crappy version of them becomes available for purchase?
(Follow Up: Presumably in response to the post above all of Eckar's pirated books were removed from Amazon four days after the post's publication. As stated above,  it should not take exposure by third parties to cause pirated editions to be purged. Checking up on "new" CreateSpace submissions using titles identical to existing ones would not be difficult after all.)