You may recall the story of Vermont hobby farmers John and Jennifer Churchman, who self-published their picture book locally, were blogged about here in ShelfTalker, and subsequently hit the publishing lottery, winning a three-book deal from Little, Brown in a bidding war among five houses. Now, two and a half years later, the Churchmans (The Sheepover, Brave Little Finn, and A Farm for Maisie) are ushering in their fourth book, Alpaca Lunch. The book may be releasing today, but preparations for its launch began at our store back in January, when we received our first pre-order.
We had another few orders trickle in online and over the phone in February and March, but the alpaca love-fest started in earnest in early April, when the Churchmans unleashed some powerful marketing magic sauce on their Facebook page and offered their followers a special signed, hoof-stamped, and numbered bookplate with pre-orders. As with the prior three books, Vermont booksellers had orders pouring in from all corners of the nation. (We seem to get a lot of orders for these books especially from Virginia, Tennessee, North Carolina, California, upstate New York, and the Midwest.)
Prepping for release day takes near-military precision (note: there are photos below this long list, so you can scroll down for those if you don't want the nitty-gritty):
creating a mail-order notebook, organized chronologically so that the numbered bookplates are given out, lowest numbers to the earliest customers;
creating prepaid special orders for the long-distance customers, some with differing state taxes (not only does NY collect sales tax online, but every town has its own tax, which means creating a new tax table and profile in our system);
logging in the non-prepaid in-store-pickup pre-orders;
making sure all of the mail order pre-orders have actually been paid for (for instance, one woman called from an airport to make her order and understandably didn't want to give her credit card over the phone at the gate, so she asked us to call her closer to the publication date for her cc info);
making sure we've ordered enough books;
getting the book measurements so we know what size padded envelope to order;
ordering those padded envelopes in advance, in the right sizes to fit the varying numbers of books ordered;
printing out mailing label templates and filling out the mailing addresses;
checking our stock of packing tape;
tracking the book shipment;
receiving the books;
freaking out because the books don't arrive with much time to spare;
freaking out because so many arrive damaged;
checking our freak-outs because they never lead anywhere good. It will all get done!
We were biting our nails today, because the books hadn't arrived by 2:30 and we knew that tonight, we had to get all of the packages packed up with books, receipts, bookmarks, gift messages, gift wrap where ordered, the envelopes taped, labeled, and marked with which shipping option the customers chose (media mail, Priority, or ground) — all so we could send them out tomorrow to the eager readers waiting for this adorable fuzzball!
After the store closed at 6, my friend Sue and I hunkered down and got to work. She affixed the special bookplates onto the endpapers, being careful to keep the numeric order intact, and I processed and packed up the sales. When she finished her task, she helped with the packing up. Five hours later, we finished!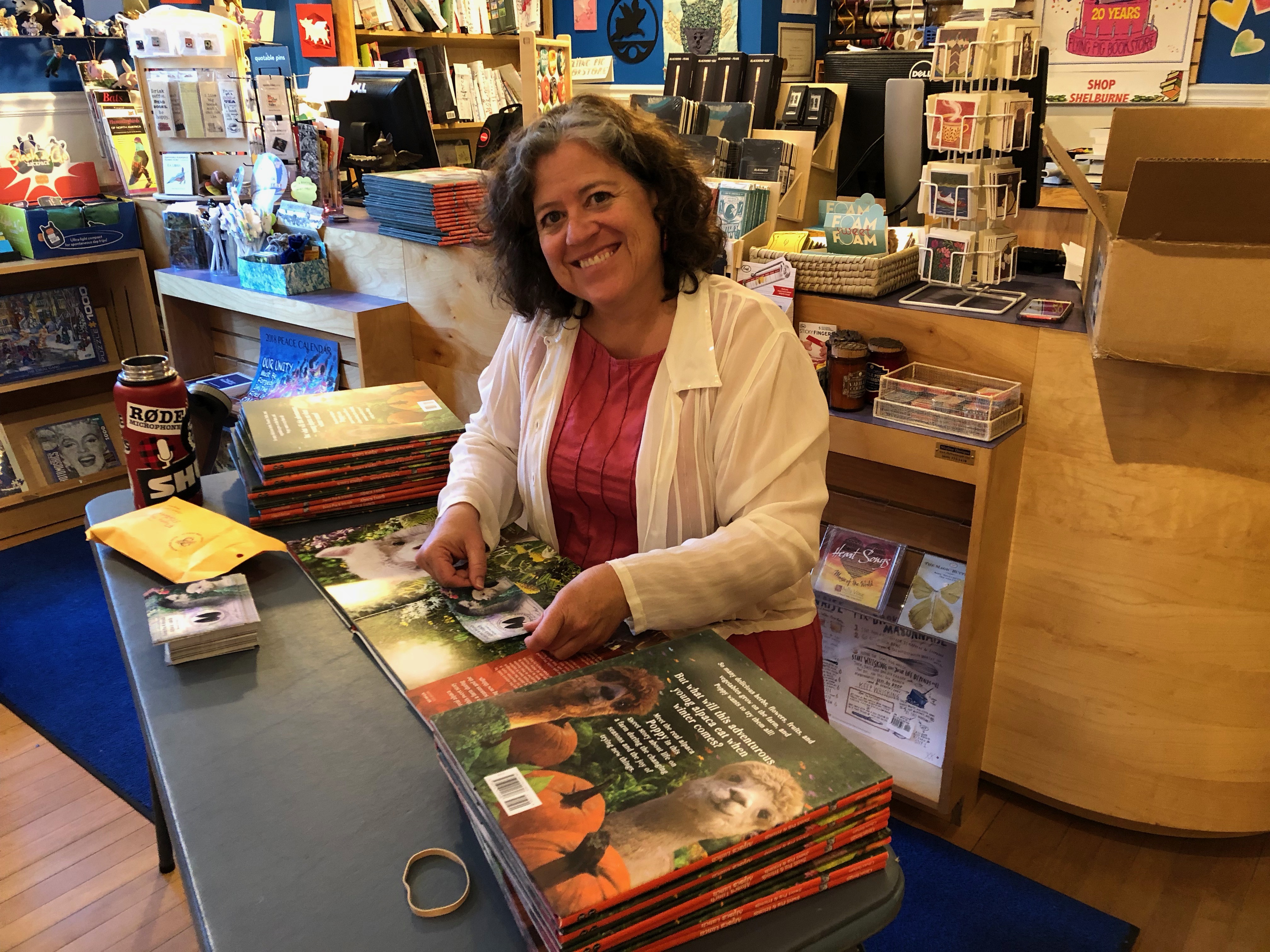 (I am fake-affixing the bookplate here. Sue actually did that work but was too shy to be photographed.) If you zoom in, you can see the alpaca hoofprint that John and Jennifer stamp onto the bookplate. Ideally, you will also ignore the giant rubber band in the foreground that our photo stylist left in the picture.
One cartload of orders ready to be taken to the post office tomorrow morning. (They are not going to love us tons at the old PO, because they have to type in every single address. Eep!)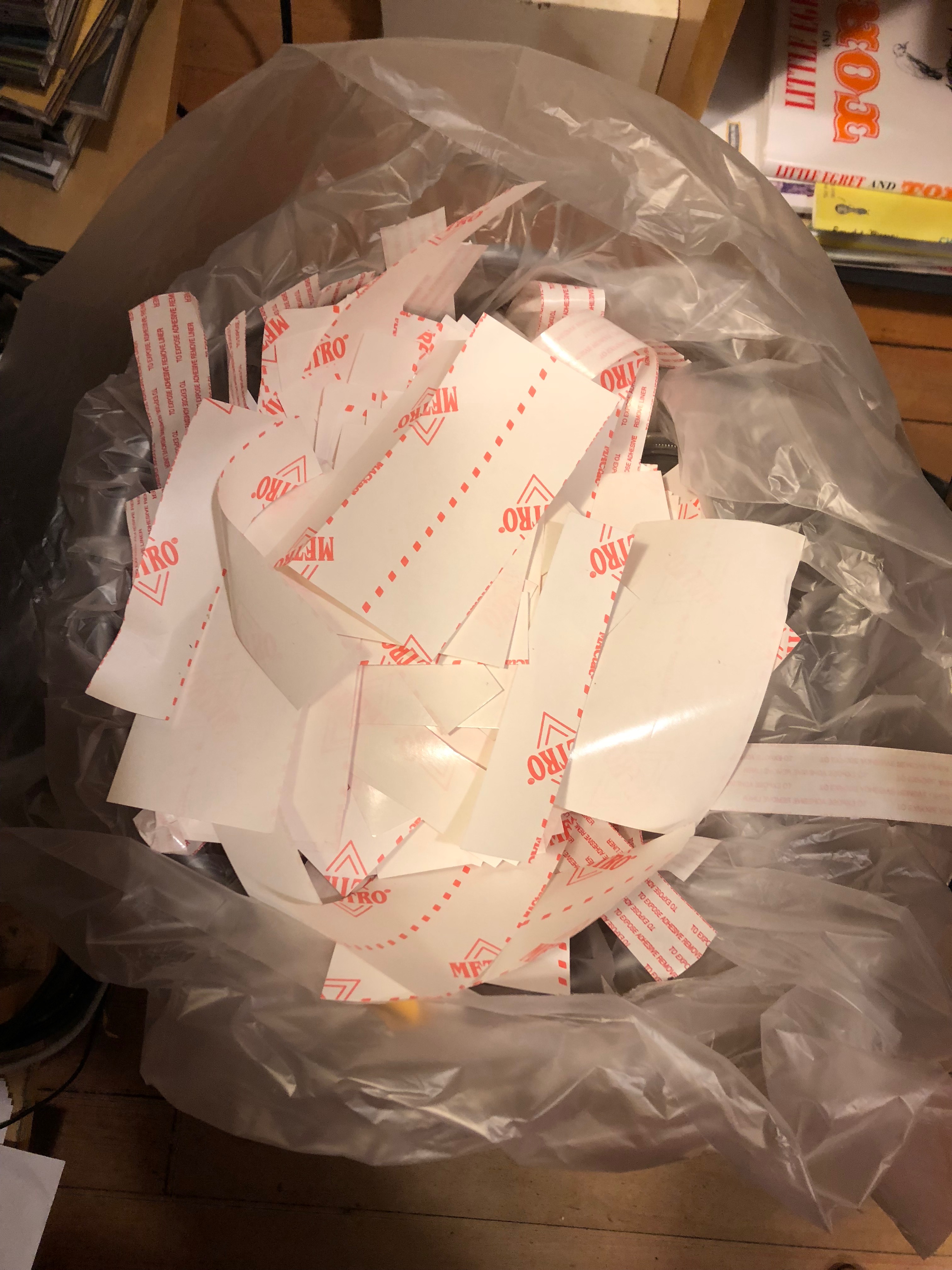 This is what the trash can looks like after the mailing label / padded-envelope-adhesive-strip-cover extravaganza. (I want someone to come up with a fabulous use for those label backings so they can be rescued from the trash.)
Bookstore privacy HIPAA prevents me from sharing the identities of our mail-order customers. Some of them have the most beautiful, Dickensian names and call us on the phone to make their orders and are a sheer delight to chat with. We want them all to move to our town, or at least visit so we can meet them in person.
Instead of a launch party at the store today, we decided on a story time at the farmer's market on July 21. Inexplicably, John and Jennifer aren't allowed to bring their gentle, calm service dog, Laddie, to the farmer's market, but would be welcome to bring Poppy the alpaca! However, since a baby alpaca is expected any day now, that won't be happening. (Baby alpacas, like lambs, are called "crias," Jennifer tells me.) Check the Churchmans' Facebook page for update photos.
Right now, it's 12:45 a.m. on release day, and I can go to sleep in the knowledge that a good day's work was done and we are (mostly) ready for the celebration of the cutest alpaca ever. The cutest, at least, until the cria comes along.