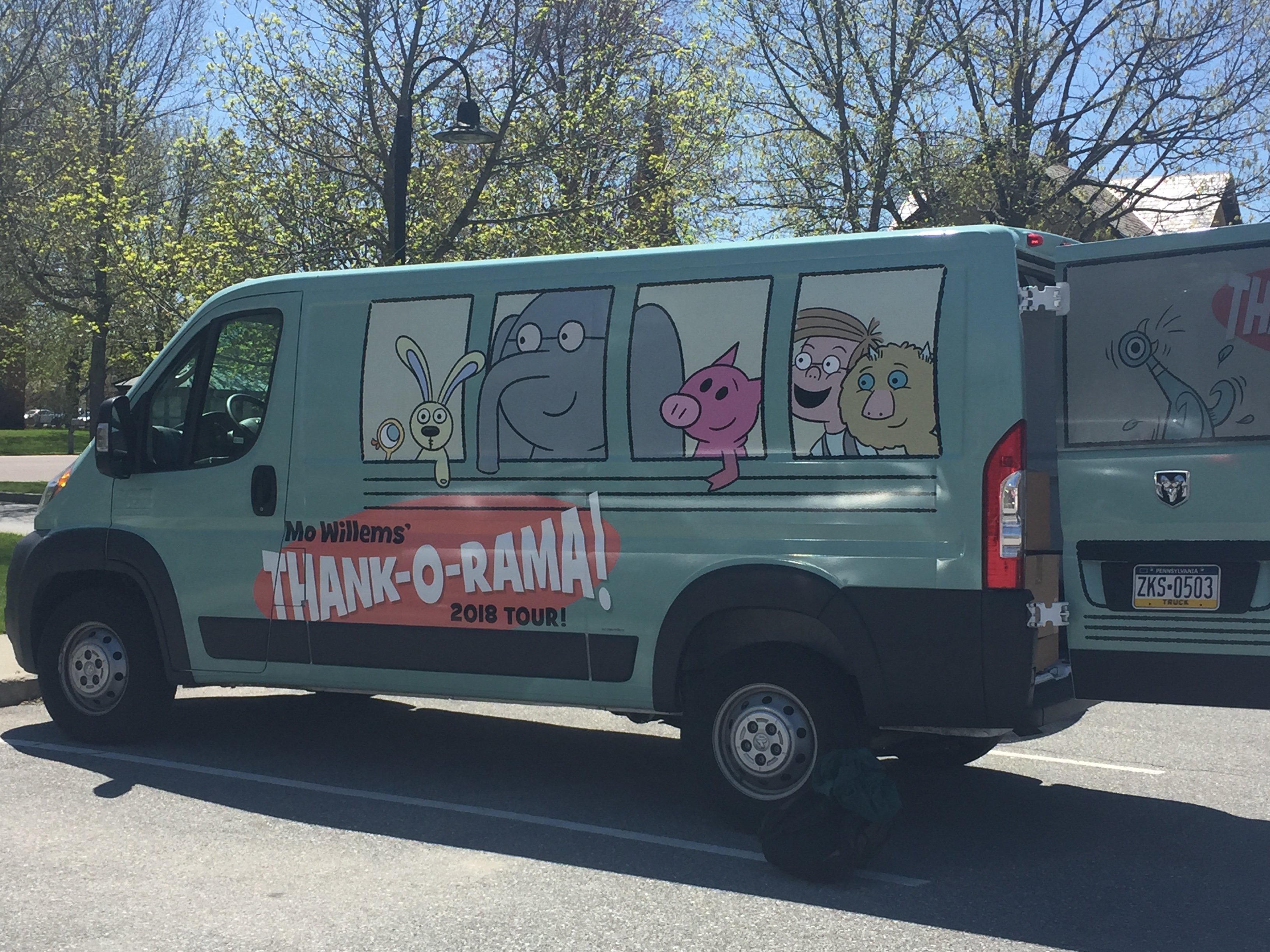 When the Elephant and Piggie Thank-O-Rama tour was offered to us for Sunday, May 13 (which fell on Mother's Day), we knew it was one of those big events that needed planning within an inch of our lives. Venue, staffing, supplies, activities — all of these needed to be locked down as soon as possible.
The tour van comes with plenty of supplies — a reading corner with six colorful, tiny, soft armchairs for little readers and felt bins for books, a prize wheel with some truly excellent merch ranging from Elephant and Piggie postcards to a plush Pigeon bus (!!!), a craft station with tables, crayons, child-safe scissors, etc., sturdy cut-outs of favorite Mo Willems characters, a big backdrop against which families could pose for photos with the Elephant and Piggie costume characters, and two official Thank-O-Rama staffers to set it all up and help the event run smoothly. 
In addition, we decided to do a few more things to make the party festive: face painting, balloons, cake, a game. Staffing would be a challenge; two employees short already due to vacations, we also knew that having an event on Mother's Day would preclude some of our bookstore staff moms from participating. The costumes alone needed two bookstore folks, plus someone at the book sales table, reading corner, craft area, cake, balloons, and face painting stations. That's a lot of people to pull in on a holiday! But my fabulous staff and friends came through. FP bookseller Emily found an "Elephant" in the form of a willing high school student, I roped in a good friend for Piggie, face-painting, and balloons, and one of our young staffers brought her sister with her. We needed every hand on deck!
I created a run-of-show for the event, which is just a timeline of what needs doing when and by whom:


On Sunday morning, we got to work. Our venue, Shelburne Town Hall, turned out to be occupied by a dance group the morning of our event, so we started set-up outdoors as best we could, moving loads of equipment from the van and blowing up balloons: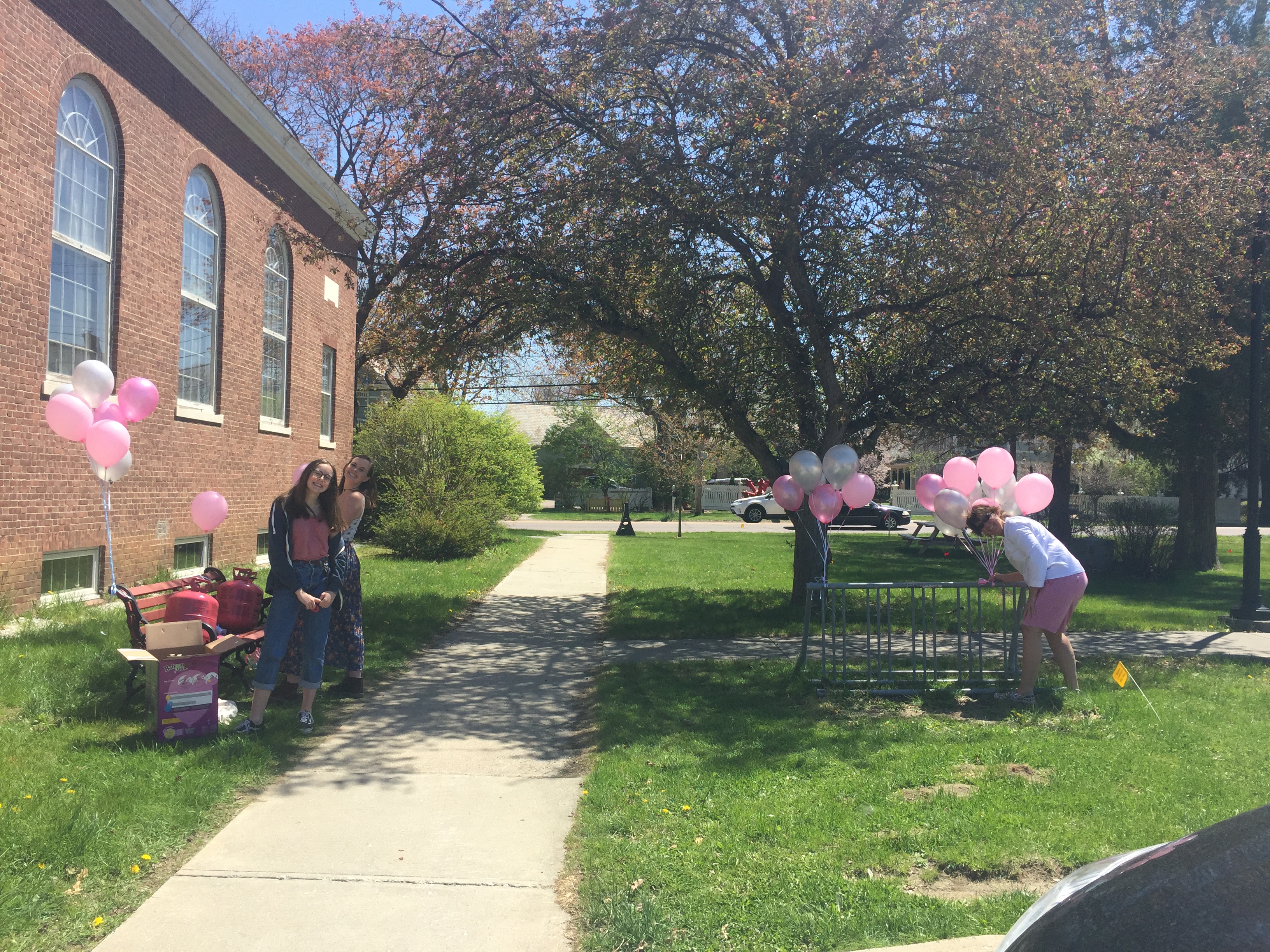 When we were finally able to get into the space, Shane and Suzie from the tour company got all of their pieces set up with a little help from our crew, and we got our parts going:

It took us an hour and a half to set up, and when the doors opened up at 1 pm, there was a line of 50 people at the door. Kids and parents poured in all afternoon, and we had a total of 200+ people, which for our tiny town, on a sunny holiday, is pretty darned good! Our photographer volunteer got called away at the last minute, so I tried to get as many shots as I could, but of course could only take them during lulls, so the full craziness isn't captured on camera.
Two moms came from New Hampshire, driving a couple of hours each way to attend. "We saw this tour stop listed on Mo Willems' website, and we had to come!" they said.
The reading corner was surprisingly busy the entire time. You'd think that reading wouldn't have been such a draw at a party; after all, it's the one event activity that can be replicated at home at any time. But families were happily cozied up on the rugs and in the little chairs the entire time. It was such a tribute to reading!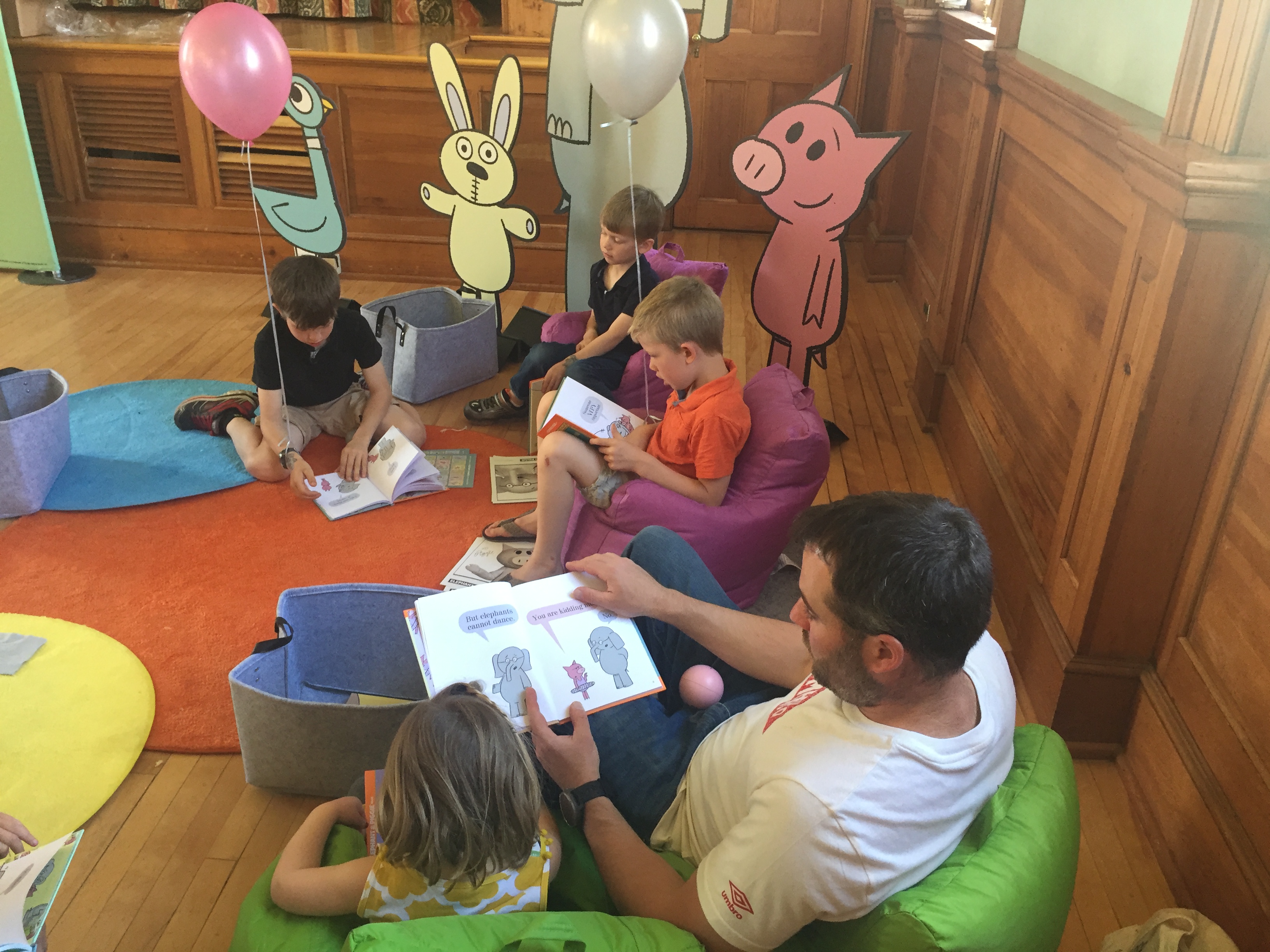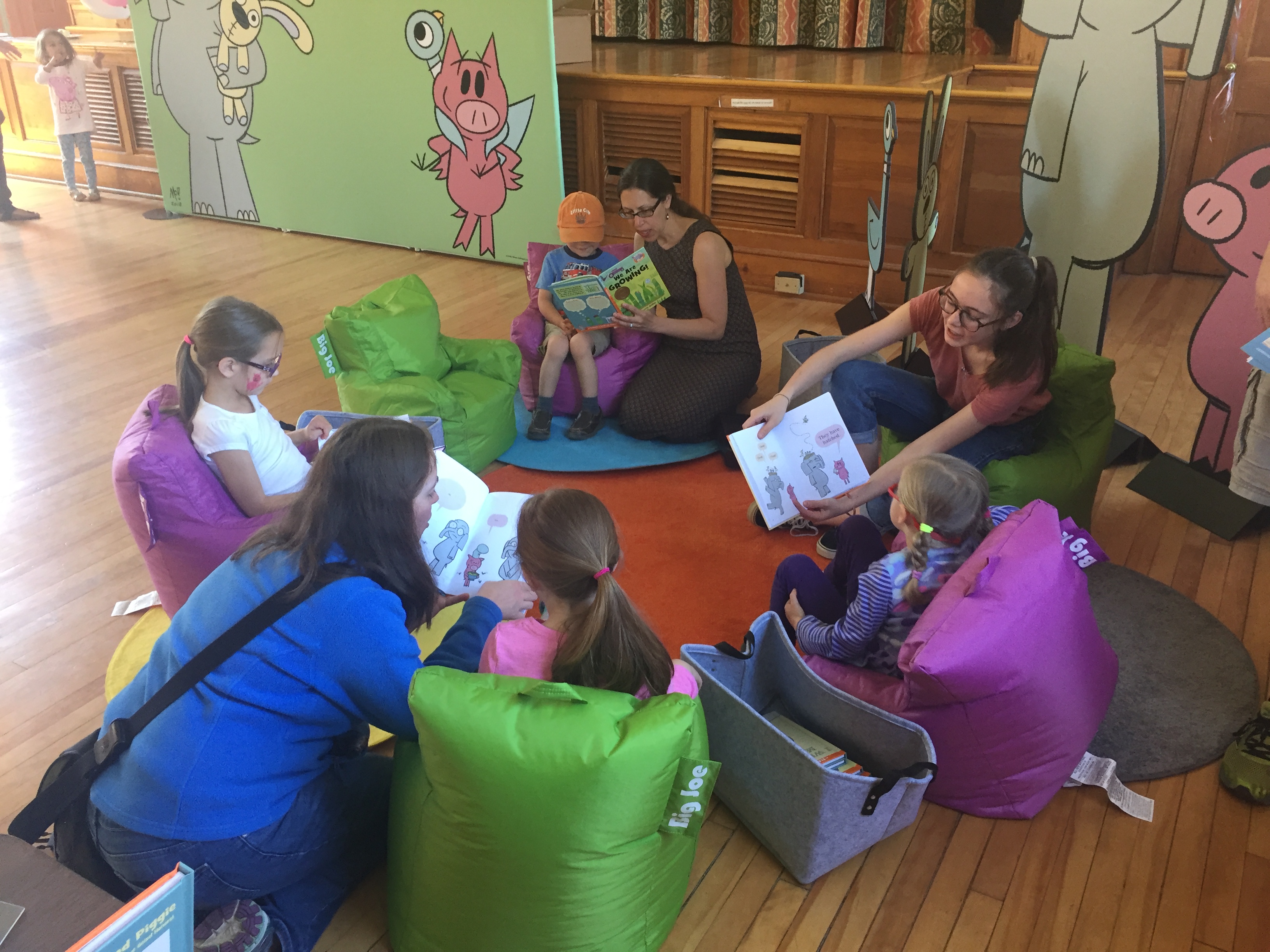 Kids also loved the Prize Wheel. I still have enormous envy of this delighted boy who won the plush bus. I want a plush bus!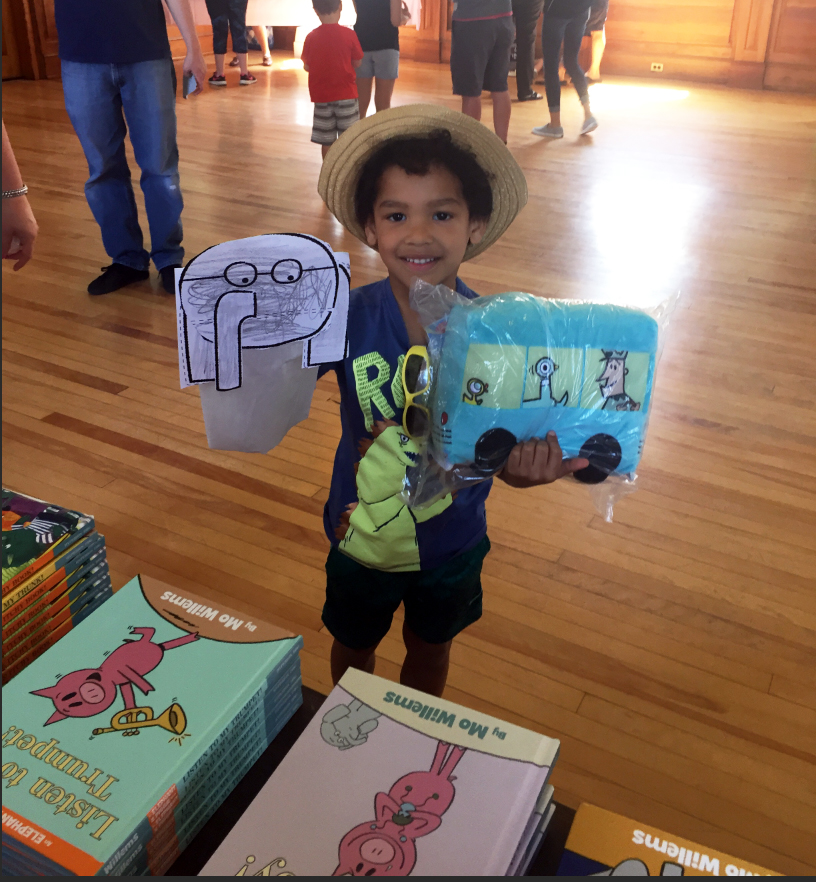 And, of course, meeting Elephant and Piggie was the highlight of the day for all of the kids: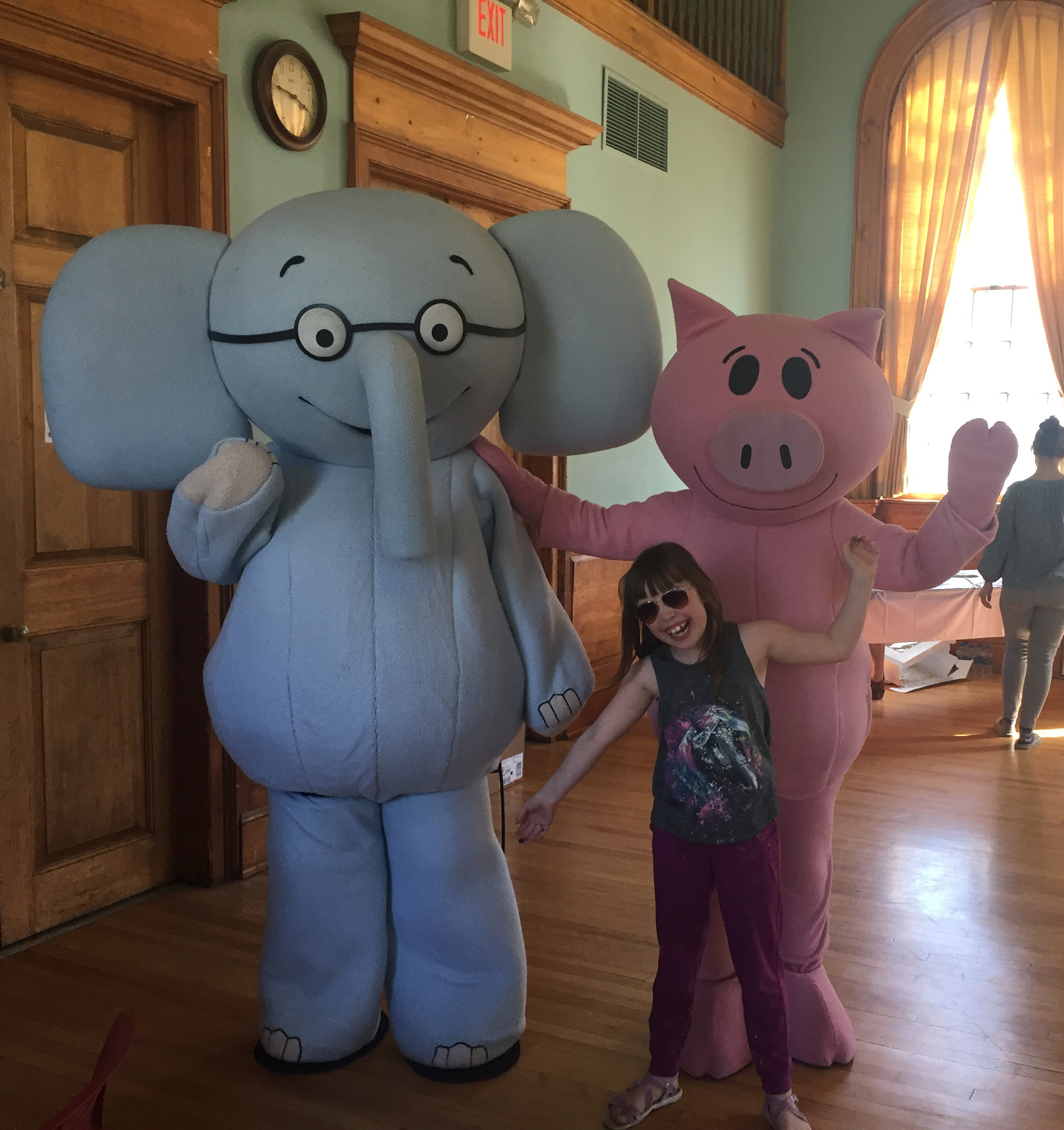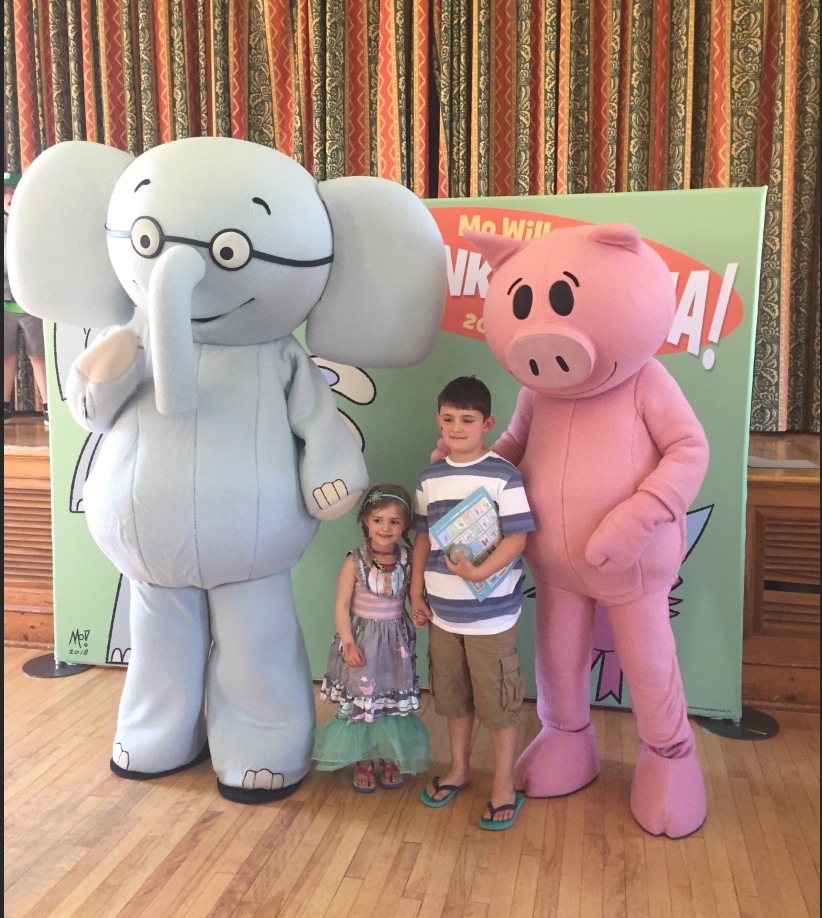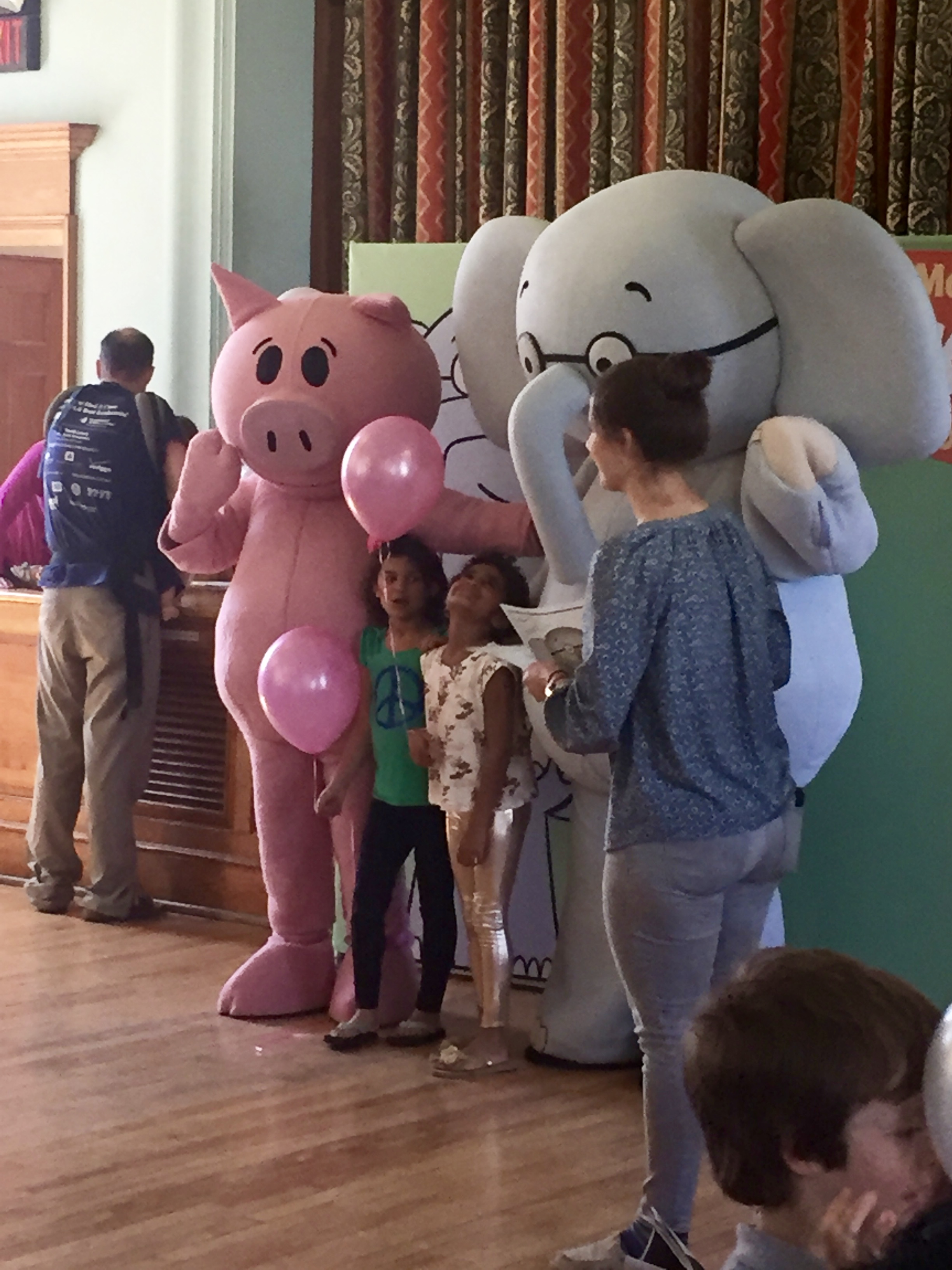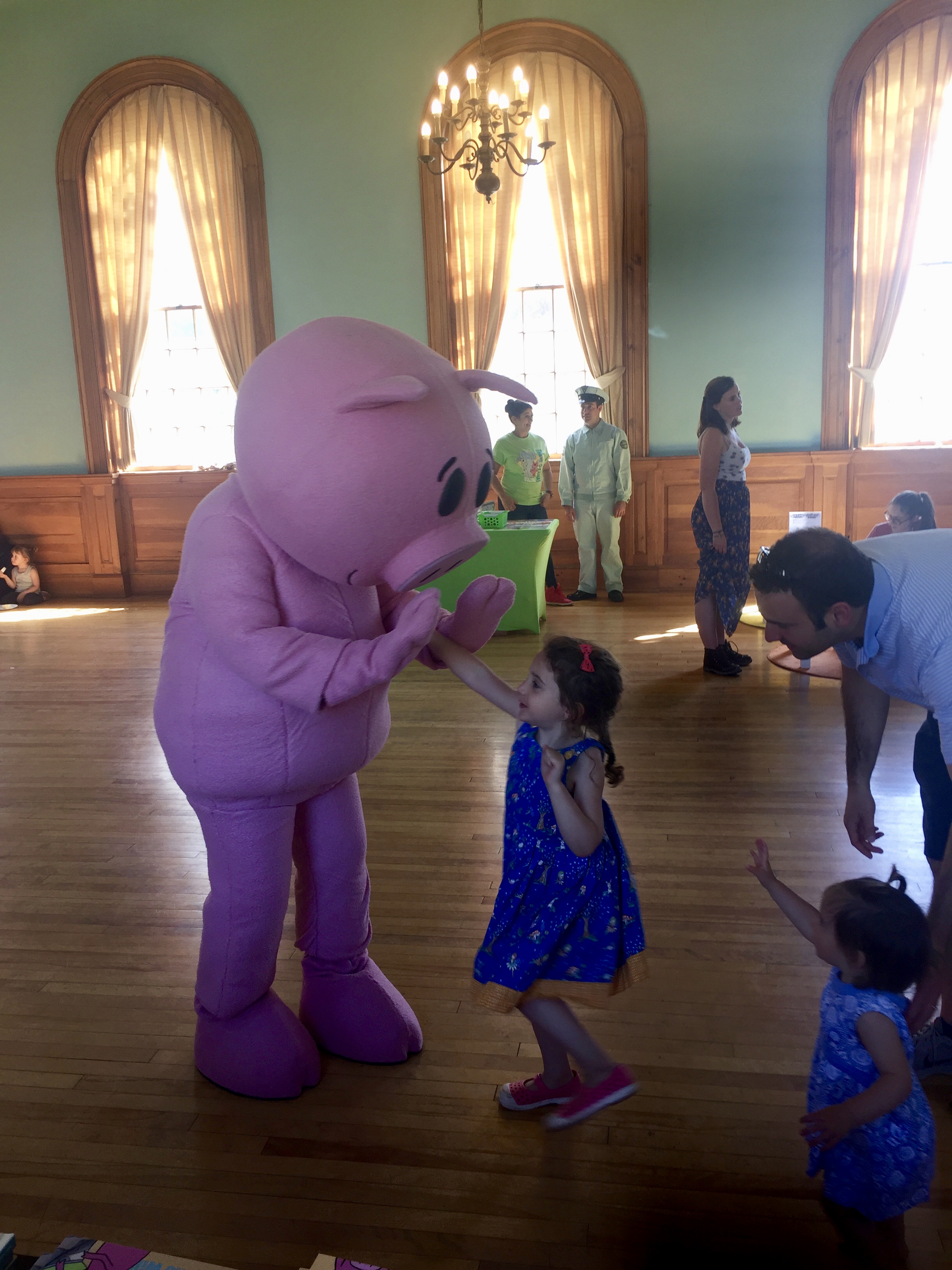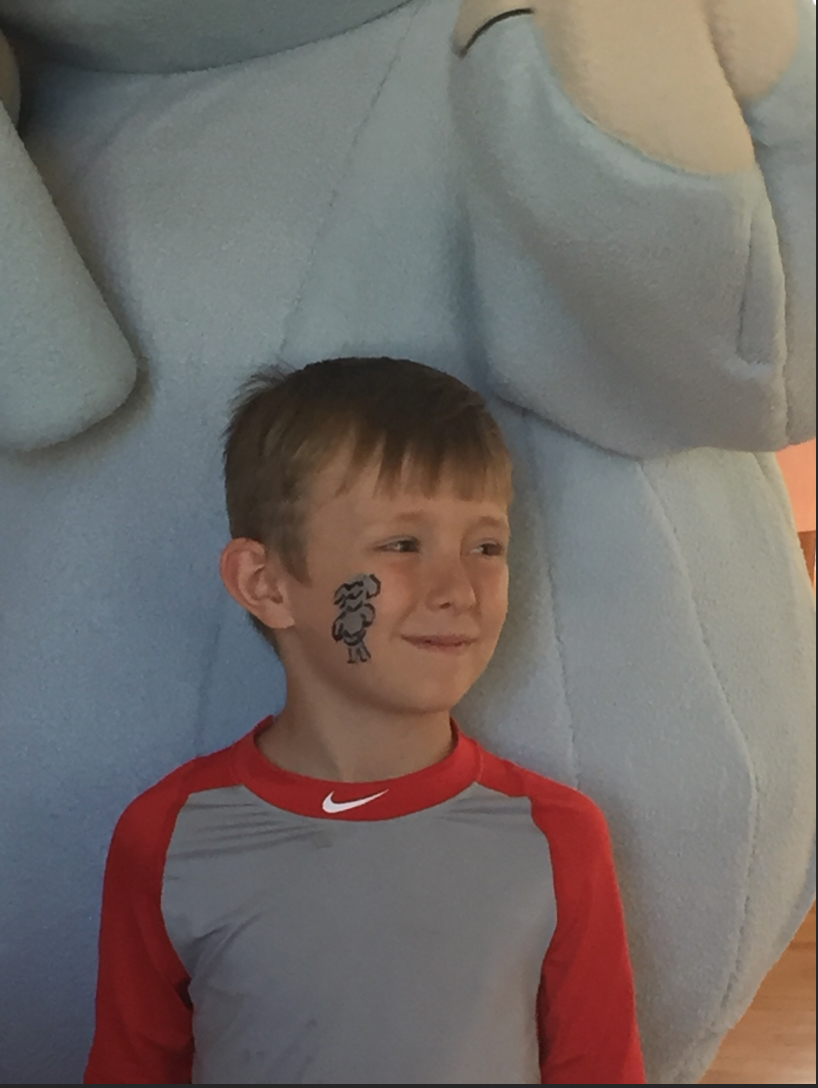 And a highlight for grownups, too: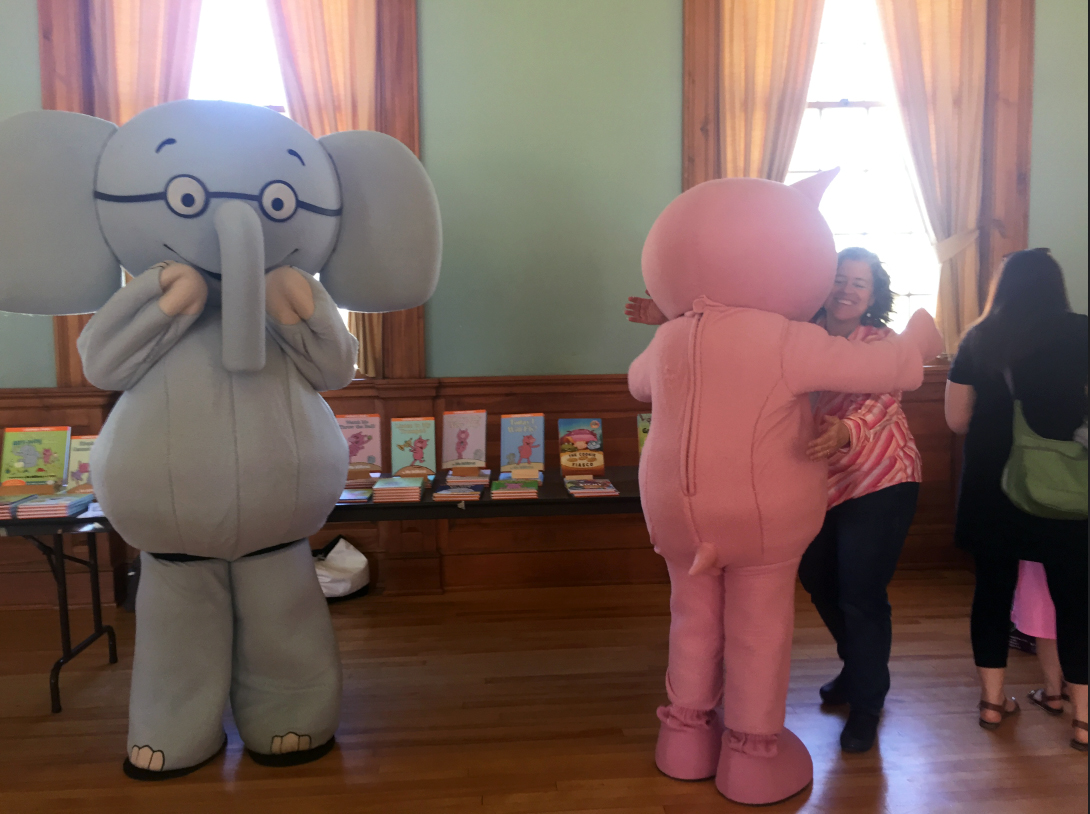 Of course, the best take-away from the entire event? Great books to read again and again!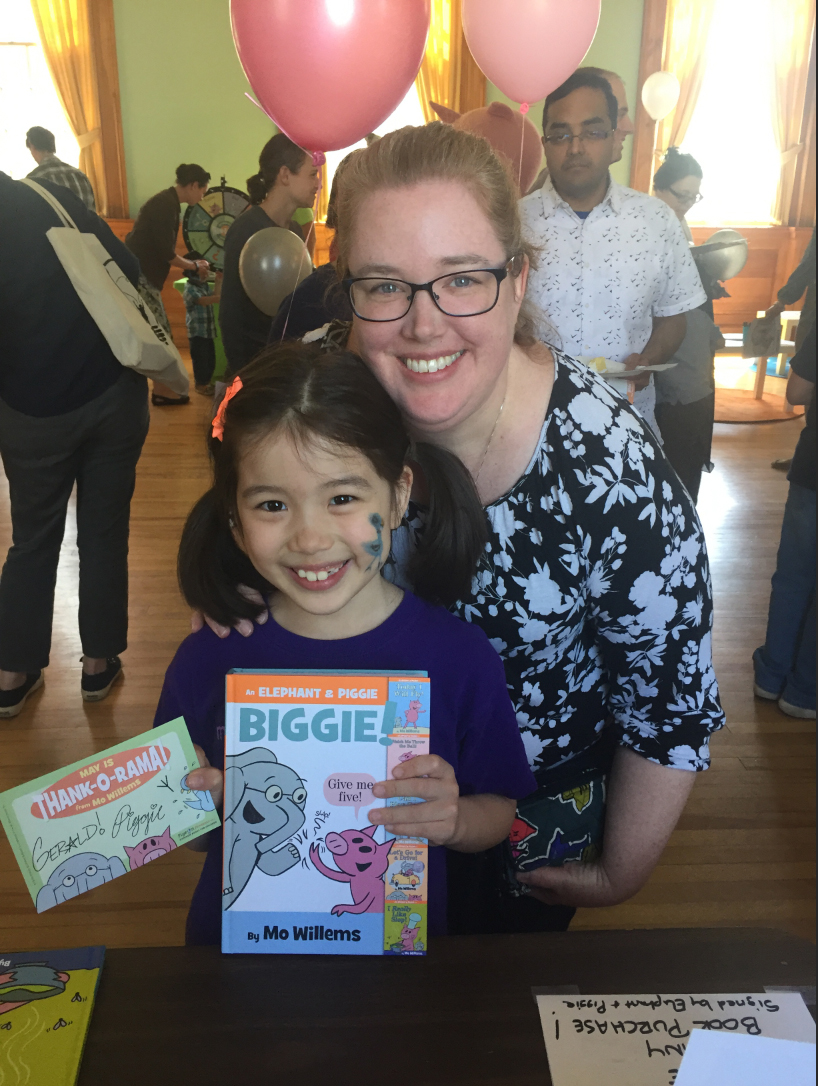 Thanks to Shane and Suzie from the tour and to all of our amazing volunteers for such a fun event! (The photo is missing Aidan and Beth, but we couldn't have done it without them!)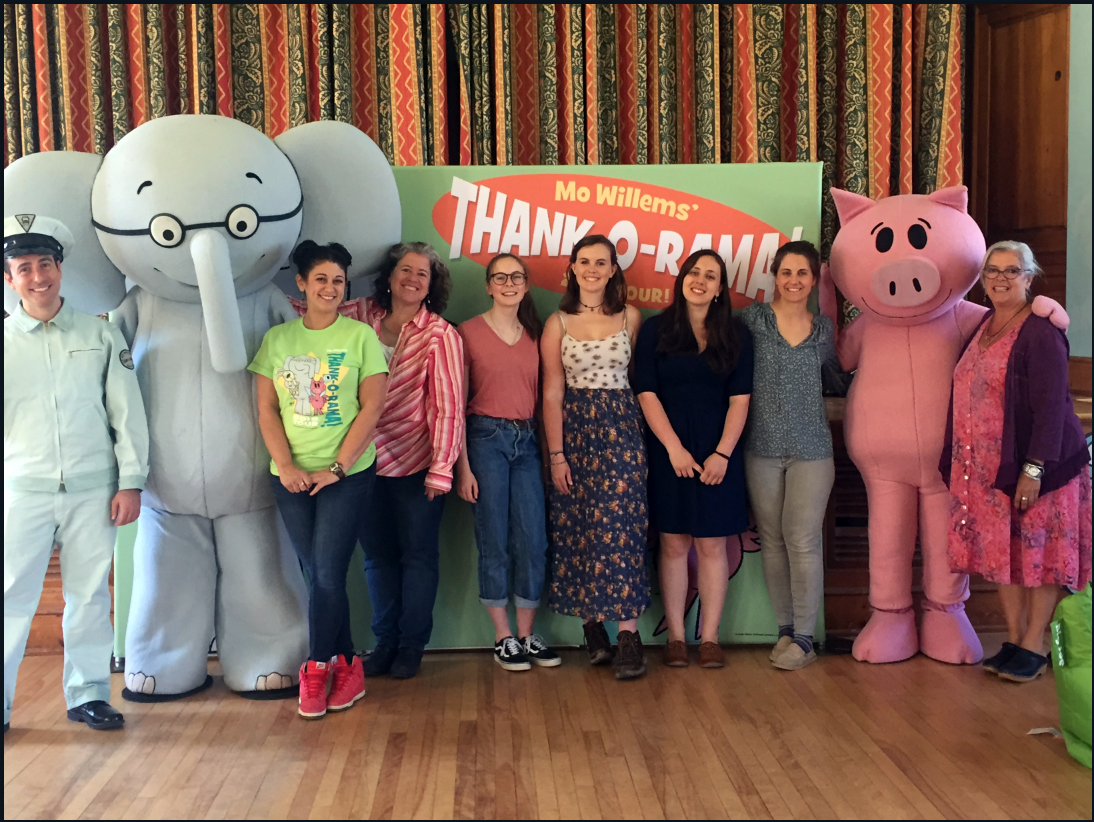 And thanks also to the tour organizers, who listened to our feedback so responsively before and after the event! For instance, the art the little girl is holding in the photo above with her BIGGIE book was created after I asked the tour folks if we could make the books extra special for attendees with a bookplate available only during the event. They came up with this "autographed" bookplate. Kids actually gasped when they saw Gerald and Piggie's signatures!