"You should be going to every Girl Scout Jamboree in the country!" urged a troop leader to author-illustrator Sarah Dillard. Sarah, whose
Mouse Scouts
 chapter book series is beloved by Daisies, Brownies, and Girl Scouts the nation over, had been invited to the Girl Expo in Vermont on our state fairgrounds, and her publisher, Random House, arranged for a booth where we could set up and sell the books. What struck me was how many Daisy and Brownie leaders hadn't known about the books and were intensely interested in them. It was as though Sarah had filled a need in the Girl Scout universe heretofore unrecognized.
The last time we did this event was two years ago, when there were just two books in the
Mouse Scouts
series. Now there are four, and you would not believe the response Sarah had from young readers and troop leaders alike. She was greeted like a rock star. One 13-year-old Girl Scout ran over to her, shouting, "MOUSE SCOUTS! I've read these millions of times!" (The sweet spot for these books is in the age 6-10 range, so it was endearing to hear a young teen so enthusiastic about re-reading those favorites.
This series is heavily illustrated with charming spot art throughout, and my favorite thing to do was to see a little person shyly eyeing the books, encourage them to open them up and look at the drawings inside, and then point to Sarah. "She wrote the words AND drew all of the pictures," I would say. Their eyes would widen in surprise, and they would look anew at Sarah. One little girl pointed to the cover. "Even this?" she said. "Even that," I said. "Even the wood frame around the mice!" They were uniformly astonished. Some of these kids are young enough that the word "author" carries little significance, but everyone is wowed by someone who can draw terrific pictures.
Our table had been busy last time, but this year, we were flocked with customers pretty much all day long (except for the 45 minutes when a hammering-things workshop took place about 15 feet away from us). We sold loads of full series sets. It didn't hurt that we set up a special deal to give a free patch with every full set. The patches are highly coveted, real embroidered items that Sarah created: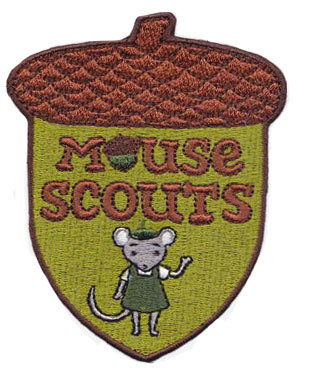 By the time we wrapped for the day, Sarah had been invited to the New Hampshire Girl Scout Jamboree in the fall, and at least a dozen Scout leaders asked for Sarah's card and told her she should be reaching out to troops across the country.
It made me think about these wonderful audiences that are hungry to be reached, but lie outside the scope of the usual PR efforts. Like other alternative markets, it seems as though there are potential gold-mine opportunities for publishers, but how do we convert those ideas into action?
A few years ago, I had the honor of attending a diversity conference for book industry people. I was lucky enough to be in a focus group with the amazing
Just Us Books
publishers, Cheryl and Wade Hudson, who have worked for diversity in children's books for decades. They talked about their efforts to get their books into bookstores, but found that those efforts weren't enough to reach all of the people who wanted and needed them. There just weren't bookstores in all of the neighborhoods where the very children Cheryl and Wade were publishing for lived, and some of the bookstores that were there didn't feature a diverse collection of titles. So they took books to church festivals and neighborhood parties and school events, where people would gather around the tables, delighted. Cheryl and Wade would hear comments like, "I had no idea there were kids like us in books!" They sold grocery bags full of books to an audience eager to embrace them, because they had gotten creative and met their audience where they lived.
In this challenging era, it seems to me that publishers might find some unexpected successes in finding ways to bring their authors to perhaps less traveled but smartly targeted conferences, and partnering with community bookstores in neighborhoods in new and creative ways.