My mother celebrated her 91st birthday last month at her assisted living senior residence. She's lived there for almost four years now, initially going for a "brief stay, maybe a month or two" to recover from pneumonia.  A couple of other illnesses followed, some arthritis gathered in her knees and shoulders, and then she found that she appreciated having others around for company, after living alone for some years after my dad died.
We kept their condominium nearby, all this time, just in case she decided to move back home with some visiting nursing as support. Each day or two, I drop by the empty residence and pick up the mail, run the water in the sink, and in the warmer weather, I water the hostas around the patio. But on her birthday last month, Mother decided that it was "all too much, really" and asked me to put the unit on the market. I began the process of finding all the documents, listing the property, and sorting through furniture and clothes, files and boxes of pictures, setting things aside for donation, to keep for someday grandchildren, or to move into my house for now. Some of it was easy: box up the dishes for college-aged kids moving into apartments, send the towels and sheets to the women's shelter for folks starting over from scratch, and carry all those albums of black and white photographs home to spread out in the dining room at home and try to identify the generations of relatives and neighbors, birthdays and graduations.

I left the bookshelves for last. There aren't that many, really, as Mother has shifted most of her reading to large print volumes that I pick up from the local library. (Librarians are the best friends of those of us in the eldercare trenches: one dear librarian sets aside a tote full of Mother's favorite genre each week, and quickly trades out last week's haul when I fly through after work. We sometimes "recycle" her choices after a couple of months, but she doesn't seem to remember or mind.) What's left at home, though, I need to deal with now. It's an odds and ends collection of books that no one has grabbed over the years when visiting, or that Mother hasn't loaned or pressed into the hands of someone visiting "because they might have some quiet time, and television is just terrible for you, you know." Most of my childhood books have long since made their way to our family library, and my Ramona the Pest and Pippi Longstocking and House at Pooh Corner are nestled among my own children'a dog-eared and beloved copies of  Eloise and Caddie Woodlawn and The Cricket in Times Square. But at my parents' house there's that long shelf of Reader's Digest Condensed Books and a bunch of Book of the Month Book Club selections, and a series of paperbacks that she's brought home from the beauty shop because she started reading during the shampoo and set but didn't finish by the time the dryer was done. Lots of biographies of female movie stars and women in politics (Mother loves a good Democratic candidate with a sharp tongue) and maybe a dozen cookbooks held together with giant rubber bands, keeping all those newspaper clippings and magazine pages tucked safely inside the covers. There's some foreign titles that they collected during travel, and a complete set of World Book encyclopedias (1972) and at least a dozen dictionaries (there were fierce Saturday night Scrabble games at our house) and three or four manuals on competitive bridge playing.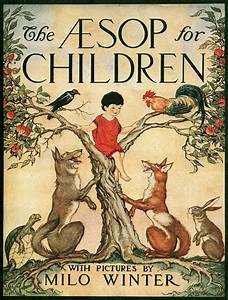 On the bottom shelf, stacked under another box of pictures, I found a real treasure: three very old picture books from my dad's childhood collection. One of these, The Aesop for Children, published by Rand McNally & Co. in Chicago in 1919, I remember my dad reading aloud when I was  a very small child. The incredible illustrations by Milo Winter are full color throughout, often grouped two or three on each two page spread, and tell entire stories in the expressions of the animals featured in these well loved tales. Just look at the expression of anger, disbelief, and surprise on the lion's face as the mouse begins to gnaw away at the ropes of his trap, or the extra strrreeetch of the tortoise's neck as he reaches the finish line to defeat the boastful hare!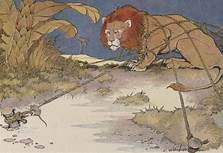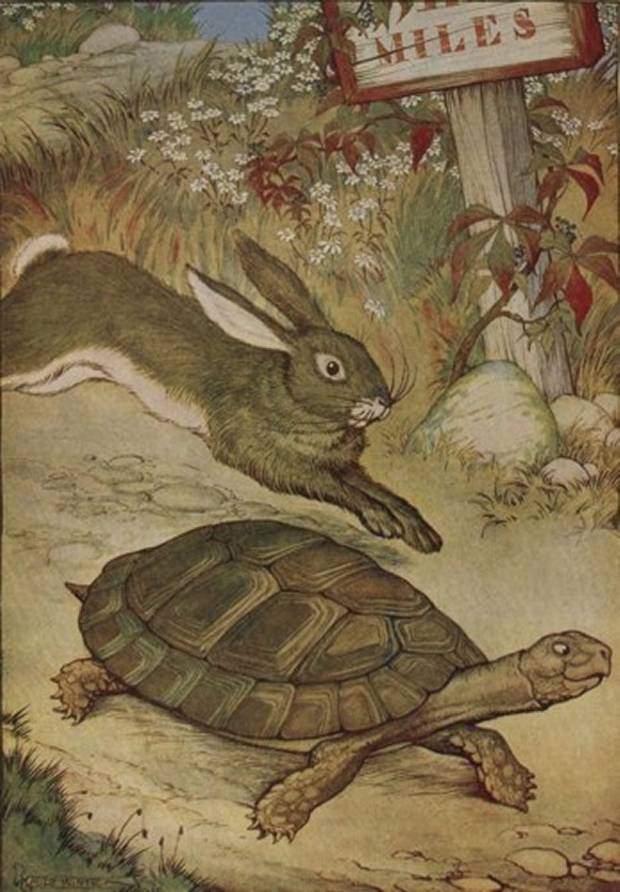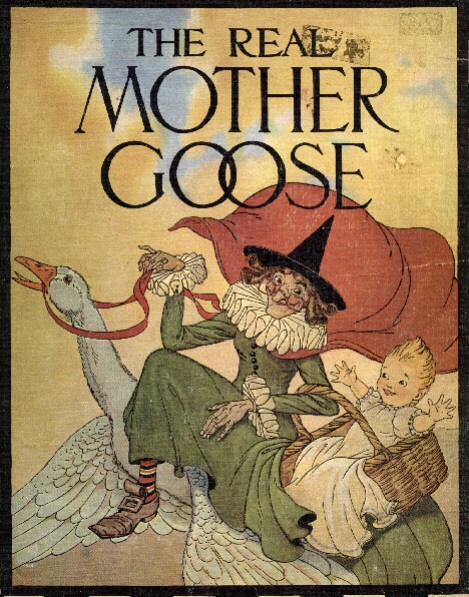 There's a copy of The Real Mother Goose from 1916, also published by Rand McNally, with those familiar checkerboard flyleaf borders and the silhouette pictures of Miss Muffett. Paging through this volume, I realized how many of these rhymes I had heard read aloud, like "Little Booby Snooks was fond of his books, And loved by his usher and master; But naughty Jack Spry, he got a black eye, and carries his nose in a plaster." (Even then, it was apparent that my parents endorsed a more literary career for their daughter, as this page was well creased and fingerprinted.)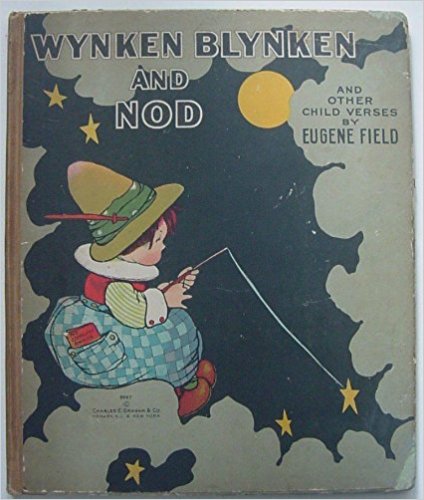 Wynken, Blynken and Nod and Other Child Verses by Eugene Field (Charles E. Graham & Co, 1925) is inscribed in fountain pen "For Christmas, 1926, with love from Aunt Marguerite. The title verse, of the three familiar fisherman who rocked so many children to sleep, is perfectly lovely:
"Wynken and Blynken are two little eyes, And Nod is a little head, And the wooden shoe that sailed the skies/Is a wee one's trundle-bed. So shut your eyes while mother sings/Of wonderful sights that be, And you shall see the beautiful things/As you rock in the misty sea, where the old shoe rocked the fishermen three: Wynken, Blynken, and Nod."

I have boxed up all the books from the upper shelves, and kept the cookbooks to go through later. (The whole 1960s fascination with aspic must clearly be explored.) These three children/s books, however, I think I'll take home to put on my bedside table for a while, and enjoy the smell of the yellowed pages and the softer feel of the bent corners. Tucked inside the last book, clipped to the title page, is a small family picture of my dad and his parents, which will remind me just which laps these books were held in, and just which little hands turned the pages as the familiar rhymes were read aloud for the hundredth time. And while addresses may change, the stories we hear as children are firmly planted in our hearts.