Coming out of the holidays, there's always a sense of putting the house back in order as we busily turn over displays, schedule returns, and update our notes of Christmas past to save our future selves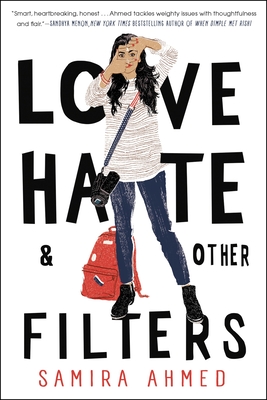 future headaches. But I always also feel a marked mental shift this week every year, as I pull my brain out of the year-end bustle and refocus on the books coming out in the new year.
This is the hardest season to read deeply for in advance, with the Winter / Spring buying season embedded within our busiest months. I always start the season feeling behind, so I try to hit the books as soon as January hits (which actually feels like a treat after the holiday whirlwind). One of the best books I've picked up recently has been Love, Hate, & Other Filters by Samira Ahmed, which not only offers a vibrant, memorable voice but also ended on a note that resonated with me in unexpected ways.
Maya Aziz is so sharp and self-aware that her voice pops off the page. With charming insight, she narrates the classic uncertainties of a high school senior preparing to explore a future separate from that of her parents, of a first-generation immigrant balancing cultural ties with personal identity, and of an outsider with a crush on one of the school's most popular jocks. The very normality of Maya's desires and quandaries makes the careful foreshadowing of a looming terrorist attack all the more chilling, undercutting Maya's story with an escalating sense of dread. That seeded anxiety through which readers filter the mostly light-hearted first half of the book mirrors the impact of the attack on Maya's Muslim Indian family in the second half, as racist retaliations and the fears they inspire suddenly color their view of everything—including the scope of Maya's future.
While elements of the story play out in predictable ways, the novel never feels overly simplistic or sensationalized. Taking care to humanize all of her characters, author Samira Ahmed explores how the filters of love or hate, fear or optimism, privilege or trauma color each person's journey. But ultimately it's Maya's nuanced character development that really shines here. As she confronts the messy choices in front of her, Maya's belief in herself and her ability to handle an uncertain future is what gives her the strength to choose to follow her dreams.
What I especially love about Samira Ahmed's debut is that she doesn't end her story there. In a forward-looking epilogue that refreshingly does the opposite of wrapping everything up in a bow, we join Maya a few steps down the road from her climactic choice, where her life remains complicated but is her own to navigate. While high school romances aren't always forever and parental rifts can leave lasting scars, Ahmed suggests that those first loves remain no less important for having waned and that fraught family relationships can evolve over time. And, in the end, sometimes figuring all that stuff out for yourself can feel an awful lot like freedom.
That's one of my picks this month. What's on your reading list for the new year?