A robust list of new and exciting nonfiction is crucial for the holidays. Fiction can be hard to choose for picky readers or kids that the gift buyer simply doesn't know very well. But great nonfiction can win almost anyone over. Here are some of the books I'm excited to recommend this year. What about you?
Book of Bones: 10 Record-Breaking Animals by Gabrielle Balkan, illus. by Sam Brewster
Did you know the skeleton of an Etruscan shrew weighs less than a raisin, or that sharks have no bones at all? Curious readers will get a kick out of this fun guessing game that takes 10 members of the animal kingdom and re-introduces them from the inside out.
Song of the Wild  by Nicola Davies, illus. by Petr Horáček
From the gorilla to the blue whale to the bumblebee, Davies' animal poems peek into the lives of animals large and small around the world. Colorfully brought to life through Petr Horáček's striking mixed-media art, this excellent collection sings with an irresistibly wild song.
The World Is Not a Rectangle: A Portrait of Architect Zaha Hadid by Jeanette Winter
Zaha sees lines and curves and patterns everywhere she looks. She has ideas. Her ideas take shape as buildings that dance and swirl and flow with the grace and majesty of nature. Young dreamers will love this ode to a woman who changed the shape of architecture and inspired the world with her vision of possibility.
Older Than Dirt by Don Brown
14 billion years fly by in a fascinating flash in this graphic overview of our planet's past. From the Big Bang to continental drift to the ozone layer, this witty graphic history offers kids an entertaining look at the wild but true adventures that have made Planet Earth what it is today.
Norse Myths: Tales of Odin, Thor, and Loki by Kevin Crossley-Holland, illus. by Jeffrey Alan Love
Filled with mischief, drama, and dark, foreboding illustrations, these 20 stories highlight some of the most fascinating tales from Norse mythology. Alternately thrilling and terrifying, the tales offer a mesmerizing, atmospheric window into an ancient worldview that continues to enthrall us today.
Bound by Ice by Sandra Neil Wallace and Richard Wallace
Fueled by "arctic fever," and the dream of tropical seas at the northern pole, the USS Jeannette left San Francisco in 1879 only to get stuck hopelessly in the ice. Pulling together the meticulous journals, letters and other documents left by those who returned and those who did not, this riveting story chronicles the crew's desperate quest for survival.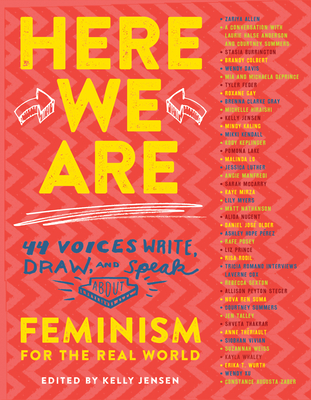 Here We Are: Feminism for the Real World edited by Kelly Jensen
More than 40 authors—women and men, cis and trans—offer essays, poems, photos, lists, comics, and illustrations on modern feminism. The sheer variety of formats and styles creates a dynamic, inclusive effect that affirms that feminism is for everyone and doesn't always have to mean the exact same thing.