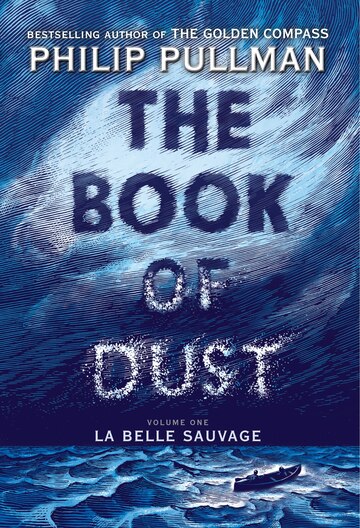 I love listening to a well-told tale, and have racked up a surprising number of books heard over a lifetime. Often, if I love a book on audio, I'll end up reading it, and sometimes will also listen to a book I've already read. It's surprising how much story packs into a 15-minute driving commute, and how nicely a chunk of novel or nonfiction can bookend a day.
When The Book of Dust: La Belle Sauvage was released, I was in the middle of reading two other books that I wanted to finish, but I couldn't wait to get back into Philip Pullman's world, so I went the audio route. When I saw that Philip Pullman himself wasn't reading it, I was disappointed; he had been mesmerizing as the narrator of the full-cast His Dark Materials trilogy. I should have known that author and publisher would not allow this new production to fall short. Happily, sonorous British narrator Michael Sheen is well up to the task. This isn't a full-cast effort, but you don't even notice that because he is so compelling, the kind of storyteller you'd sit around a fire listening to hours after meaning to head up to bed.
The story itself fits right into the trilogy canon; no worries about a loss of vision, narrative charm, suspense, character — it's all there. You fall in love with the earnest young main character, Malcolm. And you encounter baby Lyra and little Pantelaimon! Irresistible. I'm not sure how Philip Pullman does it, but he is a brilliant storyteller, time and time again. He is ideologically unafraid, and this book invites as much discussion as The Amber Spyglass while having the narrative pull of The Golden Compass.
I am LOVING this book and this audiobook (I'm about halfway through already) — and it's making me pre-grieve being finished with it. That's where you come in. ShelfTalker readers, what are you listening to and loving? What can you recommend for us all next? I'm especially interested in 2017 releases, but am always happy to hear about older favorites.
Side note: for readers who would like to support indie bookstores, you can get audiobooks from them via Libro.fm. If your local independent bookstore participates, look on their website for a link to Libro, and they will receive a small percentage of those sales. It's a nice alternative to Audible, if you're looking for one.
P.S. If you haven't read Kenny's recent post, A Surprising Suitor for Amazon Headquarters II, it's hilarious — well worth a procrastination moment.