After months of prep, the day of the Texas Teen Book Festival finally arrived. And it was awesome!

Kicking the day off with a conversation between headliner Marie Lu and Rooster Teeth's Ashley Jenkins and wrapping it up with an awesome closing note from superstar Jason Reynolds, the day was a blast from start to finish. Outside our slate of powerhouse author panels, we spent a lot of time crafting a robust slate of more interactive events designed to give readers more of a voice in the festival throughout the day.
The biggest addition to our programming this year was our brand-new interactive tent. Full almost all day, our "itent" offering booktalk sessions,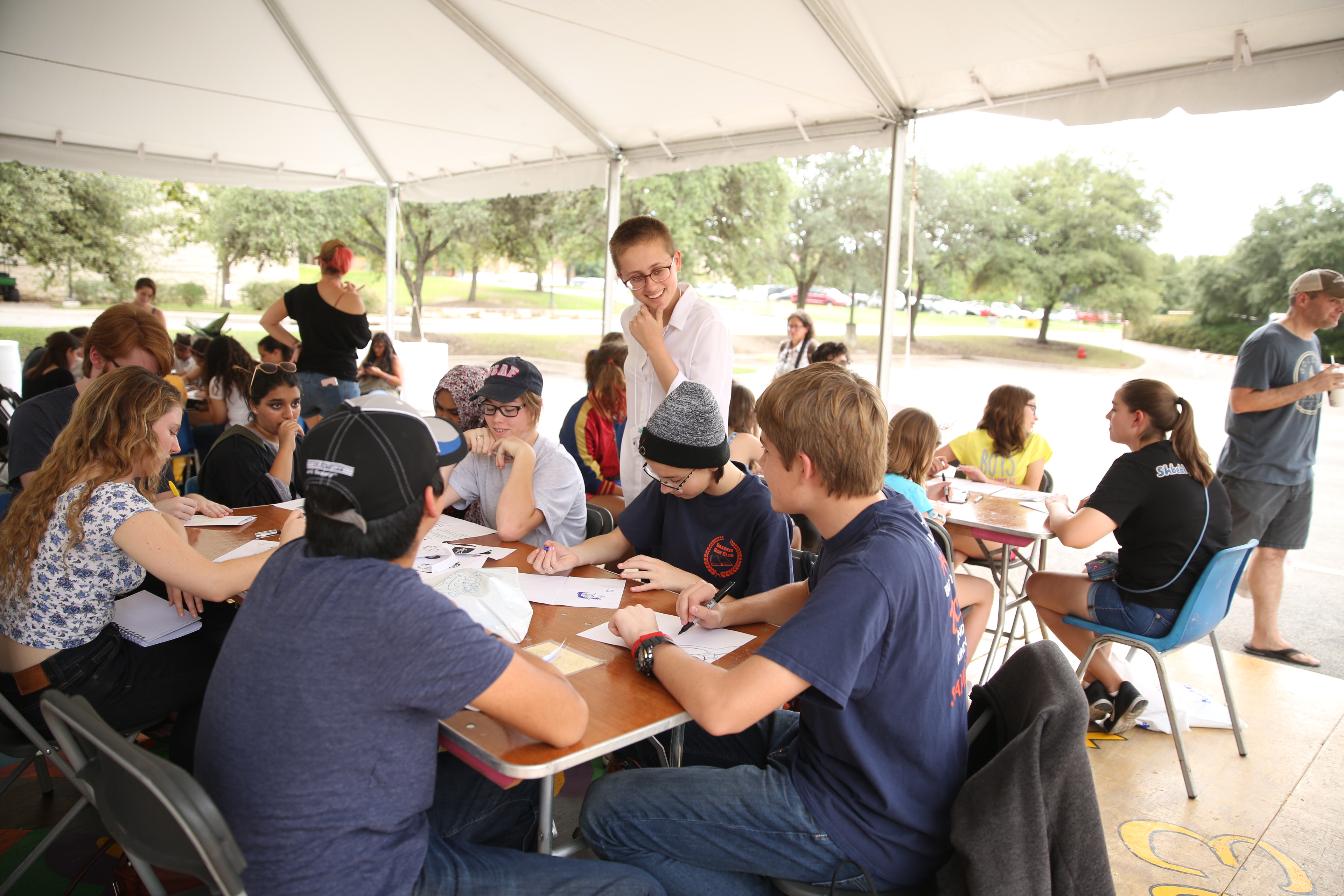 chats with booktubers, zine-making, and Ask Me Anything sessions with authors outside their regularly scheduled panels. Loose, energetic and filled with personality, these sessions added an impromptu, unpredictable energy that rounded out our more structured events in an exciting way. Outside the tent, writing workshops with local organizations Badgerdog and Barrio Writers gave young writers a chance to hone their craft, while a brand-new educators book club connected teachers and librarians with Adi Alsaid to chat about his new book
North of Happy
. Our second annual costume contest, this year sponsored by Epic Reads, also offered young cosplayers a chance to wow the crowds.
Among all our new interactive programs, our partnership with We Need Diverse Books was truly a highlight. From an educator workshop about their new app
Our Story
; to multiple Ask Me Anything sessions; to an honest discussion about diversity in publishing with winners of  their essay contest, WNDB Team Members I.W. Gregorio and Dhonielle Clayton were at the festival all day long. Encouraging readers to talk about their lives and concerns as readers, as writers, as smart young people in the world, these sessions drew out conversations that were heartfelt, thought-provoking, and empowering. Along the way we also gained an awesome new group of kids for our Teen Press Corps, as all essay contributors have been invited to blog with us all year long to talk about the books they're reading, the voices they're responding to, and anything bookish on their minds. I can't wait to see what they have to say.
Outside our official venues, our featured friends and exhibitors were busy all day long, featuring the free poetic stylings of The Typewriter Rodeo, zine-making with Resistencia Bookstore, publisher booths, librarian outreach, and more. Other than the heat (it's Texas, after all), I can truly say this was one of our best, most positive events yet. So that's a wrap on TTBF #9. For a glimpse of some of the action, check out this awesome
video recap
from festival attendee and vlogger Jared. I can't believe we're about to celebrate 10 years!
(And to answer the cliffhanger from
part 1
, we totally had enough coolers for our author party at the Austin Toy Museum.)