One thing I need to get done today is go through the picture book frontlist of Harper's Winter '18 titles. I have a sales call for it on Friday. We are a rural store and rep appointments are mostly done by phone, so this means reading though a sales kit of F&Gs beforehand. I thought it would be interesting to make a list of what I was hoping to find in the box and then see how what I found matched up. Here's the list.
At least one book, hopefully two, that I absolutely love and can handsell to the nines. Ideally it would be an easy handsell, whose interplay of text and illustration is gestalt and intrinsically engaging. A true store favorite like A House in the Woods.
Around five strong books which fill evergreen needs at the store, great new baby gifts, sibling anxieties, birthday books, books that have a moose in them, solid new entries by established authors and whatnot.
Some really strong nonfiction titles that have both school library and in store appeal.
Something totally unexpected that I learned from and will be fun to show customers.
Finally, recognizing that most of the books will fall into the category of being not so bad, and being mindful of the Scarlet Pimpernel's observation that "there is nothing quite so bad as something which is not so bad," I hope that one of the books will be spectacularly ill considered, a la Bronto Eats Meat, just for the edifying window it provides into the industry and humanity in general, and the appreciation for quality titles which we should never take for granted. All right then, off to the task at hand.


---

Well I must say it was a strong list. Let' go through the five categories and see how things went.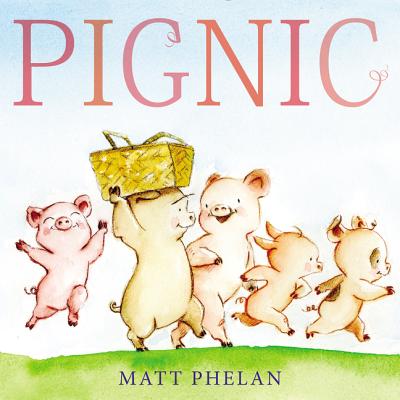 There were four books I really loved. My favorite was PIgnic, by Matt Phelan. Simple books that convey wonder and engage the youngest read-aloud audience are rare. Warm and comfortable problems and solutions. a tree a little too high to climb, a turtle who wanders over to give a pig a step on his back. will delight, engage and inform toddlers, and be a joy to share for adults. Little unexpected riffs, the big bad wolf uses his breath to launch a kite, are just right for the audience. True, it will make a fabulous board book but I think it will be great as a picture book first. There were also two outstanding works of wordless storytelling, both of which I think will be big hits here. First out of the box was the new Marlo book, Marlo and the Dinosaurs by Christopher Browne. This has a familiar hook, a young person from our world, in this case a dog called Marlo, is drawn to follow something unusual, a young pterodactyl, seen scooting through the living room. Marlo follows it into the land of the Dinosaurs where a strong narrative beckons. Second was a real tour de force by Harry Bliss, Grace for Gus. This book begins with a call for guinea pig fundraising to get the class pet, Gus, a guinea pig friend. Grace tackles this need in extraordinary fashion, playing street music for tips, doing sketches for passersby and break dancing on the subway. The story is filled with visual puns, shout outs, and cameos. It is a veritable tribute to comic book art and history with some political jabs and surprising cameos thrown in. Adults will love to spot references and show younger readers what they are finding. By being many things at once the book itself becomes gestalt in this case. Great stuff! The other book I loved was The Digger and the Flower, by Joseph Kuefler. This book follows an urban construction boom led by three big machines: a digger, a dozer, and a crane. The digger discovers a flower and his heart goes out to it. The book does not paint a happy sense of urban landscape, it is essentially an indictment of gentrification told in a very spare manner, but I don't have to worry about that putting anyone off here in rural Maine. It is unusual in not trying to change the minds and hearts of the dozer and crane, but leaves the digger to follow his own course of saving the flower after all seems lost. I really like that the dozer's path is not reliant on anything but the nature of flowers and his feelings for them.
This area, good enough to bring in but not great, was a bit weak actually. Usually a crowded area, this frontlist was all about being either great or tolerable okay. One book that stood out here though was If the S in Moose Comes Loose by Peter Hermann, illustrated by Matthew Cordell. A very clever book of wordplay in which letters are moved by a cow in quest of spelling moose to bring his friend back, but who alters the world around him when he extracts letters, is unexpected and a lot of fun. Yet the book feels a bit too complex and unfocused at points and I'm concerned it will lose young readers along the way. It could have been great, was my feeling.
There were indeed some very strong nonfiction titles. Two of my four favorites had fun and effective opening lines. "It is a truth universally acknowledged that Jane Austen is one of our greatest writers," begins the delightful Ordinary, Extraordinary Jane Austen by Deborah Hopkinson, illustrated by Qin Leng. Science stalwart Simon Seymour begins his excellent Exoplanets with a Goldilocks and the Three Bears analogy which he totally pulls off. April Pulley Sayre's Thank You Earth is great science non-fiction for pre-school and will do well off the floor and Mae Among the Stars, by Roda Ahmed, illustrated by Stasia Burrington, is a very appealing biography of Mae Jemison, the first African American Woman astronaut in space.
The book for this category was a picture book biography Bloom: A Story of Elsa Schiaparelli by Kyo Maclear, illustrated by Julie Morstad. Fashion knowledge is not a personal strength and learning about designer Elsa Schiaparelli from this terrific book was a treat. I love that the title reads 'A Story of ' rather than 'The story of' and in fact this is a very nuanced book which really honors its subject's personal and artistic philosophies, along with the perfect illustration accompaniment. Fab!
The list was professional from A-Z. There were too many blase books about being special and unique and feeling good about yourself in all weather but nothing really ill-considered. Dear Girl  a posthumous book by the great Amy Krause Rosenthal, co-written by her daughter Paris, I personally found to be a bit flat, but others may love it. All around though it was a job well done by the Harper team.
Well, that's my story about the Harper Winter '18 picture book frontlist and I'm sticking to it.