This week teachers in Asheville go back to school, with students joining them next week. To welcome them back, we're hand-delivering goody bags filled with coupons, bookmarks, freebies from some of our neighboring businesses, and invitations to an Educator Mixer at the bookstore in September.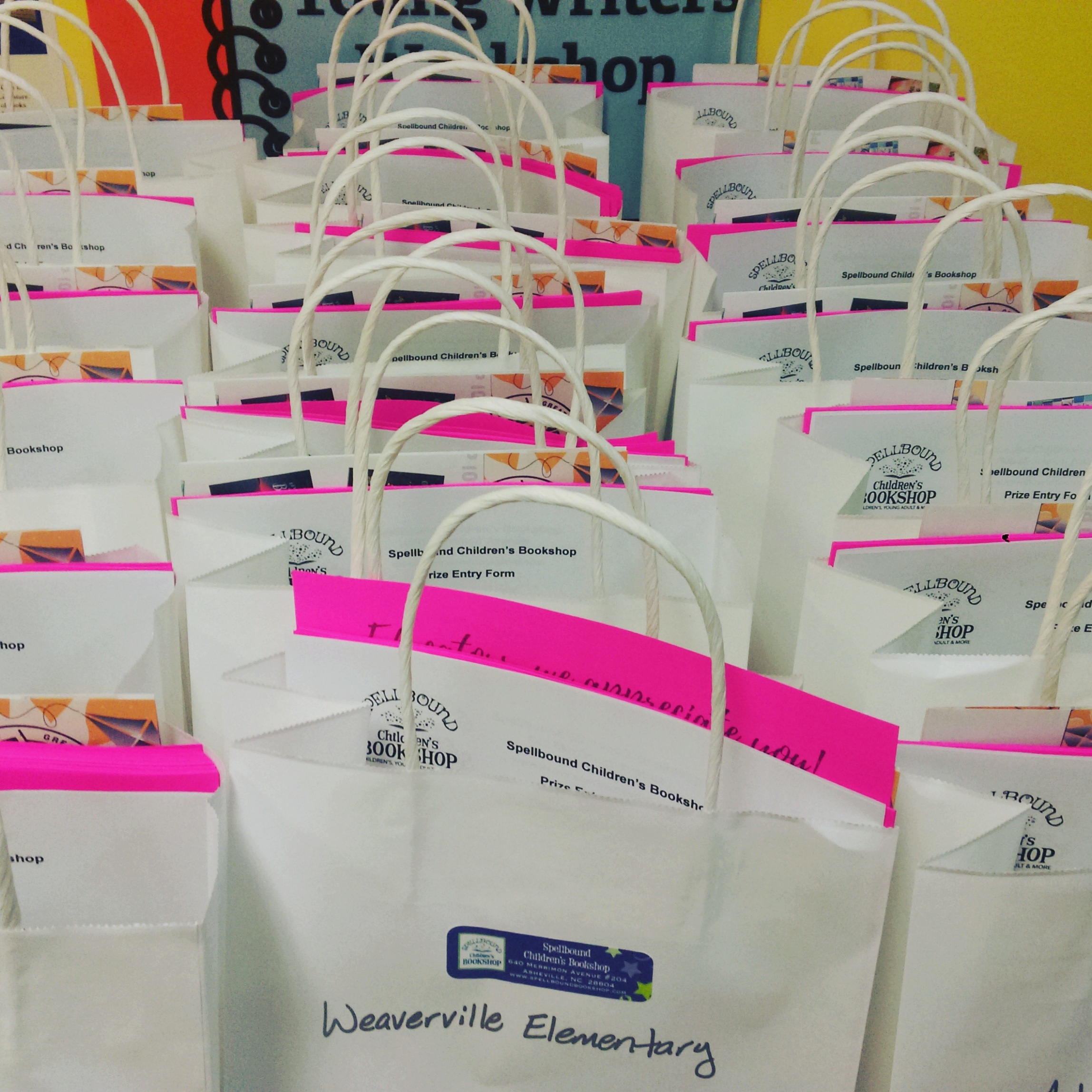 It's been a long time since Spellbound has done a "teacher night" event. Over the years on the children's bookselling listservs I've asked for and received great advice on how to approach events like this. I've also commiserated with other store owners who have struggled to get teachers to show up.
My first time around with an event like this? After countless hours of preparation and promotion, only one teacher showed up. One. I could have cried. That one teacher went home with an insane amount of free stuff, though. One of the most important things I've learned from fellow booksellers is that events like this often take time to get off the ground but are worth it in both goodwill and sales when they do. So make sure your attendee(s), no matter how few, have a great time.
I tried again a few years ago, this time zeroing in on the media center staff. After all, they're the ones responsible for all our really big ticket school orders. I made the second event right after school instead of in the evening, which seemed to help. As I recall, we had four or five attendees, which was an improvement. (A big improvement if you look at it as a 400% increase in attendance. Sometimes math is fun!)
Now I'm trying again and hoping that the third time's the charm, the turning point when I can see it becoming an annual event that educators look forward to and that will be a boon for the bookstore. Many of my fellow children's booksellers around the country consider an annual (or even twice yearly) teacher night a staple of their event calendars. I've collected many words of wisdom from the stores who swear by these events, via listservs and panels at professional gatherings and so on, and I'm incorporating lots of those ideas. I've learned that one thing my previous events were missing is… wine!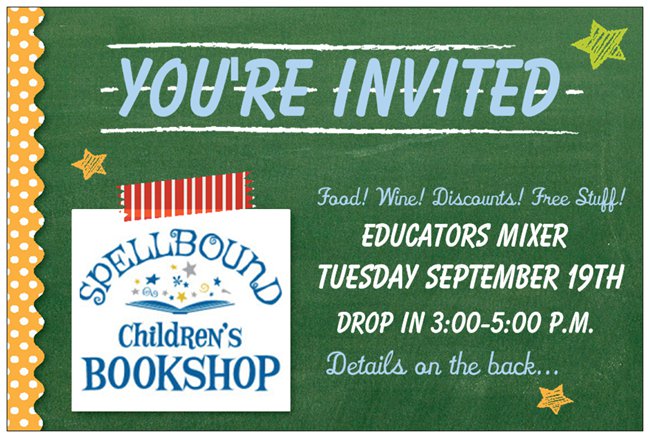 So I've added wine to the menu (and the publicity), and I'm once again tripping over boxes of stockpiled ARCs, posters, bookmarks, and stickers, ready to load up the attendees with all the free stuff they can carry. To help plan how much wine is needed, and to manage my expectations, I'm offering a free tote bag filled with grade-appropriate ARCs and other freebies to those who RSVP at least a week ahead of time. I polled a handful of my best school librarian customers about the timing of the event, which helped me avoid scheduling it for the same day as "BOGs" or Beginning of Grade testing.
The aforementioned goody bags are going out tomorrow, I've arranged for two of our neighboring restaurants to give special discounts with school IDs on event day, and almost a month out we already have more RSVPs (six) than ever before. Wish us luck!
Do any of you have tips to share, or tales of woe and/or victory regarding educator events?