Shoppers sometimes know exactly what they are looking for, but often they're looking for inspiration. With about 28,000 square feet, we have a lot of space to play with at BookPeople, which is a huge luxury when it comes out to laying out displays and face-outs and event spaces. But in a large space filled with nooks and crannies and corners blocking lines of sight, we have to think (and rethink) about where books will be seen to their best advantage. Creating an atmosphere of optimal discoverability can feel like a moving target because our title mix changes over time, but it's also kind of fun to experiment. Earlier this year I wrote a ShelfTalker post about the ways creative sections can help call out topics or ideas that feel current and important and reflect our store's point of view. But oftentimes the impetus for new sections is a lot more practical than philosophical.
When I buy books for the store, I try to foresee where each book will be seen by the right eyes. Some titles have really broad audiences and will thrive almost anywhere. Others appeal to more specialized groups of shoppers but are appreciated all the more when found. I can't tell you how many times I've paused during a buy to ask my sales rep where a book should go in the store, and frankly there's not always an easy answer. I keep a running list of these tricky themes and formats, and if I see enough of a pattern, I try to figure out something new.
A few weeks ago, I was asked where all the Marvel books were, and as I realized I didn't have an actual answer for that pretty simple question it pushed one of these floating question marks to the top. Superhero books are tricky because some are in novelty or media tie-in formats, some are in graphic novel or comic formats, and now some are increasingly in novel form with big-name authors behind them like Eoin Colfer, Shannon Hale, and Jason Reynolds (which is so fun). So last week a superheroes section was born. It lives in front of our kids' comics / graphic novels section but pulls together books from a variety of different formats. It's already finding fans! Of course, we left copies of the novels in the fiction section so the authors' fans can still find them too. I personally think cross-sectioning can be a large store's friend.
I'm also debating taking a page out of the organizational systems used in BookPeople's adult nonfiction departments and creating a separate oversized category for kids' nonfiction. Has anyone noticed that kids' nonfiction books are getting taller and taller? In general I think it's an awesome trend. The books are beautifully designed and our customers really gravitate toward them. But shelving is becoming an issue, because you really need to see them to appreciate them. We may experiment a little before making it permanent, but I think we need a little more space to do them justice.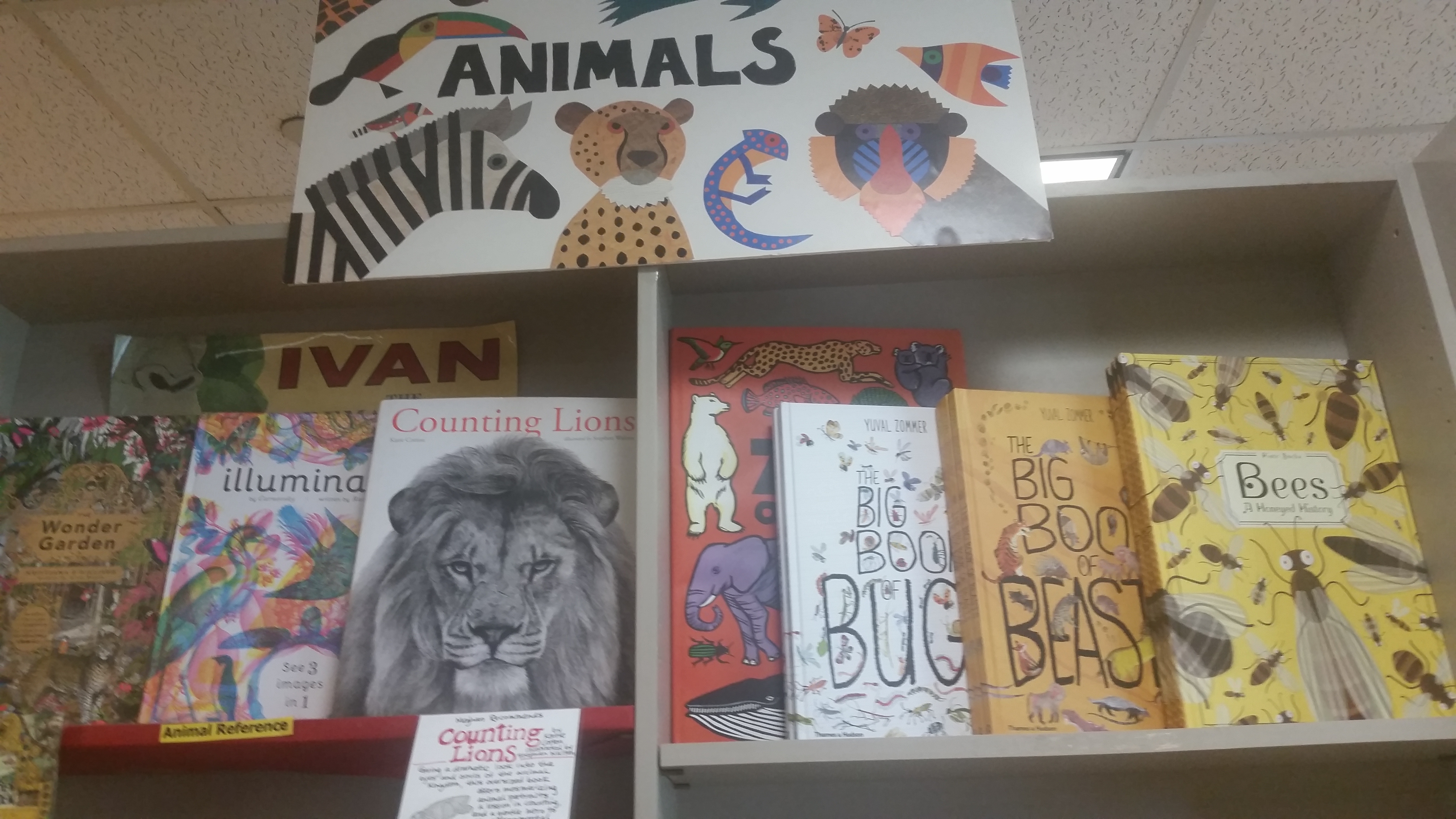 Some of these changes get a push from my own learning curve as a parent. As I saw my four-year-old really engage with books like Usborne's My Very First Space Book, it gave credence to my sneaking feeling that we were missing something by grouping all our nonfiction sections together, leaving no nonfiction presence in our picture book room. Now we have a 1st Nonfiction area designed to encourage our youngest readers to explore new ideas, and it's been helpful. Similar experiences spurred me to highlight picture books for older readers in their own section and pull write-erase workbooks for preschoolers and kindergartners out of other sections into their own spot near the concept books to spotlight them as a separate category of books for kids at a very specific stage of development.
But what about all the other pending notes to self? One I think I may move forward with soon is a small shelf featuring books about books. I've been pondering the topic for a while, and there are several titles coming this fall that may make the experiment worthwhile (I personally can't wait to see the final edition of A Velocity of Being). Others are just food for thought right now. I've noticed an increase in both the popularity and volume of busy books and search-and-find titles, and I'm not sure they're in the right spots. Similarly there's been an uptick in books on mindfulness and yoga for kids that seem a little lost right now. Maybe those will just be periodic displays. Not everything needs a permanent section, of course. I'm always interested in how other stores organize their spaces. Chime in if you have any great tips!