One of the things that I love best about being an independent bookseller is collaborating with members of Austin's booming creative community to engage readers all over the city and champion the importance of books in Austin life. Getting to do that is the part of bookselling I probably understood least when I transitioned from publishing 12 years ago, but now it's one of the things about this job that I enjoy most. I also think it's an essential part of our mission as a community business.
When we heard that the downtown Zilker Hillside Theater was featuring 
The Wizard of Oz
for the centenary of Austin's Zilker Park, I jumped at the chance to sponsor their performance of a story that, while perhaps best known now as a musical, has been charming readers of all ages for over 100 years (well before Dorothy's famous slippers ever transformed from silver into dazzling Technicolor ruby).
During our Summer Reading Kickoff Event earlier this summer, we hosted cast members for storytime followed by a costumed contest for kids, offering VIP reserved seating to 15 participating families. If you've ever seen the crowded hillside at show time, space you don't have to claim hours in advance is a fantastic deal. Everyone was thrilled (and adorable)!
Despite the fact that Zilker Theater Productions is one of the longest running free outdoor musicals in the country, I had never been. So this was a perfect opportunity, both for me and the store to be a part of an historic Austin tradition. As the night arrived, a troupe of costumed BookPeople staffers (one in homemade ruby slippers) headed to the hillside to give out copies of 
The Wizard of Oz
 from gingham lined baskets,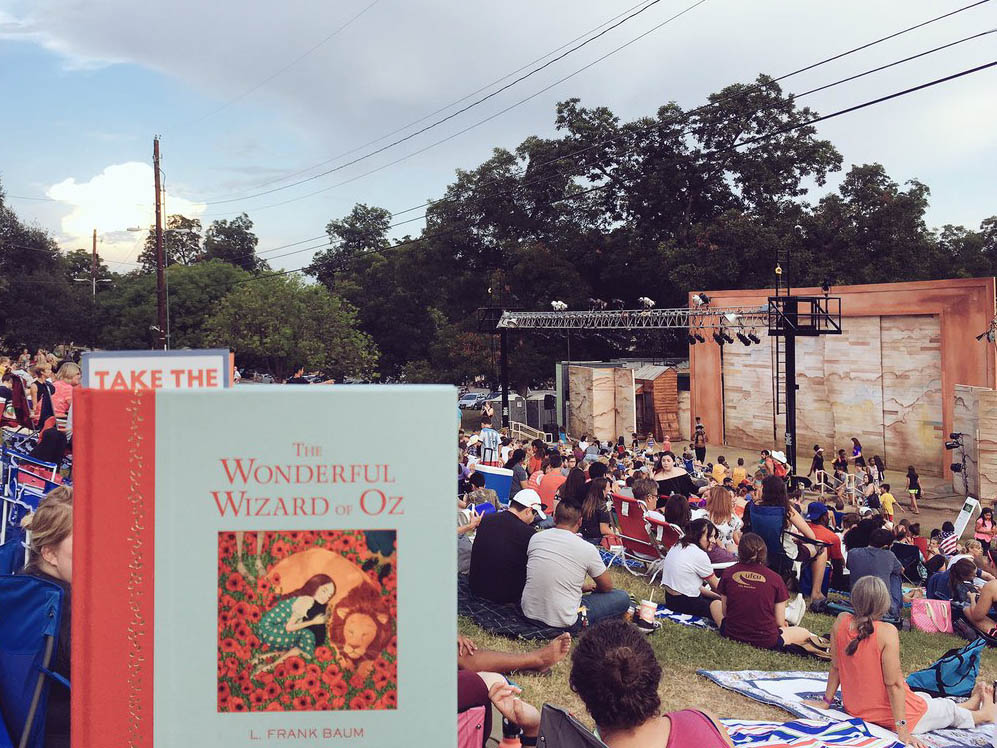 but with rain clouds looming, our festivities were postponed. We were obviously disappointed, but that's just one of the perils of planning live outdoor programming.
Coming back a week later our costumed compatriots were no longer available, but despite our smaller crew, we still had a blast. Staci, our BookKids inventory manager, brought her kids, and I brought my four-year-old, and together with Eugenia, our BookKids events coordinator, we all helped distribute free books, coupons, and summer reading bookmarks on the hillside to very happy families eager to share the original tale at home. Most of them had never read it! Then we stayed for the beautifully produced, highly entertaining show. All in all it was a magical night that made me really appreciate being a part of such a dynamic downtown.