Is it a TRAP? It recently came to my attention that about 60 Austinites are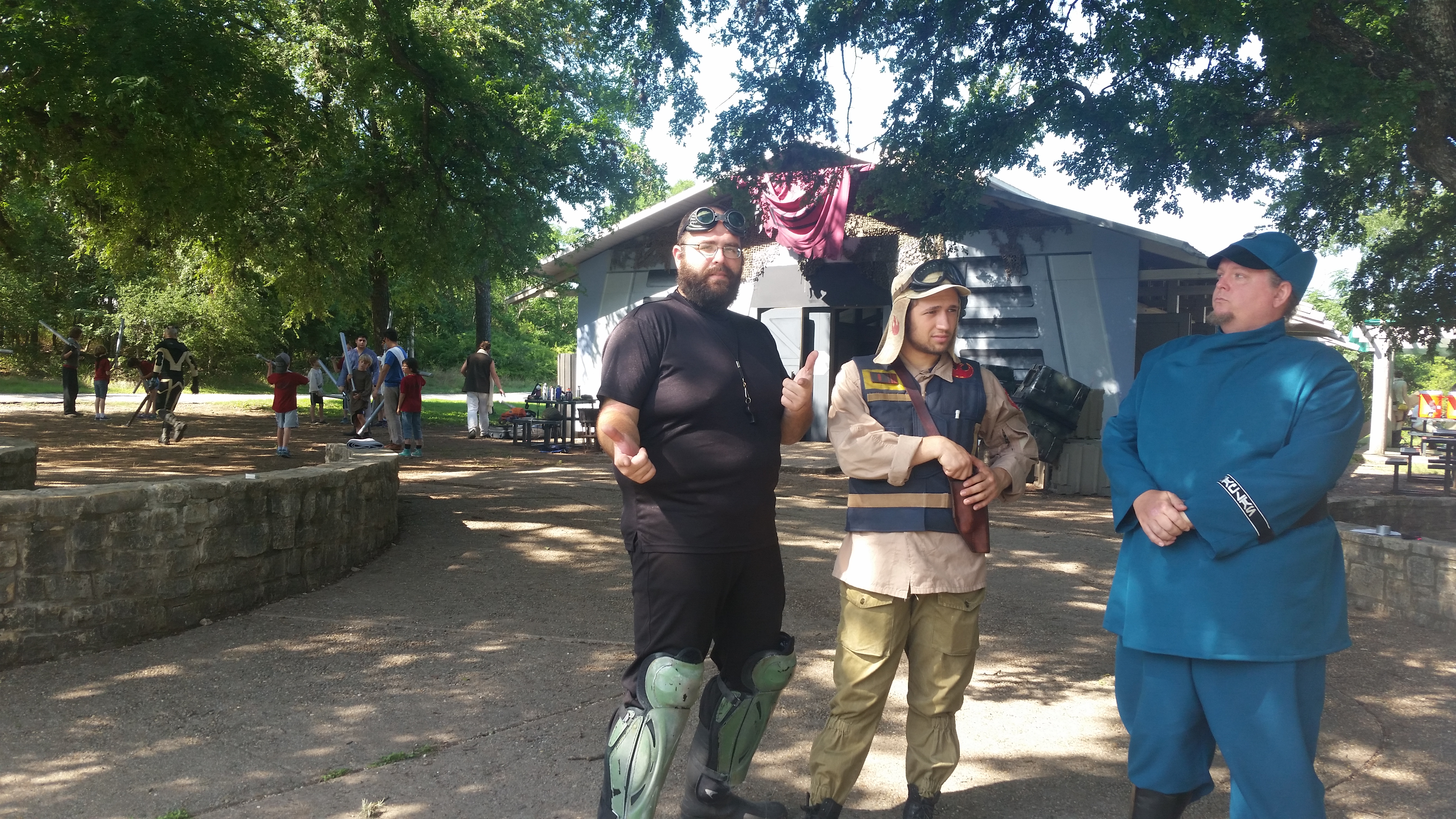 currently missing. Ominously, my investigations led me to an old Imperial prison moon. Determined to uncover the truth, I infiltrated the base with a well-seasoned crew to learn what I could. While most of the moon remained under the control of the First Order, a motley crew of Resistance fighters, smugglers, and bounty hunters had turned the tables on their captors and were hatching a plan to fight their way out.
I am posting this brief report in the hope that I can write more soon. As you can see, our visit did not go undetected. Once discovered, we promised to spread word of the group's valiant resistance by sneaking back out the way we got in. As reporters, you know, we have our ways. We're on the way out now, but with explosions on the horizon, we're uploading these photos in the hopes that word will get to the Resistance about what we saw…
Every summer my colleague Topher Bradfield takes over an area at McKinney Falls State Park to bring the fantasies of literary-minded young Austinites to life, inviting them to become characters in their favorite stories. He spends all year worldbuilding, crafting sets and scripts and recruiting actors to launch his programs each June. Now going into his 11th year of literary camp mania, Topher's annual Camp Half-Blood sessions continue to attract interest from hundreds and hundreds of kids around the globe. I think the best thing about the camp program is the way it captures the completely unjaded enthusiasm with which young readers launch themselves into stories they love.
I always try to go out to each new camp to experience just a tiny bit of the magic for myself because I wish I could have gone to this camp as a kid. One year I actually took a turn as a counselor for a week. I can tell you I have almost never been so exhausted as I was at the end of it, and yet it was totally worth it to live in that world for just a little while.
One of the coolest things about the launch of Star Wars: Join the Resistance Camp this week is that a few parents enrolled along with their kids, getting the chance to share a one-of-a-kind, immersive family experience. Between light saber class, agility training, drone flying lessons, and all the epic fight scenes and narrative moments moving the story along throughout the week, they have been led on an adventure for the ages. And the effort put into the costumes and (occasionally pyrotechnic) special effects is phenomenal. I only wish I could have stayed longer!
Photos by Sofia Martinez, Jill Bailey, and Eugenia Vela. To see more Star Wars Camp photos, check out https://www.instagram.com/austinholonet/