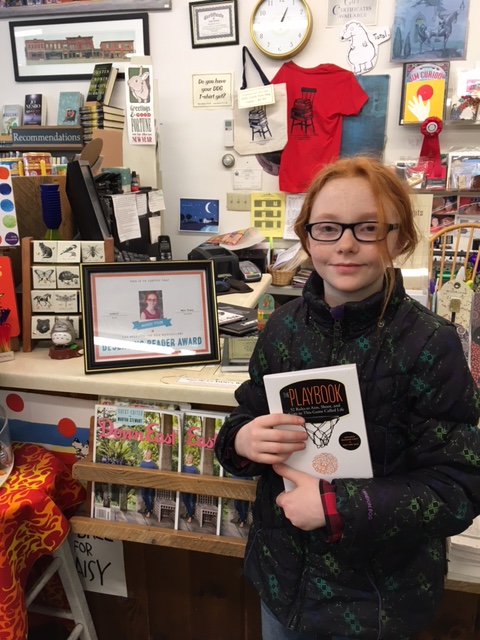 Community manifests itself in many ways, a point illustrated by two recent occurrences at the store. The first involved DDG's Deserving Reader Award, which goes to a student selected by a local school who is a big reader but doesn't have the resources to buy a book of their own. A recent award winner took the nature of the award a step further. In every way deserving of the award simply for her own love of books Mindy, a local fifth grader, volunteered to help a struggling second grade student at her school learn to read. What made Mindy's recognition even more special to her was that a ShelfTalker reader who had attended a pre-publication event with author Kwame Alexander had Kwame sign a copy of The Playbook to a DDG Deserving Reader. She then mailed that copy to me which we gave to Mindy along with her award and gift certificates. That outreach by our community of readers really meant a lot.

The second occurrence was an adventure involving Left Behinds at the store. Left Behinds are toys and animals that children have left behind at the store, which we keep in the hopes of returning them. Last week a child left his beloved plush dog Patches at the store. The boy had spent the day with his grandmother bringing Patches to visit many of the downtown stores. They told us that they had saved our store for last as it was his favorite. We were very surprised to find Patches Left Behind.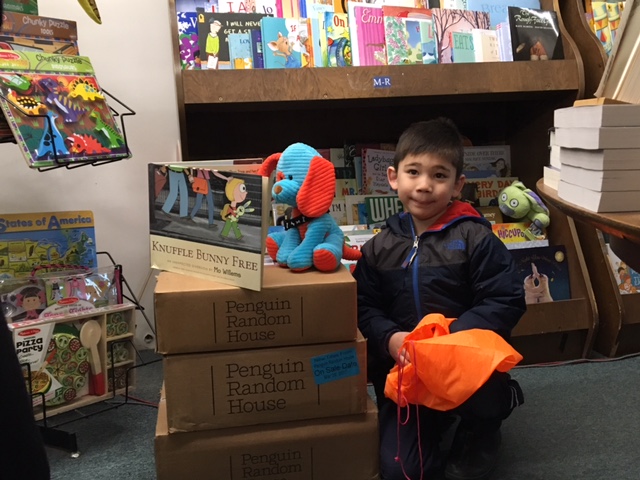 In the morning we got a call first thing, Patches' owner had been frantic. While his mother had tried to assure him that Patches would be safe at the store until we re-opened, and that we would take good care of him, he was terrified that someone would break in and take Patches away. When the boy arrived at the store he was overjoyed to learn that not only was Patches safe but that the Left Behinds that live in the store had comforted Patches by reading him Knuffle Bunny Free. The store community had come through again!