Booksellers are sheltered beings. Almost all the people who come see us in our shops like to read and can afford a book. Wearing rose-colored glasses is a fine thing, but there are times we need to expand our field of vision. Here's an example.

I got a call the other day from my Harper rep, Olga Nolan. Olga has been my rep for over 20 years and is a tremendously good egg. She called to say that she wanted to help celebrate DDG's 25th anniversary by donating $25. The money, however, had to be spent at the store by a child who loved to read but whose family couldn't afford to buy him books.
That was going to require a little thought. I told Olga straightway that the child she described wasn't going to be located in the bookstore. By definition virtually all the children who come into the store are in a position to own books.
On reflection I realized that the times I have encountered Olga's demographic have been when I am out of the store in classrooms running galley projects. For example in 2011 I was in a classroom going over the reviews. A 10 year old lad, who had loved the book he had reviewed beyond measure (his review included the line "The book was great. I would like to read the book at least 10 more times. Out of 1-10 it was 10"), asked me the following question.
"So when this book goes on sale in your store it will be $5.99 to get it?"
"That's right."
My enthusiasm for that answer dramatically diminished when I noticed that he looked like the sky had fallen on him.
"I wish I could have a copy of the book," he whispered.
The teacher had a strict rule that all the galleys went back to the store. I locked eyeballs with her and got the information I needed. I went up and told him that the publisher had loved his review so much that they wanted him to keep the ARC. He clutched the book to his chest. A few minutes later the teacher came up to me and we exchanged a meaningful look. She whispered, "He doesn't own a single book. "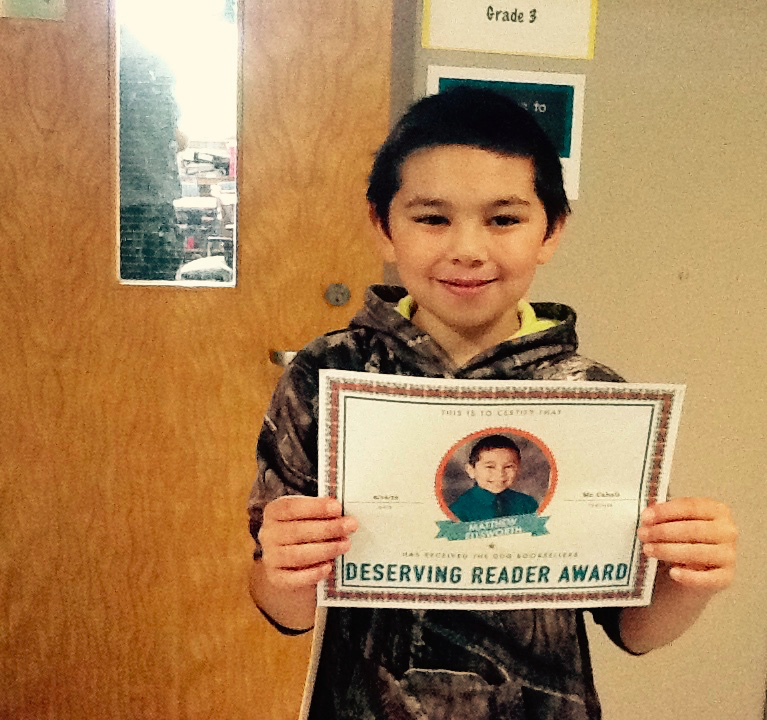 Right ho. So if the child for Olga's donation wasn't going to be found in the bookstore I needed help finding him. I called my pal, school librarian Amy Graham, and told her about the $25 and that I wanted to set up a DDG Deserving Reader Award to be given to the right child. (It wasn't going to be called the Nolan Deserving Reader Scholarship because Olga had stipulated that her name wasn't to be used with the donation. She forgot to tell me not to use her name in a ShelfTalker post however. Bwahaha.)
Amy told me that though she knows who the good readers are, she didn't know about family resources. We agreed that she would network with the school guidance counselor. The perfect recipient was picked out. Amy noted that "I love this kid. He comes to see me EVERY day for a new book recommendation." Here he is receiving his award.  We all spend a lot of time thinking about getting people into our bookstores. I'll tell you this, we can't wait to see the Deserving Reader Award winner at the store!