The three best moments in a children's bookseller's life (at least for this bookseller) are:
Seeing a child light up with love for a book (often involves book hugging);
Seeing a child who used to think of himself or herself as a "non-reader" fall in love with books, usually triggered by one special gateway title or author;
Seeing an auditorium full of kids shout and cheer with joy about books, reading, authors, and their own possibilities.
I got to experience all three of those things the other day when Kwame Alexander and his guitarist accompanist, Randy Preston, took the stage at Burlington High School, performing for around 600 kids from 11 area elementary and middle schools.

When Karen Walsh at Houghton Mifflin Harcourt asked us last fall if we'd like to be a stop on Kwame Alexander's tour, it took us about .04 seconds to say YES, PLEASE! But our usual offsite space fits only around 225–250 people, and there are so many schools and kids in our region who rarely get a chance for an author event, so I started thinking on a larger scale: find the biggest venue I could, and fill it with students from as many area elementary and middle schools as possible.
We knew Kwame would be a big draw. As a Newbery Award winner, he has the substantial literary credibility needed to convince principals to spring for transportation to the venue and to allow teachers the time needed for all the required planning and permissions for their students. As a presenter, his reputation as a big crowd-pleaser is undisputed. And as an African-American author, his very presence for Vermont audiences is especially welcome and needed, for white students and students of color alike. It was a winning proposition in every way.

This was a massive event to plan, made even more so by the fact that Kwame's scheduled visit for March 14 was canceled two days beforehand because of a huge blizzard hitting New England, so we had to start the whole procedure all over again. We sadly lost three schools in the reschedule, but gained two that weren't able to make the first date. I won't bore you with all the details, but if you already know the level of coordination required to plan even one author event with book orders for a single school, you can multiply that by 11 schools, add in arrival, departure, and traffic control measures, and begin to understand what this entailed. (Sales reps who wondered where I disappeared this season, it was into the ever-changing landscape of March-April event planning.)
We were so lucky that Burlington High School's principal Tracy Racicot was immediately supportive of the idea; she generously opened the high school's theatre to the event. Their librarian had advocated for us and provided a schematic of the seating so that once all of the schools confirmed,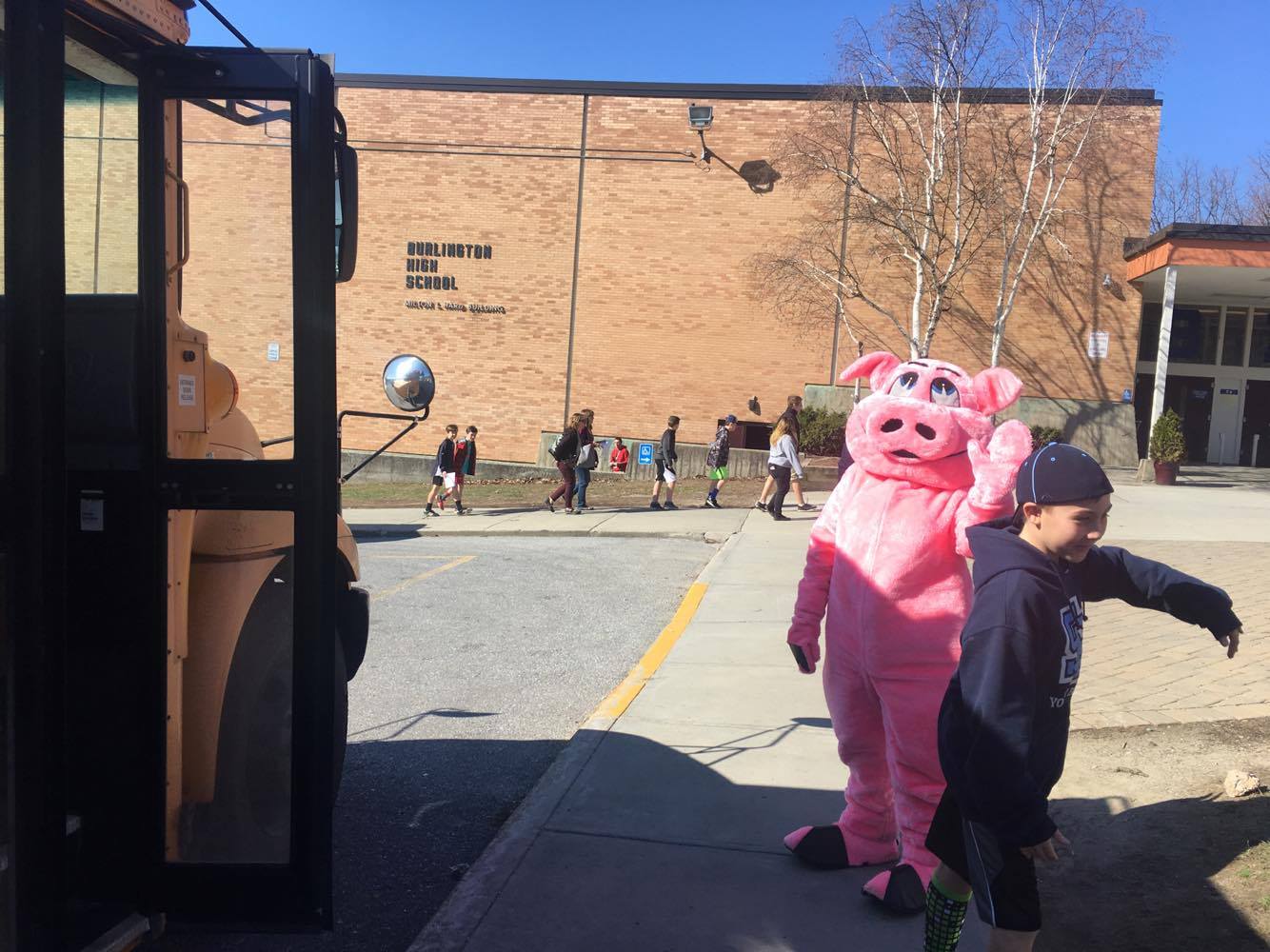 I could figure out where each school would fit. My event co-conspirator at the Flying Pig, Emily, was a huge help throughout the process, and we had great volunteers on the day. The morning of April 14 was the culmination of months of planning, and it was as wonderful as we could have hoped.
We thanked the high school for hosting us, Houghton Mifflin Harcourt for sponsoring the visit, and all of the kids, teachers, and librarians who made a special effort to leave their schools at such a busy time of year. The special guest we'd invited to introduce Kwame, professor and community organizer, Patrick Brown—who also created and continues to arrange the Martin Luther King Remembrance Day events in Burlington each year—gave a lovely introduction that kept the crowd of 600 kids utterly attentive with respect and admiration. Then Kwame Alexander and his guitarist friend, Randy Preston, hit the ground running with laughter and liveliness, igniting the auditorium with fun. The children were over the moon with joy and excitement throughout the presentation.
There was an audience participation contest portion of the event, which was hilarious. There was inspiration, book and writing and language love, and off-the-cuff jokery. Randy not only had perfect timing with his musical punctuation, but a spectacular singing voice. Kwame had the kids totally jazzed up.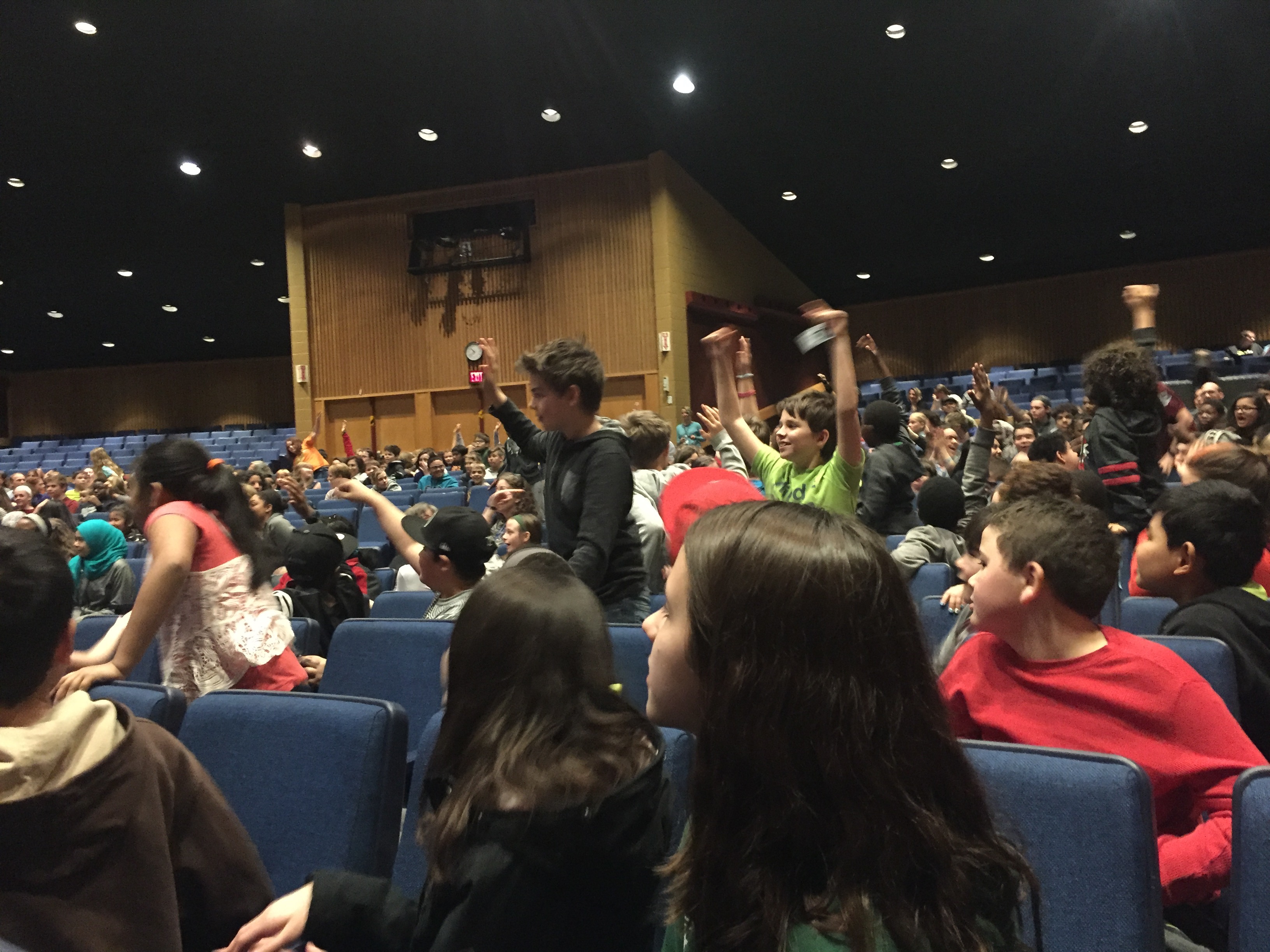 To give you a little taste of the presentation (video by WPTZ's Stephanie Gorin):
And the event wound up thusly (video by Stephanie Gorin):
Afterward, Kwame patiently signed lots of books.
He also enjoyed an interview with news anchor Stephanie Gorin, who is a longtime champion of kids' books and the arts with her TV station, WPTZ, the local NBC affiliate. She managed to get three minutes of Kwame celebration on the news that evening!
Here's a link to the news piece:
http://www.mynbc5.com/article/award-winning-author-brings-poetry-and-rap-to-school/9278803
After all that excitement, it was time to say goodbye.
But the memories of Kwame's visit will live with the kids of Burlington, South Burlington, Shelburne, and Winooski forever — and there will be lots and lots of book hugging, new readers, and cheering.