I got an email from HarperCollins in August that caught my attention. It began like this.
"Attention! Attention!
Indie Book Stores needed for HarperCollins Facebook Live Initiative!
The idea: Go LIVE from one Indie store in each of the 50 states in 50 weeks EVERY SATURDAY."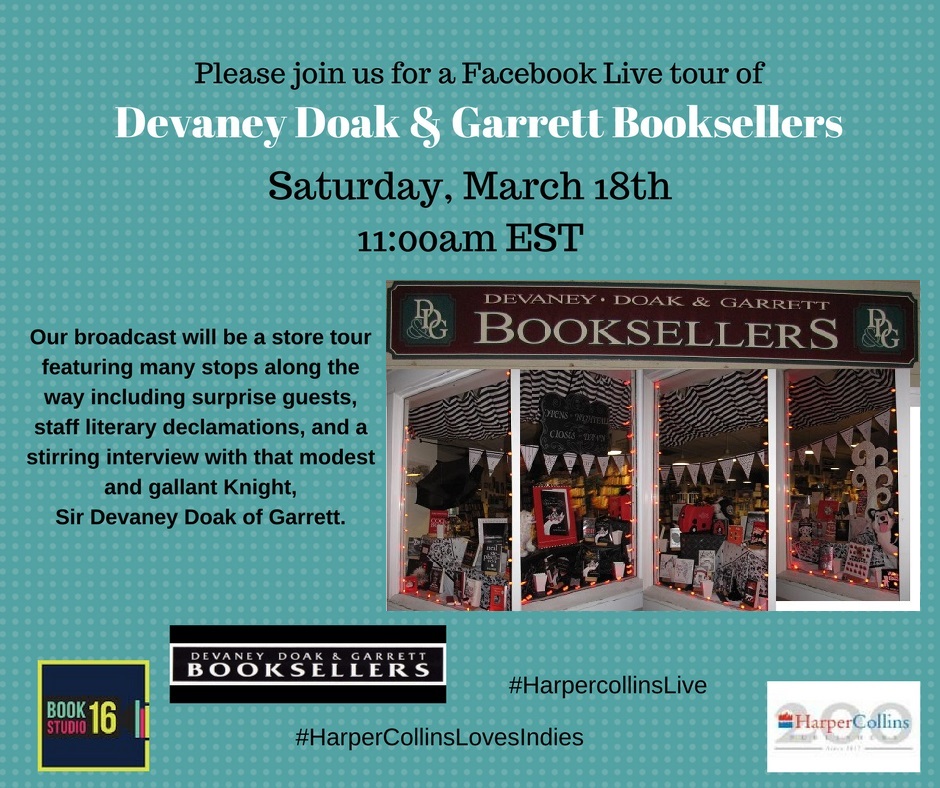 Two things about the promotion appealed to me.The message noted that the promotion "costs nothing more than time creativity and a willingness to think off the shelf." I liked the idea that a publisher was recruiting bookstores for  a challenging project that called for creative thinking. Second, I had no experience whatever with Facebook Live and taking the plunge seemed like a good opportunity to learn something new that might have good marketing potential. I signed up right away.

We did our live broadcast from the store last Saturday, which I will include down below for your viewing pleasure. I have to say upfront that I'm really proud of the video. We had a lot of fun planning and making it. Our whole staff was dedicated to the idea that the video would both capture the character of the store and be entertaining to watch. Comments such as this made us feel that we had succeeded. "Absolute genius! When I saw it was 32 minutes, I said 'I'll have to watch this in installments. But we sat through the whole thing, laughing all the while." Huzzah!
What I love the most about the video is that it truly was a team effort. All my staff contributed greatly to the project, and they all did a terrific job.  A close second to that was my talking through 32 minutes of live video without messing up much.
Seriously though there were so many positives from the project, apart from DDG team-building, we incorporated many elements of community outreach into the broadcast so that it allowed us to engage directly with our audience about what the store cares about most. We learned a lot too. There are obvious applications for live video for bookstore events and promotions. HarperCollins was great to work with on this. Kudos to them for a terrific promotion!
All right then. Here's the video!