Allan Wolf writes literary young adult fiction. Mo O'Hara writes bonkers early chapter books. On the surface, they couldn't be more different as authors. But they share an amazing capacity for holding an audience captive and illuminating the work and the joy of writing. I was fortunate enough to host each of them at the bookstore over the weekend, and it was fascinating to learn how they each approached writing about childhood events and to watch them work the crowds– engaging, inspiring, and entertaining their readers.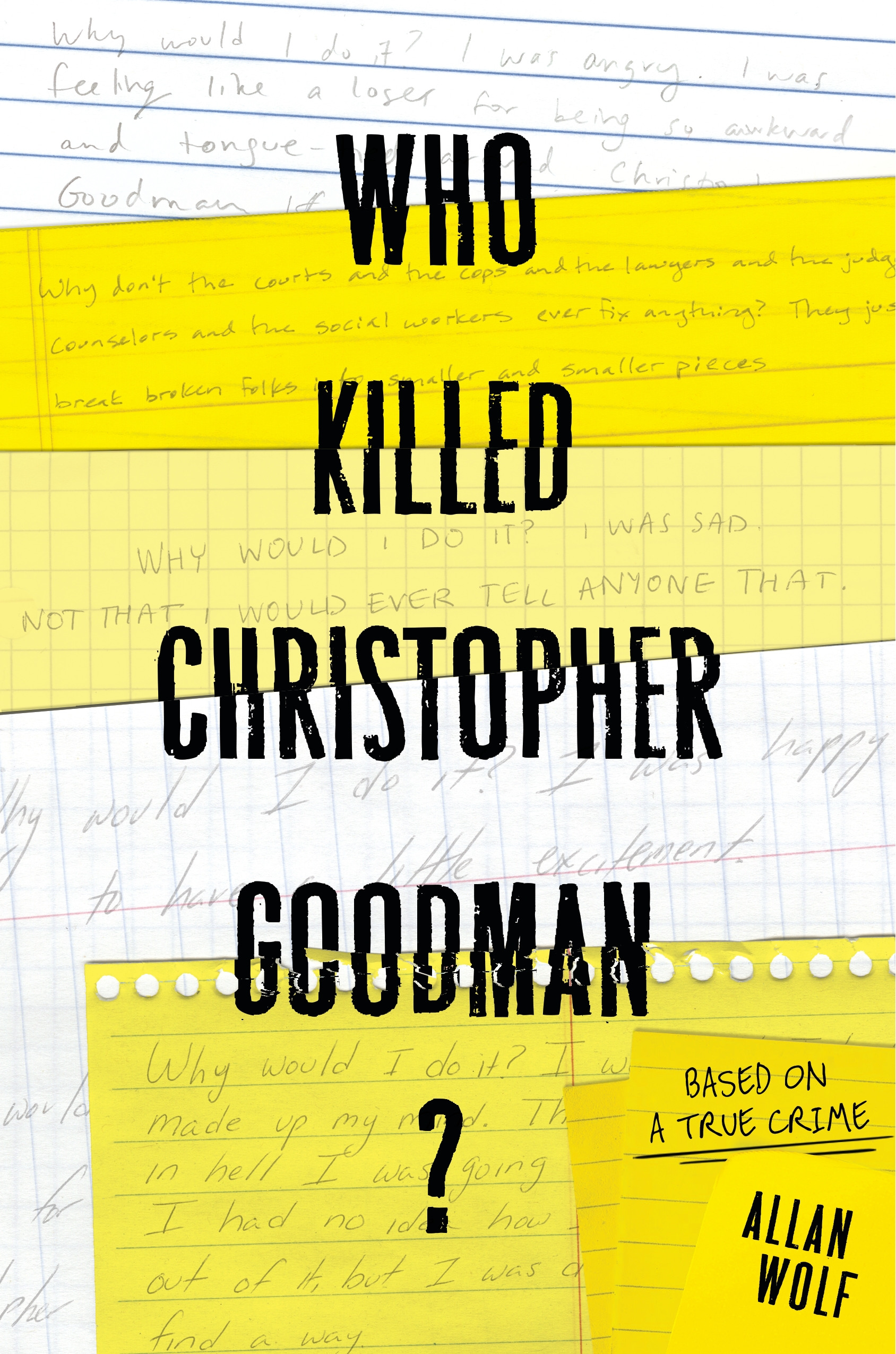 Friday evening Spellbound hosted a launch event for Allan's new YA novel Who Killed Christopher Goodman? (Candlewick), a moving piece of historical fiction inspired by a real and traumatic event. It's set in the 1970s and examines the violent death of a well-liked teenager during a small Southern town's annual Old West-themed street festival called Deadwood Days.
Addressing the question of why he fictionalized the story to tell it, Allan cited reasons including respecting the privacy of people who are still alive, some of whom are happy he told the story and some less than happy. He also said that because it was such an emotional topic, a formative experience that continues to haunt him and his friends decades later, he found it necessary to fictionalize it in order to tell such an intimate story. He needed a buffer. It also gave him leeway to speculate and explore when it came to the inner lives of his characters. There was a lot of research involved, but sometimes facts and characters were rearranged to get at the emotional truth of the story in a way that would be compelling to someone who hadn't lived it. As Allan said in his charmingly self-effacing way, "It isn't artful, but it's heartful." I would strongly disagree with the first part of that statement, as would most of his readers.
Lest you think the story of the fictional Christopher Goodman is nothing but loss and soul-searching, there are many moments of comic relief throughout. As Allan told me later, "Sorrow makes life rich. But humor makes the sorrow bearable. To create a story that is truly life-affirming, I think writers need to offer a bit of ha ha in between the ah ha and oh no!"
Always the consummate presenter, Allan treated us to a musical rendition of a poem written by one of his characters, plus a Merle Haggard sing-along in honor of one of his country music-loving characters before the night was over.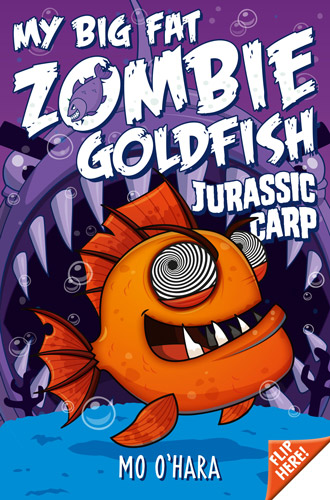 The following morning Spellbound played host to author Mo O'Hara, whose new book is
Jurassic Carp
, the sixth and last in her hilarious series
My Big Fat Zombie Goldfish
. Oddly enough this story, too, is based on a (slightly less) traumatic childhood event. Mo had the audience in the palm of her hand as she told the story of how she and her brother won a pet goldfish at a county fair. They loved their pet, even if he was a bit… passive. After a year or so, they came home one day to find their beloved goldfish floating belly up in his bowl. Frantic to do something, and perhaps having watched too many melodramatic medical shows on television, they decided to try to defibrillate the fish… with a battery from an alarm clock, no less. And it worked!
Years later, this memorable experience was the inspiration for Mo's hilarious zombie goldfish tales. As she told our rapt audience, in real life her pet goldfish had not been the least been zombified; it had simply gone back to swimming back and forth in its bowl, being constantly surprised by the little plastic castle. But that wouldn't have made a very exciting ending to the story, so here Mo impressed upon the audience the beauty of taking a real thing from life and then saying, "What if…." She also did a wonderful job of defining being an author. Rather than just becoming an author by writing a book, Mo told the kids, anytime you have an original idea you are the author of that idea, no matter what you decide to do with it. You might write about it in a story or a book, or you might paint a picture of it, or you might invent something from it. Or you might keep it to yourself. But you will always be the author of that idea. She even very generously invited all the kids to take one of her cards and send her any ideas they have and would like her to comment on or share.
I was really impressed with Mo's ability to alternately inspire and entertain while keeping the entire audience involved. It was like a marvelous juggling act. One of the highlights was when she got several kids to come up front with her and become the characters from her series, both the heroic and the villainous, with the help of some really awesome props. Here, one of Mo's young readers is shown the character he'll be acting out… the most evil of all her characters.
Allan Wolf and Mo O'Hara are both in-demand school presenters, and it's easy to see why. Any school (or bookstore or library) would be lucky to have them.