As the conversation about diversity in children's literature grows broader and deeper, new topics and initiatives arise that inspire growth in the field, and spark great conversation. A couple of years ago, author Corinne Duyvis (Otherbound, On the Edge of Gone, Guardians of the Galaxy: Collect Them All) added a new layer to the We Need Diverse Books movement. Responding to articulated frustration with the publishing industry's unequal playing field, especially for authors of color, Duyvis wrote a couple of tweets that gave a new home to a long-held conversation.
"Glad important discussions are being had," her September 6, 2015, tweet began. "Would love to be able to walk away with book recommendations. How about a hashtag?"
She then suggested "#ownvoices, to recommend kidlit about diverse characters written by authors from that same diverse group."
(Side note: Duyvis's FAQ section is worth reading, too; it's simple, clear, engaged but hands-off.)
It took a while for #ownvoices to become part of the common diversity lexicon (it's a lexicon that continues to evolve; Roxane Gay's recent Winter Institute comment dismissed the word "diverse" as having become so broad and overused as to become almost meaningless); #ownvoices is a beautiful refinement. While, like Duyvis, I believe that gifted, thoughtful writers can inhabit a variety of characters (otherwise, there would be no great fiction!), there's no substitute for the richness of thousands of varied voices in publishing. It's a big, colorful world, and we owe it to our children and ourselves to let that light into our books.
I noticed recently when I was putting together some book lists for our Adopt a Classroom project how many of the diverse books on my lists are written by authors outside the diverse group represented in the book. I started using the #ownvoices hashtag to identify picture books, MG, and YA titles by diverse (sorry, Roxane!) authors and illustrators. I shouldn't have been, but was, surprised to find how few #ownvoices books there still are.
K.T. Horning at the CCBC recently published the most recent statistics in their ambitious and revealing annual study, which gathers as many children's books as publisher send them and catalogs their content. In 2016, for instance, out of 3,200 books received from U.S. publishers, just 265 of those were about African-American fictional and real-life characters, and a mere 90 of those 265 books were created by African-American authors and illustrators. The numbers are even bleaker for American Indian/First Nations books: only 35 books featured fictional or real-life American Indian/First Nations characters, and only 8 were books by authors sharing that heritage. The study also looks at Asian Pacific/Asian Pacific American representation (224 books about; 194 books by) and Latino representation (157 books about; 94 books by).
The CCBC website adds beautifully: "The numbers are far from the only important thing to consider when it comes to multicultural publishing for children and teens, of course. The books themselves matter. And every year we see amazing books by and about people of color and First/Native Nations people published. There just aren't enough of them. The more books there are, especially books created by authors and Illustrators of color, the more opportunities librarians, teachers, and parents and other adults have of finding outstanding books for young readers and listeners that reflect dimensions of their lives, and give a broader understanding of who we are as a nation."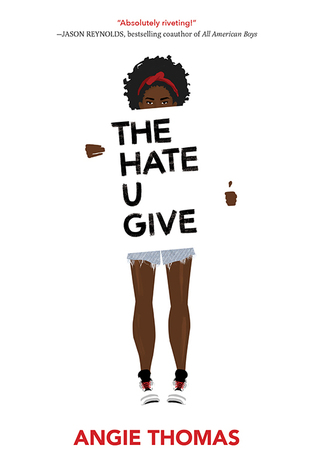 It would be wonderful to have an #ownvoices database. Anyone?
Nathalie Mvondo has a great website, Multiculturalism Rocks!, which lists resources, agency wish list, and calls for #ownvoices manuscripts.
I'm currently reading Angie Thomas's powerful The Hate U Give (Balzer + Bray). Our staffer Emily, also just read it and said, "I haven't been addicted like that to a book in a long time. I was under the covers with an Itty Bitty Book Light until all hours reading it. SO good!"
Next, I'll be diving into the anthology, Flying Lessons & Other Stories, collected by Ellen Oh (Crown).
What are your favorite #ownvoices books so far this year?