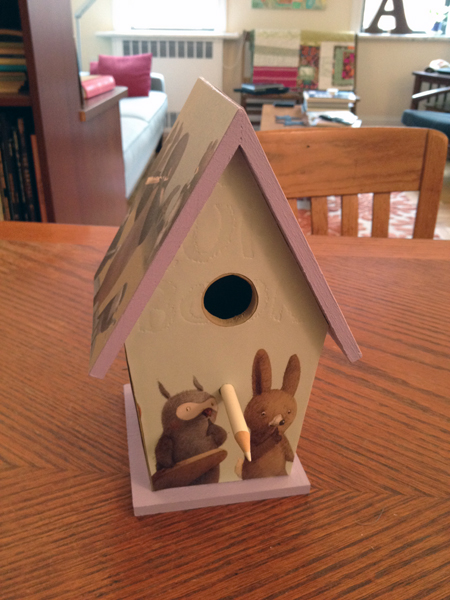 Many bookstore buyers find themselves recycling box after box of folded and gathered galleys (F&Gs) of picture books once our seasonal frontlist orders are placed. It seems a shame to send such lovely artwork to the recycling bin, but they do tend to pile up and since they're unbound they can be more difficult to donate than bound galleys. Personally, I'm always happy to find new ways to make use of them.
When I started reading ShelfTalker years ago, it was written by the wonderfully creative Alison Morris, then children's book buyer at Wellesley Booksmith and currently curator of collection development at First Book. She sometimes posted photos of her bookish crafts, including these gorgeous bookish birdhouses decorated with pages of picture book F&Gs.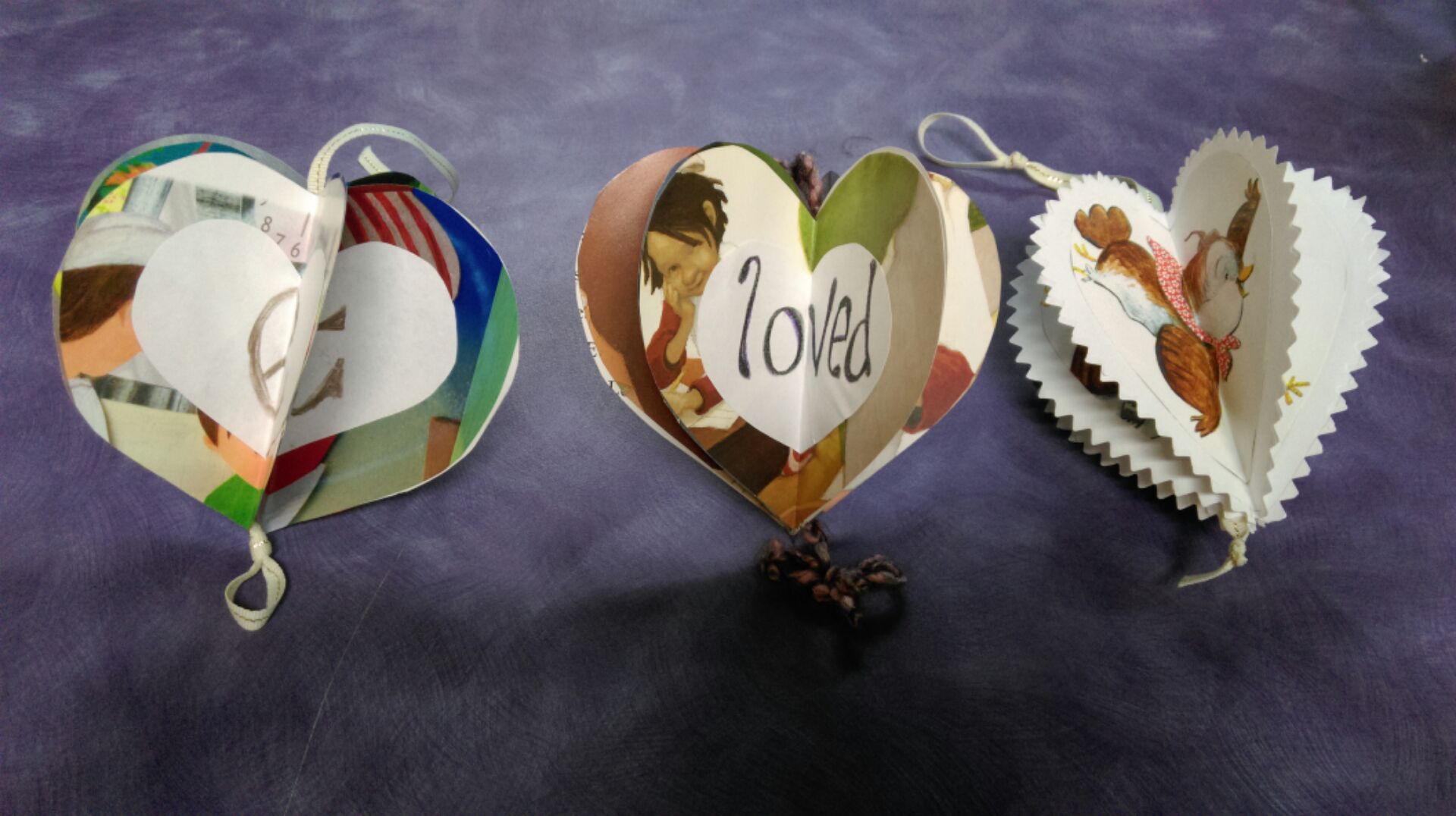 I'm not crafty at all, unfortunately, but I thought I'd share some more examples of fun things to do with F&Gs. For instance, we save some of ours for Cyn, one of our favorite customers who also happens to be an art teacher. She likes to use pages from F&Gs in projects like these 3D hearts. She even led a workshop at the bookstore for kids to make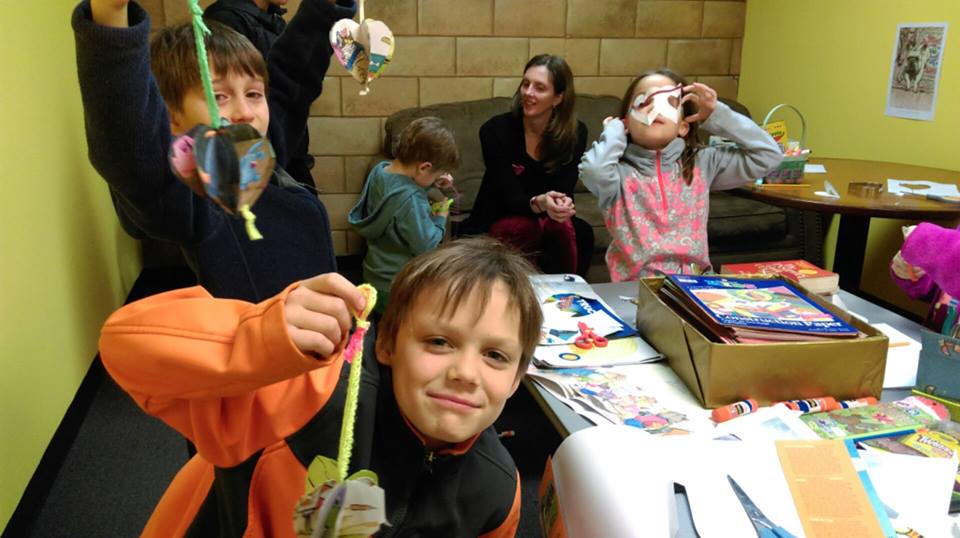 these as valentines, which was lots of fun. She also made some fun streamers that are now permanent party decorations hanging from the ceiling of Spellbound's event room and adorning one wall of the baby & toddler room. They're colorful and festive, and people are always delighted when they get close enough to see that the streamers are made from book pages.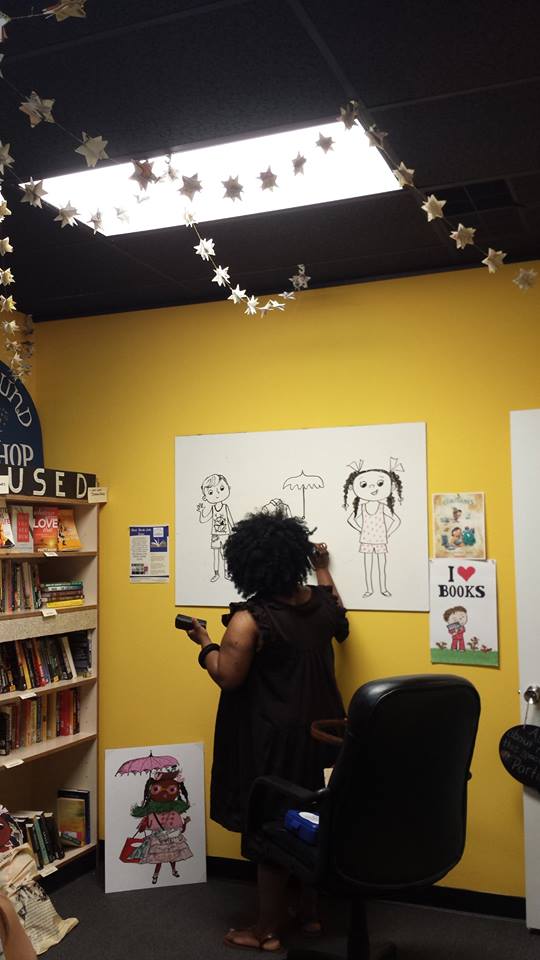 The streamers in the event room, pictured here during a drawing demo with the fabulous Vanessa Brantley Newton (Mary Had a Little Glam, The Youngest Marcher), are star-shaped to go with our store name and logo. The ones in the baby room are flower-shaped. Cyn says that she uses large cookie cutters to trace the shapes on the pages, then layers the cut-out shapes and puts a small stitch in each stack. Then they can be "fluffed" out for the dimensional effect and strung together to make a banner. When the kids are making them, though, they usually stick with a staple or even some clear tape.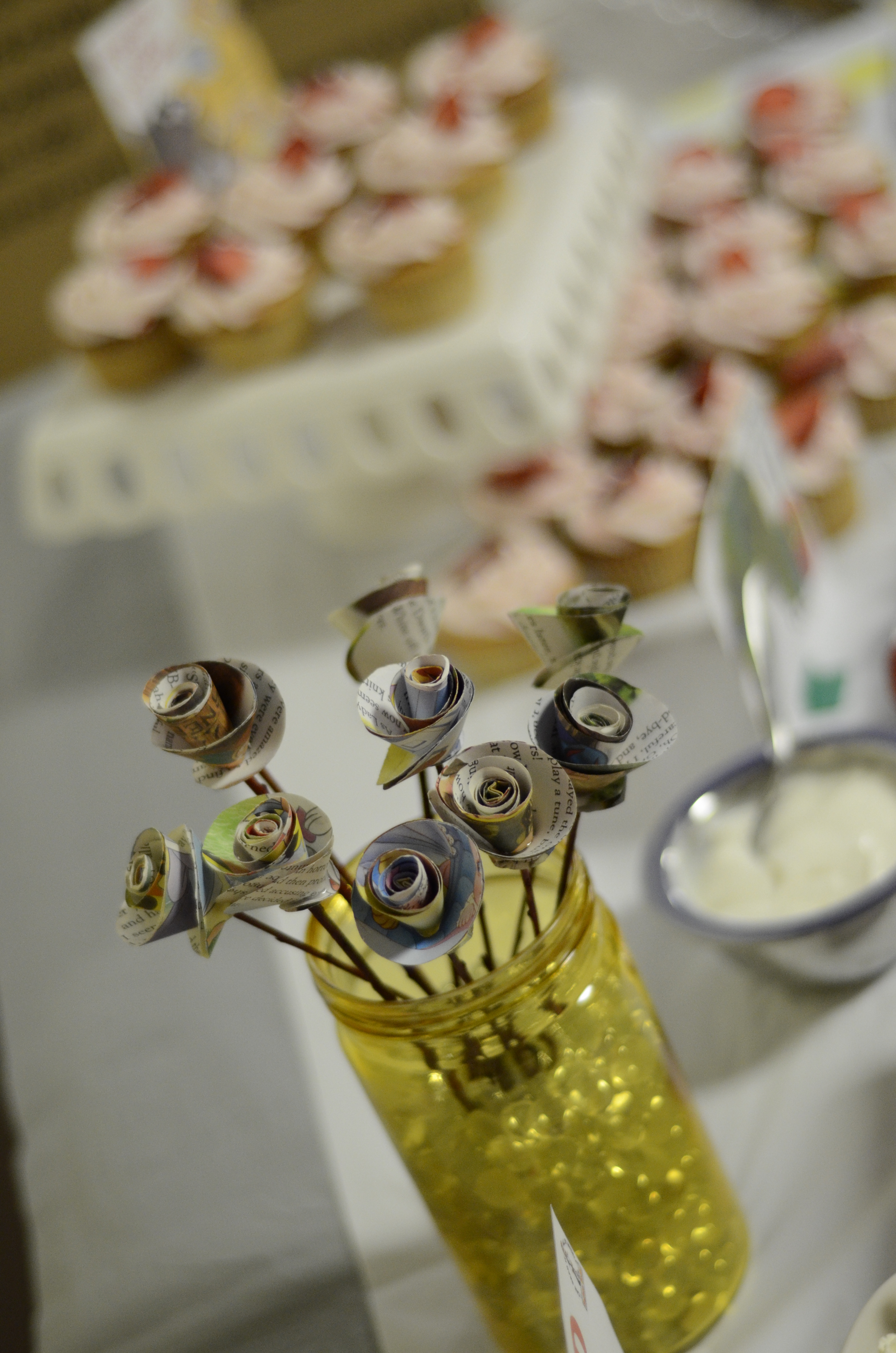 Another crafty customer made this lovely bouquet of picture book roses as a table decoration for a book-themed baby shower she hosted at the bookstore.
While I have no use for F&Gs as craft supplies, given my aforementioned complete lack of skills, I do make use of some of them in story time. Sometimes I do this to test run a picture book I'm on the fence about ordering. And with favorites I know I'll be reading and rereading at story time I'll sometimes hold onto the F&G to avoid wear and tear on the pristine finished copies. It's quick and cheap to add a spiral binding–a couple of dollars at an office store or mere pennies if you happen to own a binder. In fact, most of our F&Gs now find happy homes either in my story time stash or with our art teacher friend or with a very resourceful school librarian customer who has taught a student helper how to use the binding machine so she can add donated F&Gs to the collection. They may not hold together as long as finished copies, but any time they spend being read and enjoyed by kids is worth postponing the trip to the recycling bin.