As I'll be packing for Winter Institute today I thought I'd also unpack some thoughts on  one of the educational session topics to be featured there, expanding active nonfiction sales. I'm really looking forward to that ABC session . Would that only be because I am on the panel? Not at all. Seriously though, it really is a great panel on an important topic.   I mean come on, who wouldn't want to be on a panel with amiable luminaries like Tegan Tegani, Carol Moyer, and Sara Grochowski?
Right, so what is the definition of active nonfiction, you ask? The simple definition is "books in which the reader applies his or her reading to engaging in an activity." From an adult perspective that could describe a travel book or a book on gardening. I would argue, though, that active nonfiction in children's books differs from its adult cousin because of a fundamental difference in the nature of the audience. Young readers are never armchair travelers. An adult can read of a perilous ascent on K2 and savor the adventure in her mind. A fourth grader reading of the same adventure is sure to attempt to ascend the most perilous climb she can reach by foot, even if that turns out to be a mountain of pillows piled on a sofa. Thus I think it is fair to ask whether all juvenile nonfiction is active in an important sense.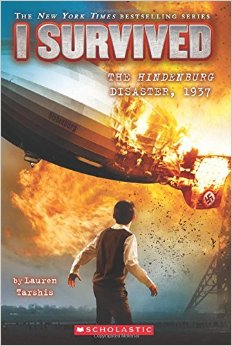 Many young readers, particularly between third and sixth grade, are positively hungry to learn more about the world around them. I recall being in a fourth grade classroom not long ago and questioning the kids about what they were reading. Half the class were reading books in the I Survived series and all of them reported those books as being "awesome." As a bookseller, if you are wondering about the importance of juvenile nonfiction in a general sense, don't think too hard about it. It's importance to your customers is a fact, and one that requires, hem hem, action.
Decoding the world around you isn't the same as our working definition of active nonfiction, however. Nonetheless, if we consider the manner in which children integrate the nonfiction titles they are reading into an active engagement with the world around them, we can understand that some nonfiction titles are especially good at directing young readers into action. I would argue that there is a special class of books that literally depict dynamic exercises in active nonfiction. These books are both blueprints and models for children who are looking to engage with the world around them through reading.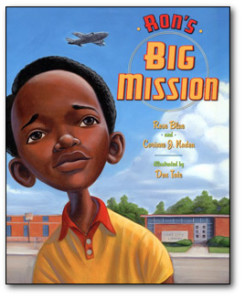 Let's look at one of my favorite examples of this subgenre of books, Ron's Big Mission by Rose Blue and Corrine J. Naden, illustrated by Don Tate. One of the things I love about Ron's Big Mission is that it seamlessly blends many important themes via a truly captivating story. The book recounts an incident in the childhood of Ron McNair. a physicist and astronaut who perished in the Challenger space shuttle accident. As a young lad Ron was a big reader of juvenile nonfiction titles regarding his passion, space travel. On his way to the library friends and neighbors call out to him to take part in a ball game or enjoy a snack, Ron politely declines. He is on a mission.
Once Ron gets to the library his soft-spoken manner is upended unexpectedly as a simmering source of frustration wells up in him. How is it fair that he cannot take out books while other patrons can? How is it right that white community members can have library cards while black community members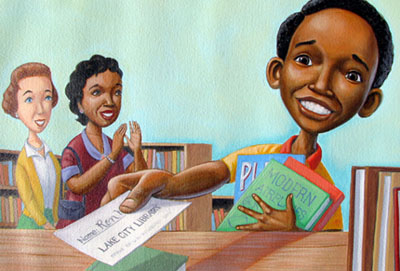 cannot? Ron really wants to take home some juvenile nonfiction books.  The wrongness of not being able to do so inspires him into action. He stands up on a table and insists on being able to take some books home. His mother is called in to help talk him down along with two police officers. These adult authority figures, as Tate's fine art conveys, appear befuddled and uncomfortable as they urge Ron to accept the rules. This stand-off leads the librarian to take action. She knows what a fine patron and young man Ron is. She knows what she has to do. The librarian goes back into her office and writes him up a library card. In the final page of the book, open books are sprawled around Ron's bedroom, the window is open in the night, and Ron is imagining his future in space.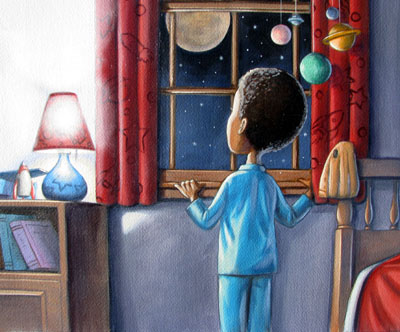 Ron's big mission models active nonfiction on many levels, both literally and figuratively. It encourages its readers to actively engage in social justice, read about their passions, and to find ways to solve problems posed by rules that conflict with core principles of shared humanity and fairness. Does it offer us any advice to us as booksellers? Absolutely. Whenever someone is looking to see some books on space for a young reader I always show them Ron's Big Mission along with some other space-related titles, often selling two or three books. Active nonfiction books like Ron's Big Mission are the yeast in the dough, and pairing them with more traditional titles best reflects the dynamic environment in which juvenile nonfiction plays out in young readers.