Tuesday was, as everyone knows, the launch date for Suzanne Collins's Mockingjay, and like teenagers (and adults!) everywhere, I wanted to get my hands on a copy. Fast. There isn't an independent bookstore, let alone a chain,  in our new neighborhood, which is like a hole in my heart. BUT I was saved this week by a short subway ride to the venerable Bank Street Bookstore, where I became one of many eager readers to purchase Mockingjay from their store this week, though a day too early to do so while face-to-face with Suzanne Collins (alas). I've been wanting to visit Bank Street for several years now — ever since I first met the amazing Beth Puffer, who has managed this store for a whopping 24 years (though you'd never know it to look at her). I had the pleasure of getting to know Beth when we served together on the board of the Association of Booksellers for Children, so I had big expectations for her store, and boy did it ever meet them!
What follows is a brief photo tour so that you'll know your way around before you pay your first in-person visit (which I certainly hope you'll do someday!).
First, the front. I love that the store sits on a corner. This means more windows, more light, and the all-important more awning space, making the store plainly visible to customers on the opposite side of Broadway, which is where I was when I took this picture. If you look closer at the awning (see photo above) you'll see that it's plainly clear, from the writing on the awning, just who this store is for AND, by extension, just what kind of books they carry, but that doesn't stop people from coming in the door looking for run-of-the-mill grown-up books — e.g. bestselling novels and non-fiction. It saw it happen even during the brief time that I was there.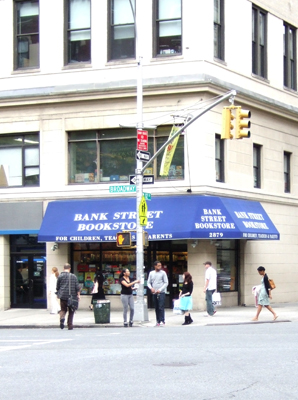 You walk through the doors and this (below) is the sight that greets you. Lovely, no? Two stories high, this is a BIG space, packed to the gills with tremendous books for kids of all ages and an enormous selection of educational resources and professional books for teachers too. (The store is owned by Bank Street College of Education, which accounts for the latter emphasis.) Somehow, though, the store manages to be both huge (especially by children's bookstore standards) and extremely homey, which is why it's such a pleasant space to browse. It's also very neatly arranged, very well-organized, and seems not the least bit cluttered, in spite of all the stock (books, toys, teacher tools) filling the space. How does Beth do it?? I don't know. But I enjoyed seeing the fruits of her labor and look forward to spending a LOT more time at this place.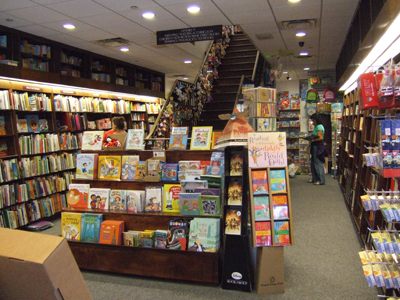 To your left are the picture books. (I had serious fixture envy on behalf of many of you.)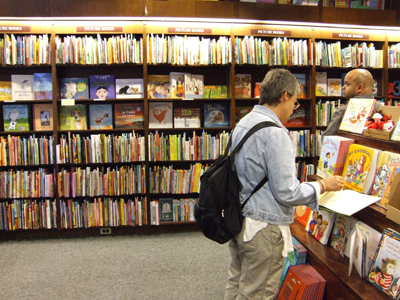 Straight ahead of you are middle grade and young adult novels, plus lots of fun toys and other sidelines.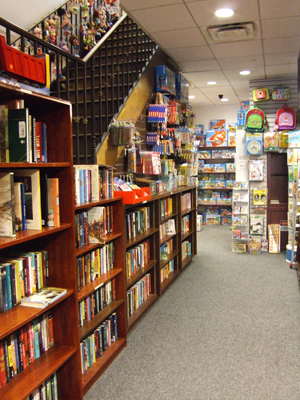 Here's a display of recent middle grade and YA hardcovers. (When I took the photo above, these books were on my right.)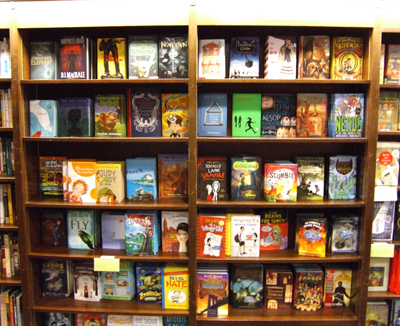 I love that they feature staff recommendations! Hallelujah!! What does every store need, I ask you? SHELF TALKERS. Preferably ones featuring recommendations from your own booksellers. They work like a charm, they build your store's reputation as a place that's "in the know," and they act like "mini booksellers" — doing the work of humans when there's no human standing right there beside the shelf. TRUST me on this, people. Be like Bank Street. Put 'em up!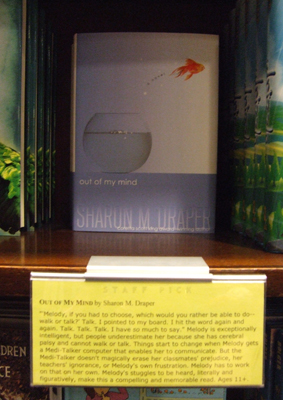 That lecture done, let's wander back here to the rear of the store where we are in Playmobil Heaven — or at least that's where these two children CLEARLY thought they'd landed! It was so much fun to watch them ooh and ahh and hatch plans for their own creative play.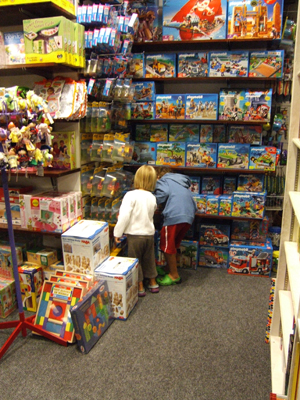 Now let's traverse the LEFT side of the first floor, shall we? Here, first of all, is a close-up of some of the hardcover picture books being featured in Bank Street's very large picture book section. FACE-OUTS are another thing every store should have lots of. I was pleased to see many more shelves like this one, and gratified to see that, yep — people were browsing them, which is just what face-outs invite people to do.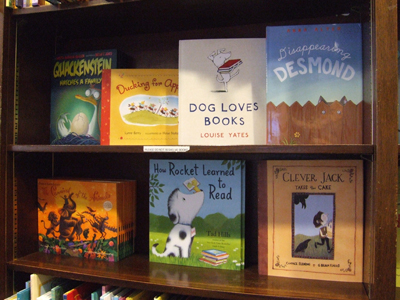 Looking back now to the left rear corner of the store. The board books are on my left, but you can't see them in this picture. What you can see is a mother reading to her daughter. Clearly customers feel like they want to spend time in this wonderful place.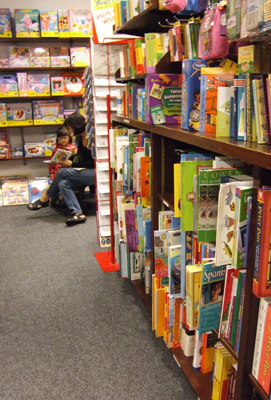 Now let's head up the stairs to the second floor. Here's the terrific view from the top of the stairwell. Books as far as the eye can see and plush toys lining the route between the two!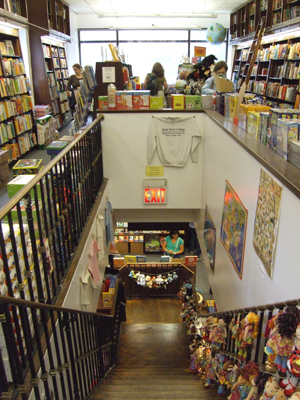 Remember what I said about windows? This store has so many of them, and they're enormous! It makes the space feel so bright and airy.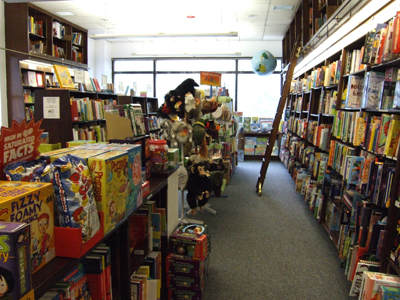 Here's the biography section — two full bookcases. Heaven.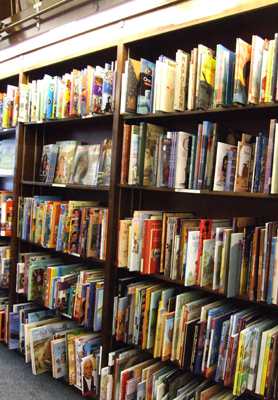 And here's poetry. Another two VERY full bookcases. Would that all stores could afford to devote this much space to poetry!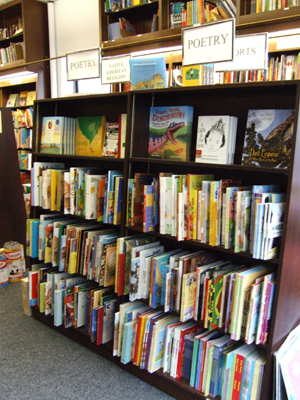 If you come up the stairs and look to your left, you'll see the teacher resource section. (It starts over by that white pillar in the photo below). Here you can buy everything from borders for your bulletin boards to Cuisinaire rods to every book by Lucy Calkins. (I know this will mean something to the teachers among you.)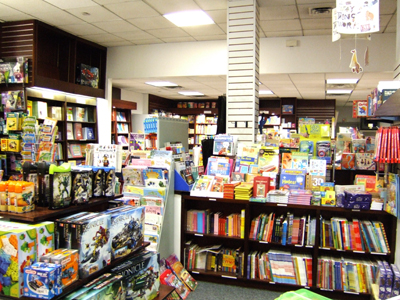 Here's a close-up of one part of that section.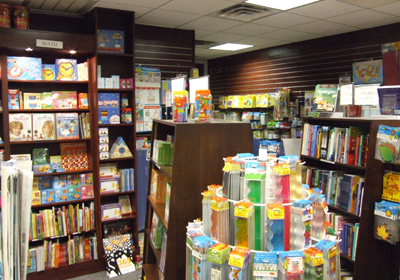 And now we're headed back downstairs again. Isn't it nice to see so many customers in the store?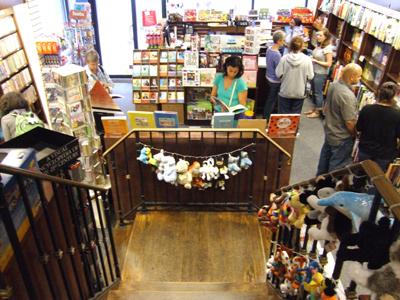 Here's a customer headed up front to make her purchases.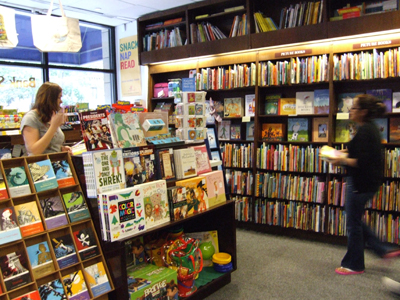 And here's a shot of the front register and the Mockingjay display from which I purchased a book, in addition to an irresistible new toy called a Pig Popper, that works like a charm. An adorable pig charm.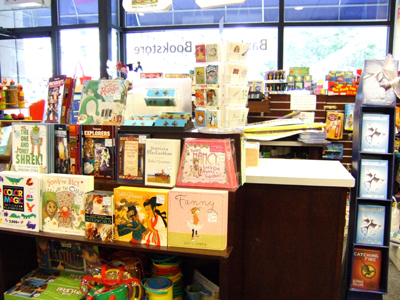 As you walk out the door and turn left to cross 112th Street, look to your right across Broadway. That's the Cathedral of Saint John the Divine there in the distance, on Amsterdam Ave. I recommend making that your next stop in the city. Unless, of course, you're hurrying home to start reading the books you bought at Bank Street, which is what I did following this particular visit. NEXT time, though, I'll spend more time in the neighborhood. I'm looking forward to there being lots of "next times" for visiting this wonderful, wonderful bookstore!