We love snacks at the Flying Pig. There is a snack box in the back office that is often full of yummy treats, often brought back to the store from trips that staffers want to share. We've had Alaskan candy bars, real Swiss chocolates, and taffy from the Cape. We share our treats and have an unwritten rule that no one eats the last snacks, unless they brought it to the store. I have been guilty of eating the last bit of candy bar and not replacing it. Sometimes we leave notes expressing our sadness at the sorry state of the snack box. Often these notes are simply frowny faces when we're almost at the end of something yummy. The other day I noticed a note in an Altoids tin. We always have a tin of mints in the middle drawer by the register. We are coffee drinkers and sometimes you just want a burst of minty freshness. Last weekend, I had a desperate need for a mint after a morning coffee and a tuna sandwich for an early lunch. I opened the drawer and saw the tin of mints. I was excited for this. Then I opened the tin and found, not a mint, but a frowny face on a post it surrounded by the dust of mints past.
The note, while cute, made me a little mad. Just throw the tin away, I thought. I posted on my Facebook page about the sad note in the empty tin. The staffer responsible for the frowny face post it commented that she left the note. I assured her it was fine, but I was bummed. When you're in need of a mint, honestly nothing else will do. Many friends commented on the post and some mentioned where to buy bulk Altoids. A few even offered to bring us mints.
A week went by and no one stopped by with mints. Then Friday I got to work and saw a small package in my cubby. It was too small to be a book. I opened it, excitedly wondering what it could be. There was a note that said, "Thinking of you," on the front. I shook out the envelope and out popped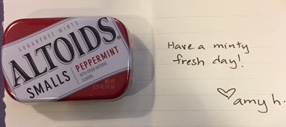 a tiny tin of Altoids! I was delighted, almost unreasonably so. That someone had gone out and bought this little tin of mints and mailed them to me was utterly delightful. I know Amy H. and this is so very like her. I was totally touched.
I was reminded again that indie bookstore customers are among the best people on the planet. And as I work through my week I will savor each little breath-freshening mint.