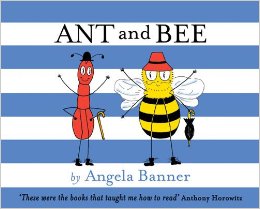 I'm on the ABA's Revise and Revisit Kids panel, whose reason for being is to select great, languishing backlist titles to be featured in the Kids' Indie Next List. One of my ambitions was to pitch the selection of an all-time personal favorite book, Ant and Bee by Angela Banner. I was thrilled to find that my colleagues were like-minded about this first book in a glorious series which has brought inter-generational joy and knowledge to so many children and parents.

Part of the deal is that someone on the panel has to write an 85-words-or-less blurb for each of the selected books for the Kids' Indie Next List. I elbowed forward and claimed Ant and Bee. As I was swimming laps before work, recognizing that once I got to the shop I wouldn't have a moment to think, (we are having a great season so far!),  I cast about in thought for the right blurb. A cluster of adjectives and other usual literary forms of commendation just didn't seem to do Ant and Bee justice. And then it hit me. I knew what had to be done…
Ant and Bee is an Amazing picture Book which Comes to mind whenever I Decant my Everlasting memories of Favorite childhood books. Gazing at the pages in my Hand I Journey back through this beloved source of Knowledge and Laugh Merrily at their charmingly Nuanced and Original world. Perfidious is anyone who Questions the Richness and Sublimity of These alphabet story books. Underneath the stories is a Veritable fountain of Wonder, each page a magical Xylophone chord of Youth and what the Greeks call Zoi, life.
So yes, I am throwing down the gauntlet here and challenging everyone to submit their best alphabetical Ant and Bee blurb below. The winner will receive a huge dollop of glory, everlasting satisfaction, and an amazing yet to be determined prize!