In my experience most small stores tend to be like the residents of Orwell's Animal Farm: all aspects of our operation are equal but some aspects are more equal than others. We try to do a good job with everything, but, lacking an array of specialized full-time staffers, we make choices of emphasis based on our own personal strengths and predilections.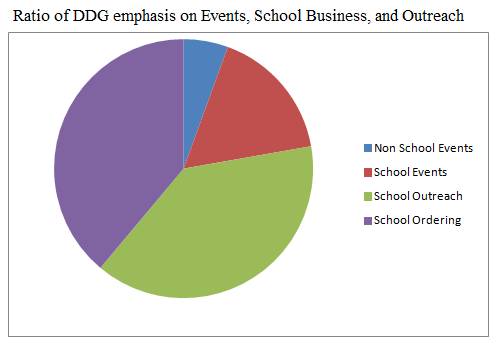 A glance at the highly technical chart on the right starkly indicates DDG's emphasis on school business over events. In terms of children's books events are in fact largely merged into our school business. The truth is that, though we work hard to do a great job with the events we take on, if I tried to run an event schedule as robust and awesome as my ShelfTalker pals at The Flying Pig, I would not have the time to pour into our school account business, which is a passion for me.

One thing that is true of working with schools is that you can never take your accounts for granted. Key personnel retire or switch districts, evil emails arrive in their inboxes from educational specialty outfits, the ground shifts under our feet all the time. For this reason I am always thinking about new initiatives to show my school accounts the love they are worthy of, and I thought I would share with you my latest undertaking. I call it Trade Books in the Classroom, though it is known colloquially as The Kenny Tour.
The idea is for me to be a presenter at the after school Staff Meetings that are a biweekly requirement for area teachers. The way the program works is that my key school contacts in a given district offer the presentation to the powers that be. Once approved they then query the teachers in individual schools for what their curricular needs are and report back to me. I show up at the school with books to present on each curricular topic I was informed of. The books I bring are set up as a book fair for that school and check sheets are handed out to all the teachers so that they can mark down titles of interest as they are presented. After a brief introduction I then book talk topic by topic like a fiend, leaving time for congregation around the books at the end.
I started the program with one of my school accounts this year, and have been going to a meeting each

Monday for the last few weeks. Has it been worth it? Let's look at the upside and the downside. The only downside is that it entailed a fair amount of work and time. Almost all the books I brought were off the floor. My focus was on multiple approaches, formats, and reading levels for a given topic. For Geology I brought, among other titles, both Leo Geo and His Miraculous Journey Through the Center of the Earth and Soundings: The Story of the Remarkable Woman Who Mapped the Ocean Floor, two books at the opposite range of eighth-grade ability and of vastly different format. In any case I did not need to do much ordering specifically for the appearances.
The upsides were legion though. I got lots of orders, both of books I brought and for other books as well. I got to personally meet and present to every teacher in that district. I reinforced the value of our commitment to our long-standing education partners and bore out our reputation to new friends. Administrators were appreciative of having good content appear out of nowhere for the meetings they are responsible for running, and helped facilitate teacher ordering of the presented titles.
When working with schools the key element is selling the value of working with your bookstore and the program embodied that. Beyond business I got some interesting insights into how schools operate. One of my meetings occurred right after the school had performed a total lockdown practice drill that had been instituted in the wake of the horrible school shootings that have been in the news recently. It was fascinating. For example, the principal brought up that some teachers had not put color-coded slips of paper underneath their doors out into the hallway as they were supposed to do. One of the teachers spoke up and said, "I didn't do that because that's crazy. Are we really supposed to be telling someone roaming the halls which rooms have people in them?" Everyone agreed that that rule needed rethinking.
At another meeting I found myself involved in doing a circle activity in which everyone took turns saying what career choice they would have made if they hadn't become a teacher. Of course I popped out with, "If I wasn't a bookseller I would have become a teacher." The next person said, "Well, if I wasn't a teacher I would have been a bookseller" Right ho. I call our Trade Books in the Classroom program a success!