Every few years we get asked to sell books for David Sedaris when he comes to the Flynn Theatre in Burlington. This is an enormous event for us. First of all everyone on staff loves his writing and we sell a lot of his books. So meeting him again is always a treat. The fact that I got to shake his hand and was utterly delighted reminds me that I'm not only a huge fan, but a giddy one at that. I have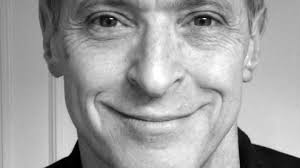 always loved his writing and find his readings to be full of wonderful moments of comedic timing and heart, with a wry edge of the sardonic as well. But for me the real magic of an event with David is the signing line. I've worked a lot of book events in 19 years and I've never met anyone who enjoys it quite as much.
David Sedaris is known for staying at the venue until the last person in the line has gotten a book signed. This can literally take hours depending on the size of the line. The first time we sold books at one of his events we waited patiently until that last person had had their moment with him before we asked him to sign stock for the bookstore. By this point is was one o'clock in the morning. I am not a night owl, so this just about killed me. David's energy never seemed to waiver no matter how late. He gave each person his full attention, making jokes and often drawing somewhat inappropriate things in the books. This is why people wait for hours to meet him. It's fun and you never know what he's going to do. The next event with him we were told he will sign our store stock while folks are in the signing line. This meant we didn't have to stay till the wee hours of the morning.
Last night we were a well-oiled machine. I was instructed by his publicist that David would sign store stock after he had his dinner. It made sense that he'd want to eat before the signing. But he eats during the signing and because the table is full of his dinner and the books from the line, we had to wait. How he can eat and sign and talk to people amazes me. I kept my eye on the table and cleared away his salad plate and gauged how long it would take him to eat his pasta. The great thing about this was we kept selling books. David has this uncanny ability to sign stock while making eye contact with the person in the signing line. I have no idea how he can do this, but I marvel at it every time. I flapped for him the last time he came to Burlington and the key to all of this is preparation, efficiency and silence.
Once his dinner was eaten I brought over store stock, this is where the flapping came in. Flapping is book term for getting a book ready for the author on the right page. I stood on his left while Laura stood on his right. I would turn the books to the title page and slide them to him. He would sign and slide the book to Laura who tucked them in a box. The goal was to slide and remove the books as fast as he could sign (and he signs almost faster than I can turn to the right page) until he started signing for the person in the line. It was seamless. All the while we got to listen to his fairly hilarious banter with the line. "You look like English isn't your first language," he told someone who turned red and said, "I'm from Pennsylvania." To someone else he asked,"What kind of shirt is that? It looks Army surplus. I like the pockets." The sheer randomness of his comments are very funny and as the booksellers our job was to not make the signee's moment our moment, so we kept our comments and laughter to ourselves (although I was hard pressed to not just laugh out loud at much of his chatter). Working this way was enjoyable and fast. We had just the right amount of stock left and he signed it very quickly. I got to shake his hand again as I thanked him for his time and wished him well with the rest of the line.
As we left the theatre, I turned to Laura and said, "You're never going to have a job this cool again – who else gets to meet David Sedaris at work?" We loaded up my car and tired but elated, we both headed home.