The Fourth of July is a great holiday that celebrates our nation's independence. I can't think of a better weekend to shop at an indie bookstore. Small and large bricks and mortar stores represent everything that is great about our country: individuality, eclectic collections of books, and a deep commitment to community. Indies have great books for summer reading for kids and adults alike. 
The local bookstore is an anchor for its town. Yes, we have books that people want to read, but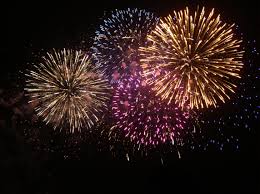 indies are so much more. We support our towns in a myriad of ways. We collect sales tax which help provides needed money for our communities, but we also support things like the Little League, the Rotary, the fencing club, local schools and so many more. We know your kid's names (heck, we even know about your pets) and what they like to read. Books are often bought with specific customers in mind. We know you because you've let us get to know you.
Book buying is an intimate thing and indies know and support this. Want to browse in peace? We let you do that. We also get asked many times a day to just "recommend a great book." This is no easy feat. Someone is entrusting us with hours of their time and this is not something we take lightly. Only by knowing our customers can we do this. Good bookstores know what books their community will want. If there has been a tragedy in town, we stock up on needed books to help with the grieving. Conversely, we celebrate with our customers on life events, be it a new baby or a child learning how to read.
So as you go about your holiday weekend, visit an independent bookstore, browse around and get a great book and enjoy it. And don't forget the sunblock!