Part of doing business in any field is dealing with your bills. Those pesky bills come every month and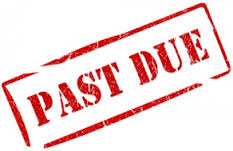 every publisher has a different of reminding you about them. I would like to offer some tips for all the credit departments and bookstores on how to work better together and get paid faster.
– Get to know your credit reps at all the publishing houses you do a lot of business with. These folks will work with you. They are more than the scary phone call about what your store owes them. I've had some very lovely and funny calls with my credit reps and that really helps smooth the relationship.
– The threatening emails sent before the bill is due reminding us that if the check is received a day after it's due will cause the store to go on credit hold could cease. I do not like getting these emails; they make me mad and alternately feel bad for the credit reps who have to send them out.
– If a store has fallen a little behind and you need to send a spreadsheet, please include a total. I cannot say how many times I've had to add these things up myself. It's tedious and lends itself easily to mistakes. Just include the grand totals of what's late, what's coming due, and what's due in the future.
– Please include invoices with shipments. Packing lists are great to use to check off what's come in, but don't do much to help pay the bills. And, having to make a phone call on a busy day to find out what the invoice total is irritating and needless.
– If a store is having a hard time paying the whole bill as happens sometimes (I suspect a lot of stores are still adjusting to the very large Penguin Random House bills since the merger) it is vital that the bookseller speaks to the credit department about a payment schedule. The more I've reached out to my credit reps and told them when they can expect payment, the nicer they are.
– If folks want to get paid faster, allow stors to make payments online. Ingram's ipage is set up so you can see every invoice and when it's due. Then you check off the ones you're paying and with the click of a mouse, you've made a payment. This is so easy. No checks to write, no gathering of all the paper invoices, just a simple click and you're done.
I'm curious if anyone has any other ideas to make the credit department and the bookstore have a less adversarial relationship.