True confession: I had several pages of notes on itty-bitty paper with funny things authors said and quotes from award speeches I wanted to share with you, and those notes have vanished into the ether. I blame Mac Barnett and Jon Klassen. Because they don't know me personally and so I can. So I may as well start off my Magical BEA Moments Part 2 with them.
At the Celebration of Bookselling & Author Awards Luncheon, there were many, many highlights:
In a back-and-forth exchange of competitive anecdotes from their many signings across the country, Mac Barnett and Jon Klassen thanked indie booksellers for their above-and-beyond efforts on behalf of authors. And then some. The accounts of these efforts quickly ramped up from returning a jacket left behind at a signing (Mac B) and fixing a torn sleeve with stitches shaped in a heart (Jon K) to a bookseller throwing Mac in the trunk of a speeding car to escape danger and outrace state police. Booksellers save lives at their own risk, people! (They were accepting the E.B. White Read-Aloud Award for Picture Books for Sam and Dave Dig a Hole.) I didn't get a photo—

was too busy laughing—but I found one on the ABA website to borrow (and will happily add a photo credit if one is found):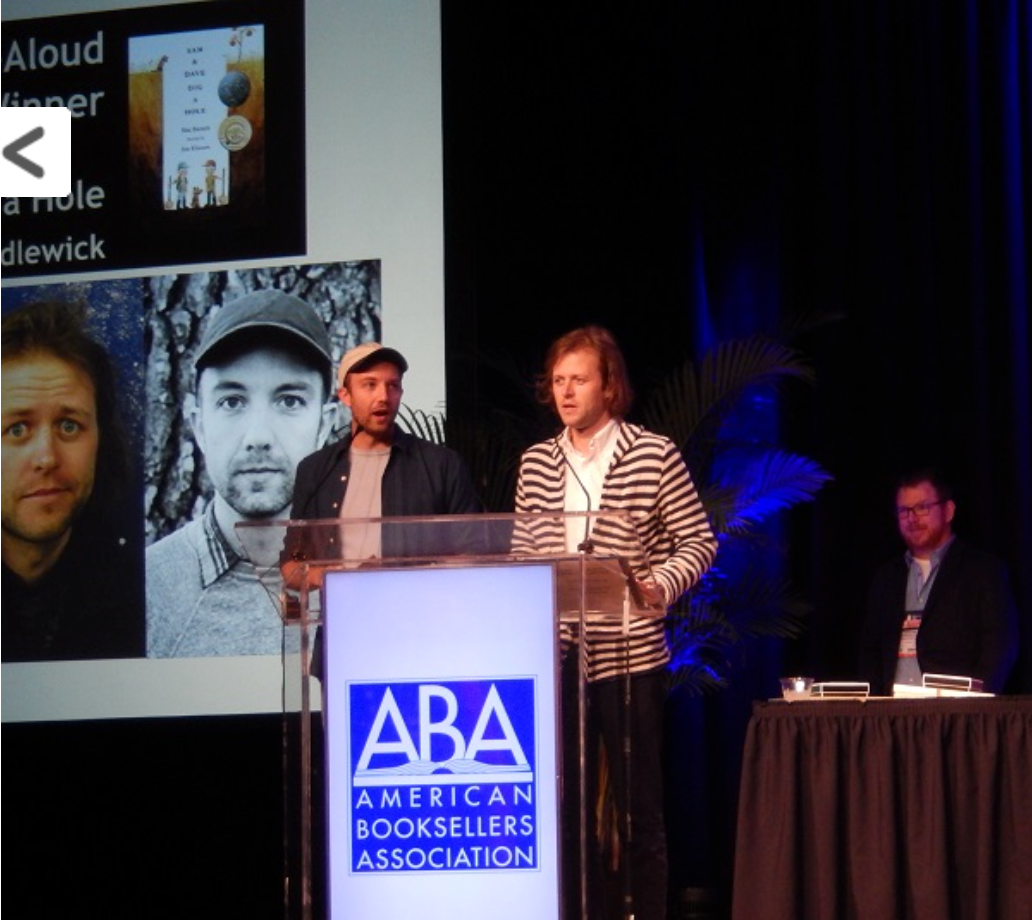 We got to see the original Sal from Robert McCloskey's Blueberries for Sal! Some people think spotting a Kardashian is a celebrity sighting. Nuh uh. And the best thing was to see the grown-up Sal juxtaposed with the young Sal in the book cover on the giant screen—she still looks the same! (This is admittedly not a great picture, but trust me.) Oh, and she is an avid supporter of independent booksellers. Yay! It really is amazing how deeply delightful it is to meet people who are connected to the iconic books of our childhoods.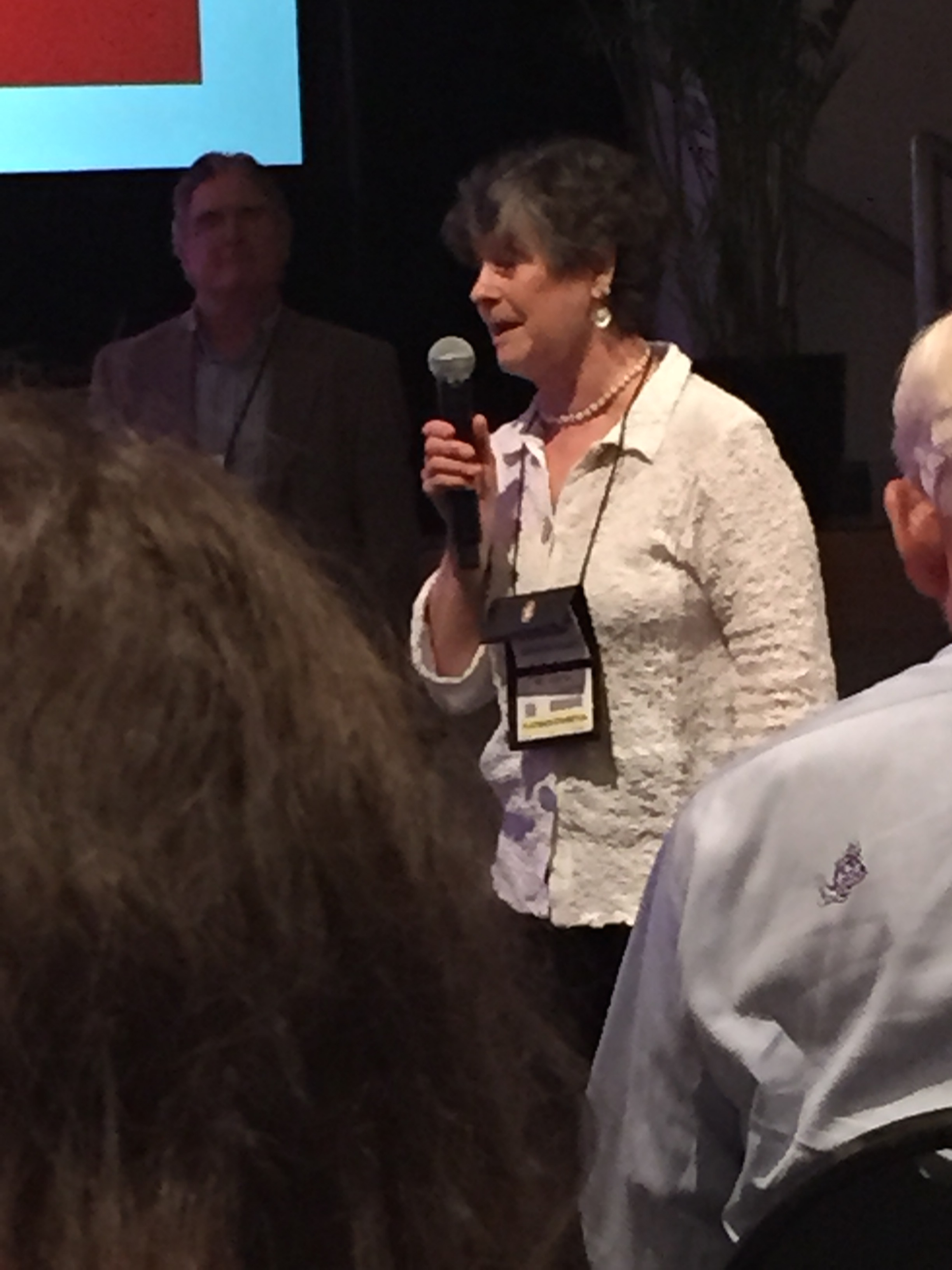 Jacqueline Woodson's wonderful, moving speech in acceptance of the E.B. White Read-Aloud Award for Middle Grade books for Brown Girl Dreaming. She said that the book's attention from readers this year has been so important to her because "I feel like what they're saying is that we matter, and that our stories and all stories have a right to be in this world." YES! It was a lovely speech; not a dry eye around the room. (The photo is also from the ABA website; mine turned out blurry.)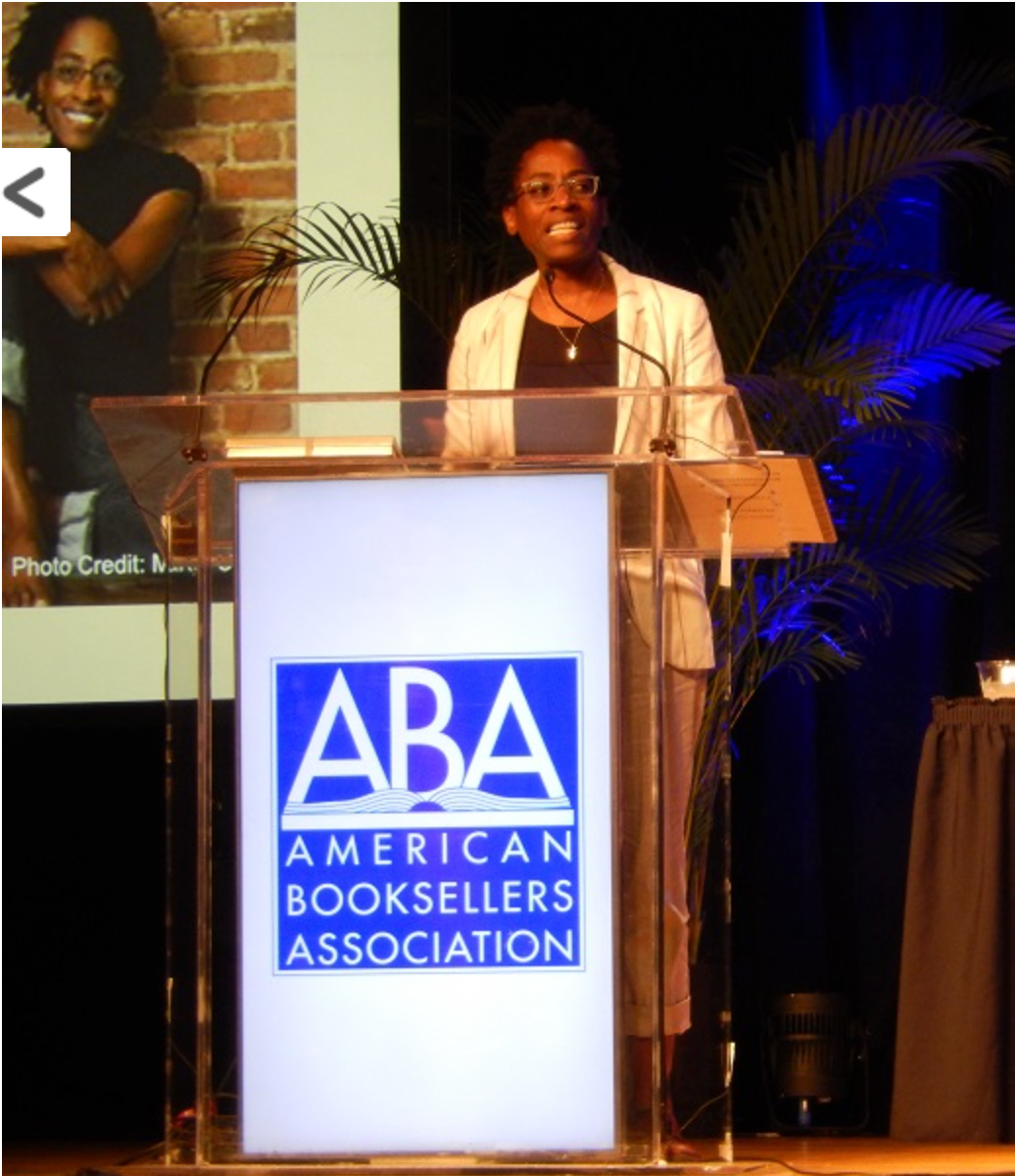 In a departure from her the usual brief acceptance speech for her E.B. White Honor Award for The Fourteenth Goldfish, Jennifer L. Holm—resplendent in her "Orphan Annie" red dress—simply took the mic and sang a few lines to the tune of Tomorrow. For an author, "tomorrow" is always just "an edited book away." Jenny also showed her table mates her E.B. White Award loot—a very cool pen from Levenger (in a latching metal box!) and a lovely plaque.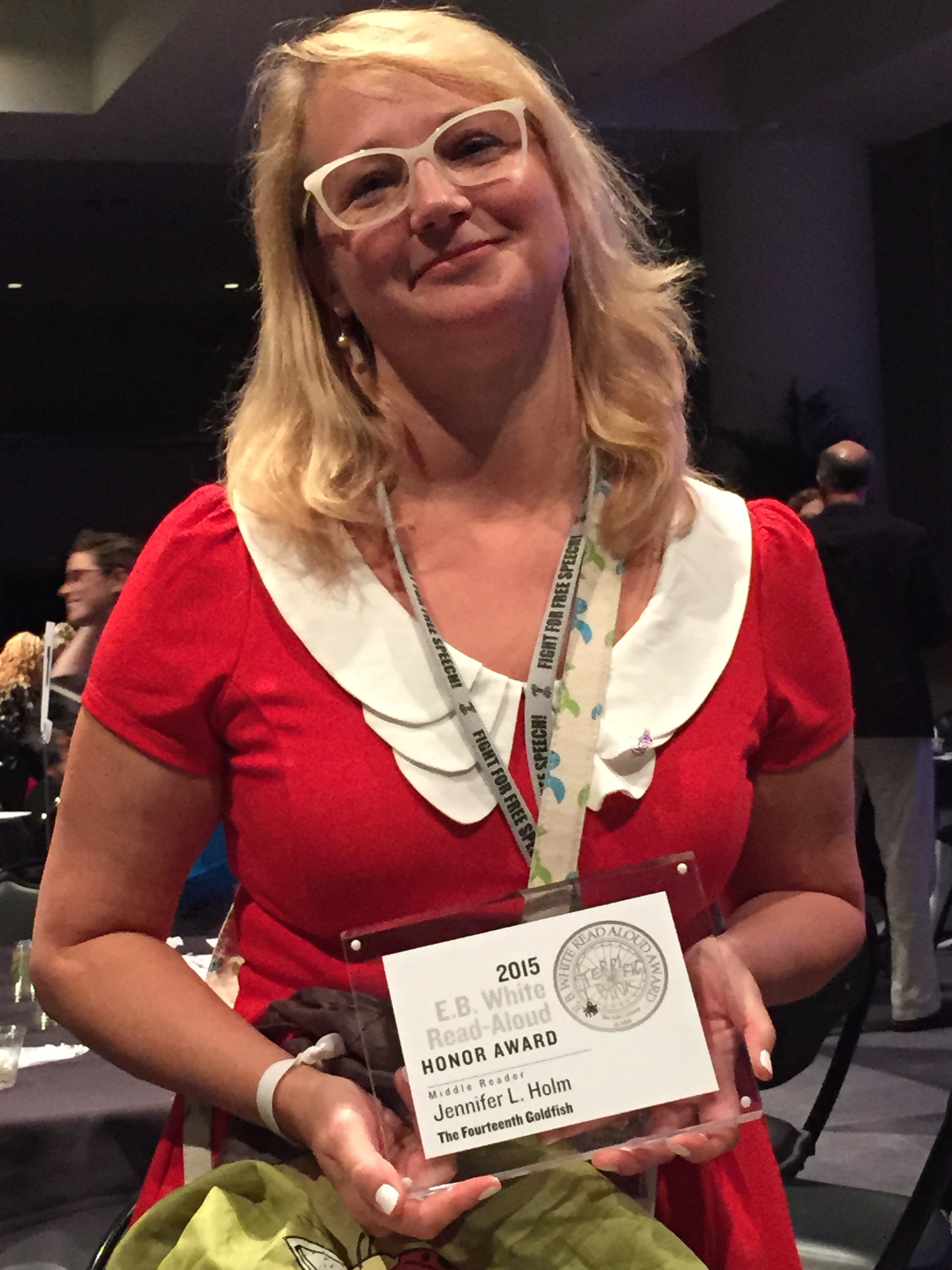 I'm only officially covering children's books, BUT I can't resist mentioning what The Martian author Andy Weir said in his acceptance video for the Adult Debut Indies Choice Award. Indie booksellers "punch above your weight in this industry," he noted, calling us "tastemakers." It was so great to have independent booksellers recognized in this way, since so many, many books have reached wide audiences and hit the bestseller lists because of independent bookstore support and word of mouth. The great bookseller Carol Chittenden was talking about this (the way indies find fantastic books and make them hits, only to lose sales to the corporate giants once they cotton on to a book's success), and said, "If only there were a way for indies to monetize their excellent taste." Ha! So true.

On Thursday evening, I was invited to share a most delicious (and mulitple-course) dinner at I Trulli celebrating six Candlewick Press authors: M.T. Anderson, Meg Medina, Laura Amy Schlitz, Pat Schmatz, Todd Strasser, and Maggie Thrash. Each author spoke for a few moments during the evening, and all were fabulous! I don't think I've ever been to a publishing dinner that showcased such a rich variety of books, talents, and authors all in one place. From ballet dancers in Leningrad trained as hand-grenade-holding assassins in case Hitler attended their shows, to a genderqueer teen in a futuristic society, from a cheerful bilingual picture book about family love (and a parrot!) to an epic "cli-fi" (climate science fiction) that reimagines Moby Dick, from a YA graphic novel memoir about first love between two girls to a historical fiction novel about a farm girl's life (poured into her diary) in 1911 Pennsylvania and as a hired girl in Baltimore—the books all sounded riveting. If the food hadn't been so good, we would have ripped into our ARCs right at the table.

It was Laura Amy Schlitz's birthday, so we even got birthday cake!
I know that Candlewick is my publisher, so I certainly could be biased, but I don't need to be because their books are always exceptionally well written, beautifully made, and thoughtfully brought into this world. (Furthermore, I was wearing my bookselling hat so thoroughly at this dinner that I even forgot to mention at our around-the-table self-introductions that I was also a Candlewick author. Eep.)
This post is getting lengthy, so the Speed Dating extravaganza highlights will have to wait (and perhaps I will find my notes by then!).
I will leave you simply with Josie's encounter with Brené Brown, TED Talk speaker extraordinaire and author of wildly popular and useful books about the nature of human connection and engagement. Brené was signing the ARC of her upcoming book, Rising Strong, and Josie and I had camped out for a while to get our ticket for the in-booth autographing line. And I want to go out of my way to thank the incredibly helpful, kind Spiegel & Grau staff members who helped all of us navigate the somewhat confusing line process. They were so much friendlier than line attendants/shepherds generally are (especially the practically armed guards protecting one celebrity author, whose signing was held at the unfortunate juncture of the main entrance to the publishing booth; booksellers who weren't getting autographs, simply trying to pass by and enter the booth passage a few feet away from the table, were treated a little like terrorists; oy). Anyhow, thanks, Spiegel & Grau!
Back to Brené: she was sparkly and friendly and bright in all the ways you would expect, and Josie—those of you who know her will not be surprised—mentioned how much she appreciated Brené's books. "They're great!" she exclaimed. "And I can't tell you how many friends of mine are no longer a**h****s because of you!" The unflappable Ms. Brown didn't miss a beat. "I'm an a**h*** reformer," she said, smiling. "I'll take that!"