Counterintuitive as it may seem, most people don't go into bookselling for the "selling" piece of it. As a whole, we are avid readers, librarians at heart who love to be around books and recommend them to people, and would rather just give them away if we could. The "selling" part is a necessary, but not beloved, aspect of the job, involving enough craziness (plus frustration, plus absurdity) in the details of ordering, receiving, selling, and returning books to drive us to the outermost edges of our patience. And occasionally, I'm sorry to report, we will get a real pip of a customer—someone who forgets that the person on the other side of the counter is a human being. That's when our brains get busy and we start wondering how close we are to saying or doing something completely outrageous at the store.
Some of our temptations are of the amused, mischievous variety. I am often tempted to pretend I've never heard of a very famous series that a customer is asking for. "The Magic Tree House?" I want to say with a look of thoughtful puzzlement. "Not ringing a bell." Or, "Percy Jackson series?" Shaking my head, blank expression. "Who's the author?" I actually have done this now and again—usually only with Harry Potter, because I know the customer will get the joke right away.
Sometimes my temptations are creative. I have to wrestle myself to the ground not to do things like rearrange all of adult fiction by color. Or size. Or to group books by theme instead of alpha by author, so the shelves would be divided into sections like: Books That Make Your Heart Happy. Books That Make You Cry, But in a Good Way. Books with Worlds You Don't Ever Want to Leave. Books That Teach You Fascinating Things. Books That Make You Laugh on Every Page. Fabulous Books with Terrible Covers. Brilliant Gems You've Never Heard Of. And so on. I remind myself that this is what displays are for; I don't need to revamp the entire store.
We did create a Mystery Mystery section on April Fool's Day: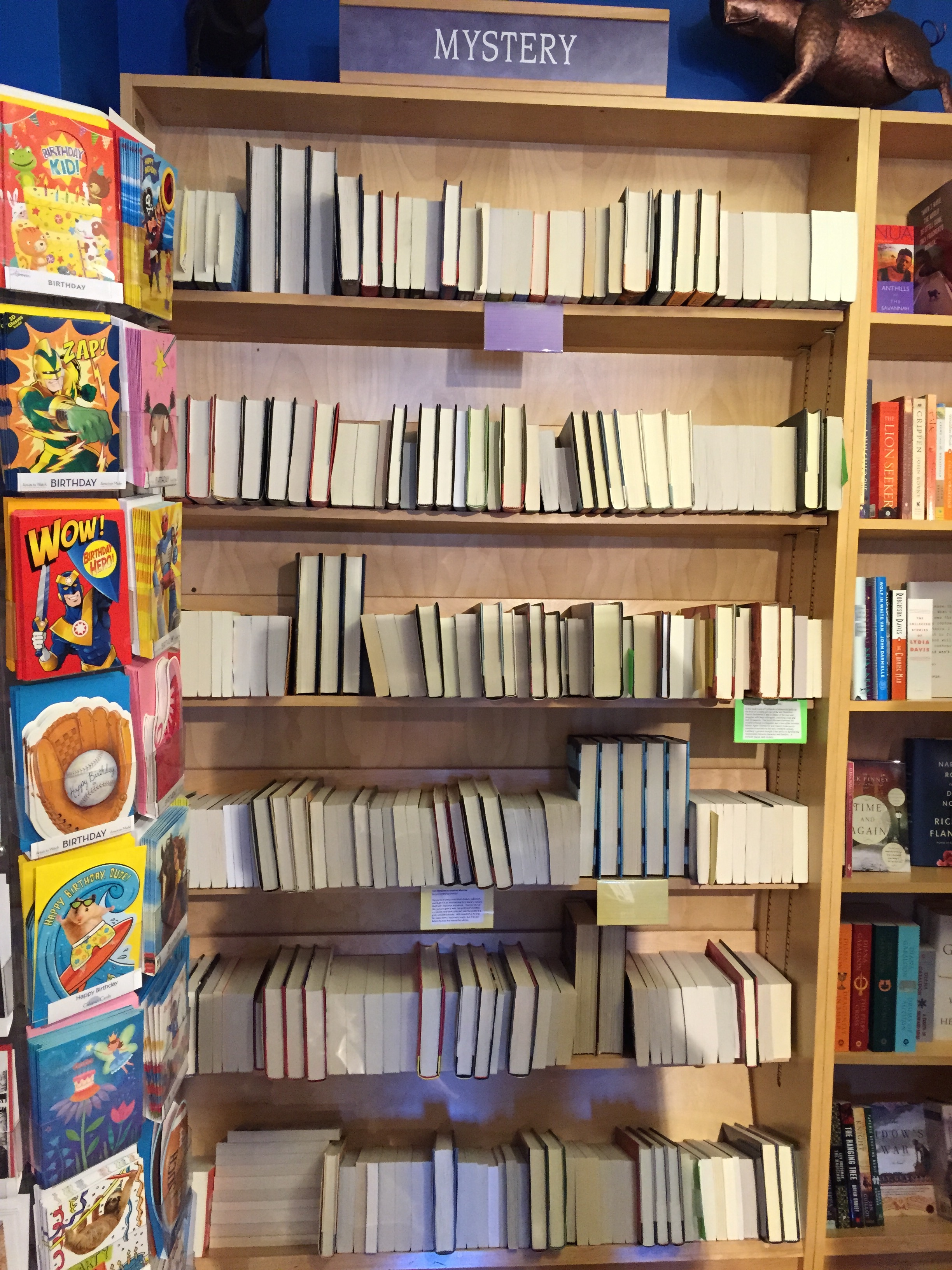 The worst temptation is the one when we've just had it with retail for the moment. Maybe we've dealt with people using the store as a showroom to make online purchases. Plus some kids are using picture books as skateboards while their oblivious parent reads a book in a section nearby. And an entitled customer is snapping his fingers at us for his change while another blames us for the gift card she lost. At those times, I can feel myself nearing the danger zone, which means that the very next person who is intolerably rude or treats the books, store, or my staff with disrespect is in danger of hearing out loud what I am chanting in my head. "Get. Out. Get out get out get out!" Happily, it's never gotten to that point. Yet.
Josie and I used to have a smiley-face-on-a-stick that came with some book back when we first opened the store. We kept it for years, and whenever something drove us absolutely bonkers at the store, one of us would go behind the counter and—unseen by anyone else—raise it up to our face. It made whoever was on the front lines of the bad moment laugh and remember that, as ridiculous as retail can be, it's still a pretty great job to be a bookseller.
Fellow booksellers, teachers, and librarians—what are your secret temptations?