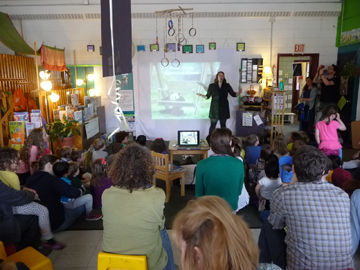 When you visit a school filled with exuberant toddlers and little kids, you never know what gems might pop out of their mouths. Last week, I had the happy occasion to visit with 65 children ages 2 1/2 to 5 years at a bright, open, cheerful school that had won a grant from the Children's Literacy Foundation to supplement their library and send new books home with the kids. Every surface in the bright, clean, vibrant classroom was covered with books donated by the folks at CLiF, who provide a terrific curated list to teachers and invite them to choose from the list and add any other requests the teachers may have.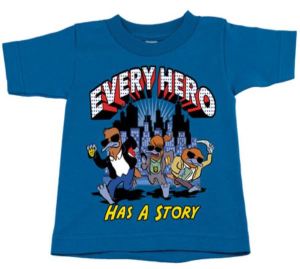 One of the celebration's guests was Rebecca, head of Youth Services at Burlington's Fletcher Free Library, who told the children about the library's summer reading program, which is newly open to children below kindergarten age. Every participant not only gets to read great books and do fun activities all summer long, but also receives a free Jarrett Krosoczka-designed "Every Hero Has a Story" Platypus Police Squad T-shirt! Very exciting. I totally want one.
As a lifelong avid reader, public library patron, and former school librarian, I have always been a huge fan of libraries. They are – even more so than our beloved and important community bookstores – absolutely vital to a community's survival (not to mention thrival). After my author story time at the CLiF celebration, there was a little Q&A with the children. I asked if they knew the difference between a library and a bookstore. One little girl, age 4 or so, raised her hand. Here's what she said:
"A library is where you can go and get as many books as you would like and you take them home and then bring them back. You can take them out again, though, but then you have to bring them back. A bookstore is for forever books. It's where you can take a book home and keep it forever."
I couldn't have put it better myself. A bookstore is for forever books! *sniffle* And a library is that magical place where you can take as many books out as you like, over and over again. It occurred to me that nonprofit literacy organizations like CLiF, First Book, and so many others are the perfect intersection of bookstores and libraries: they provide free books children can take home and keep.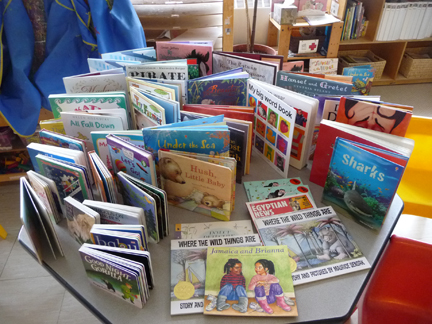 After the presentations, the children were invited to eat some of the tasty and beautiful snacks the school had set up for them and their families, and – best of all – they got to choose two books each to take home and keep from the many treasures the CLiF grant provided. I wish I could show you pictures of the happy, well-controlled chaos of 65 little children gazing with delight and concentration at the tabletops filled with wonderful books to choose from, trying to pick the very most enticing ones to take home, clutching their riches in their arms as the party dispersed and teachers led the little groups back to cheerful, bright, book-filled classrooms and the prospect of going home with their brand-new forever books.
Events like these make me so grateful to be part of a field that brings kids not just knowledge and entertainment and inspiration, but sheer joy. We are lucky!