We've all had this happen: sometimes customers are mean. They don't set out to be angry or cranky, but sometimes they are. Recently, two of my youngest staffers shared a few funny interactions with me, proving what we all already knew: being able to share the misery, as it were, makes it easier to deal with mean people.
She had been helping a customer and it wasn't going well, and rather than say anything out loud,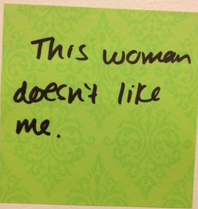 she let me know she needed help by slipping me a note, that quite simply said, "This woman doesn't like me." Almost heartbreaking in its simplicity, the note was a tiny cry for help borne out of frustration. Once I stopped chuckling (it was funny, after all) I traded spots with Laura and asked her to help me ring up someone while I worked with the woman. After I helped the customer, who didn't really like me much either, Laura and I had a good laugh about it. But this brings up the joy of having other booksellers to be able to help out when things get a little difficult.
Sunday I left work early because I wasn't feeling well and the store was quite slow on a frigid Sunday. PJ is quite capable and I retreated to my couch with a hot cup of tea and promptly fell

asleep – only to awakened by my phone alerting me I had a text from one of my co-workers. I've given all of them the same text tone of an old-fashioned teletype machine, it's very loud. I read the text. I felt horrible. I texted back and asked if she needed help. She said she was okay, but someone actually yelled at her because we closed the store for a week to take our annual break. I really wish I had been there for that. Sometimes you just need help and someone who can handle the situation.
My turn for cranky customers came yesterday. I'm not sure if it's the weather or just a wacky planetary lineup. But I was working with Laura and we had three in a row. And one on the phone. All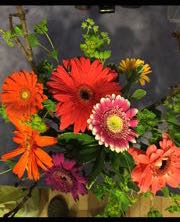 unhappy about things I couldn't totally fix. But we did reach good agreements and everything ended well.
Here's the thing, though. The number of cranky or mean customers is literally dwarfed (by a factor of 100) by the number of customers who come in and share their kindness with us. I got to work Sunday and noticed fresh flowers. I asked who they were from and was told, "A customer saw the article in the Wall Street Journal about the bookstore and wanted to say congratulations."
Luckily for me, this is the environment I have the pleasure of working in almost every day.