It's that time of year when all bookstores are getting ready for the onslaught of the holidays. Seasonal book displays are out, sidelines are filling the counters in inviting, spontaneous ways, and the back rooms of all stores are filled to bursting. I spent much of yesterday receiving boxes of yummy doo-dads and trinkets. The fun part of this job is discovering what has been ordered for the store as I do none of the sidelines buying, so every box was a revelation of fun.
As I near my 50th birthday this week, I have come to accept that I can no longer get through any day, especially one at the bookstore (see Elizabeth's plea to book designers about tiny fonts) without reading glasses. I have reading glasses on every surface and in every drawer. And I am forever misplacing them. Imagine my utter delight when I unpacked a box of Eye Bods. These are nifty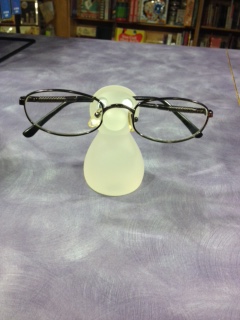 paper weights that double as a place to hold glasses. They have personality and come in three colors, blue, green and white. It's easy to spot a winning sideline when everyone on staff wants to buy one for themselves or for a near-vision challenged relative. Within moments of setting up my little Eye Bod man, I'm calling him Poindexter, we sold three. These embody the best of sidelines: useful, fun and double-purposed. They are the right price for a fun gift at only $9.99. Perfect for office Secret Santas and for filling the toe of a stocking or for the fourth night of Chanukah.
Retailers, what are some of the sidelines you're just loving at your store?