Now that summer is here, I can indulge in one of my favorite parts of being a book buyer: breakfast meetings at the Inn at Shelburne Farms,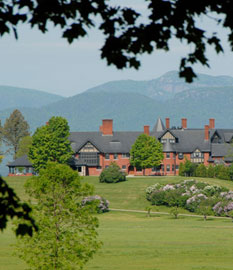 which is open seasonally from May to October. There are few places as beautiful as this 1,400 acre working farm, which used to be Vanderbilt-Webb estate, set on the shores of Lake Champlain. The drive from the gatehouse to the main house takes about eight minutes that just get prettier and prettier.
Past the fields' Brown Swiss cows whose milk makes the award-winning Shelburne Farms cheddar cheese, I round the corner and there before me is Lake Champlain, waves gently lapping the shore. I am always running late for my breakfast meetings, so I take the view in quickly. I bound to the outside table where one of my sales reps is usually waiting. The view, and this is not overstating, is breathtaking.
Breakfast is usually del
icious with farm fresh eggs and bacon, coffee and juice. I love these meetings, not just for the food, but for a chance to talk with my sales reps in a more relaxed setting. I get to know them as people: what are their hobbies, what are they reading, what are their summer vacation plans. Sharing a meal is wonderful way to get to know someone. There are always children running in the grass by the Inn and it's just idyllic.
After breakfast we retire to Adirondack chairs on the lawn and make the order. I look at samples while sipping coffee in the sun. I order more under these conditions. Being outside, feeling the warmth of sun, somehow makes me feel hopeful, therefore more optimistic about book orders. I'm more willing to take chances and get more copies of titles I feel strongly about, or take a risk on an oddball book that could go either way. So I feel like this is a win/win for me and the rep.
It's a lucky coincidence that the fall/winter buying season starts in the summer, so I can have meetings throughout the season at this lovely place.