You can't mention "five little monkeys jumping on the bed" to anyone in Vermont and have them NOT be familiar with the colorful series of exuberant picture books by Eileen Christelow. I suspect this is true in the rest of the country, too. Those little monkeys are so mischievous, and channel toddler energy so impishly, that it is impossible to think of them as 25-year-olds. But the first book in the series did, indeed, turn 25 this month, and we had the privilege of celebrating that milestone with a store full of real toddlers in party hats, who enthusiastically chanted along as Eileen Christelow read her books aloud.
Because of the way the event was set up in the store, there was no way to get behind the group to take photos of the backs of the kids' heads (we don't show their faces for privacy reasons), so you will have to take my word for it that they were ADORABLE! And the gasps and the looks on their faces watching Eileen draw her monkeys was priceless; she was making beloved characters appear out of thin air!
We had party treats for the kids set up outside on a table for children after the lively reading, drawing, and Q&A. They were invited to enjoy cake or cupcakes and apple cider on the porch, 
after
 leaving the bookstore (a sticky-page-saving endeavor that worked like a charm). We'd bought a couple of Barrel Full O' Monkeys games and popped those on the sheet cake.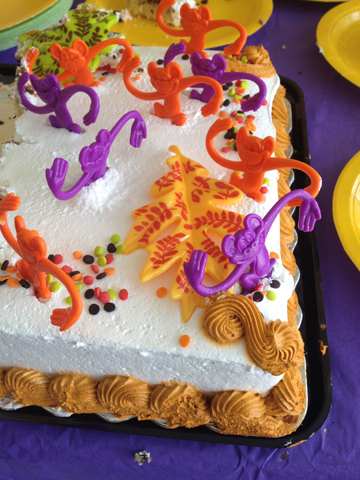 And even though the Harvest Festival and a giant soccer tournament were going on during the busy Columbus Day weekend, families turned out in numbers for the monkeys' birthday party. We had some signboards outside that I'd drawn (apologies to Eileen Christelow for the imperfect renditions). I'd covered the signs with packing tape as a sort of laminate against rain. Good thing, too, because during the couple of weeks they were out, we had some downpours.
We don't always have the time to try replicating picture book characters on signboards, but when we do, I think it really increases the attention our signs receive from passing traffic.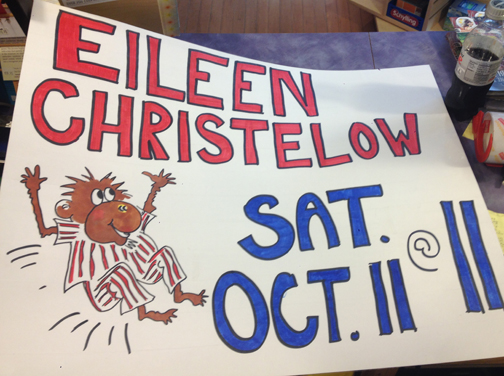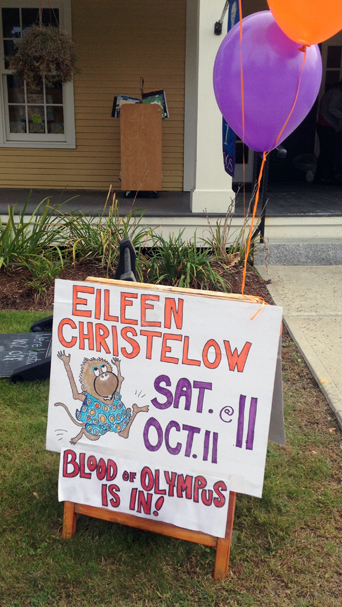 It was one of those events that feels great from start to finish — even with the slightly hectic last-minute easel assembly (all of ours had gone missing, so we made a trip to the store that morning and had an amusing time wrestling with the nearly wordless, not-very-clear instructions).
And while the event is now past, we get to celebrate (as we do with all events) a while longer with displays of autographed stock, including Five Little Monkeys Trick-or-Treat just in time for Halloween.
I can't wait to see what story Eileen Christelow cooks up for the monkeys' 30th!